Remedies for Athlete's Foot
Ridding your feet of this fungus can be accomplished in a variety of ways. This guide contains remedies for athlete's foot.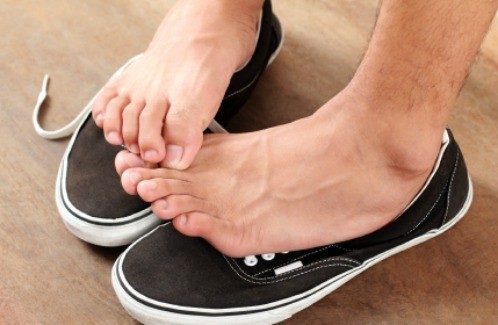 Filter

: All Articles
Sort

: Relevance
We went to the Podiatrist for my husband's diabetic feet problems and she gave us this paper, so I am sharing it with you!
Soaks for Athletes Foot Fungus:
1 cup white or yellow vinegar
1 gallon Lukewarm Water (16 cups.)
1 lid full of bleach (just a capful, no more than this or your feet could get burned)
Directions:
Soak feet one to two times a day for 15 to 20 minutes for two weeks.
Lamisil, and over the counter cream and spray, works best for foot fungus. Use Lamisil cream for feet and heels twice a day for two weeks. Only use lamisil Spray in between the toes, never creams between toes.
Spray shoes out with Lysol in the white or the blue can, daily. Use anti-fungal powder in shoes daily (choose one of these powders: Desinex, Tinactin, Tolnaftate, Zeabsorb AF).
You must treat shower curtains, bathtubs, and rugs with Lysol and or powders above.
Cotton socks are better than nylon or stockings.
Topical anti-fungal creams and lotions are NEVER effective on toenail fungus. There is prescription polish called Penlac that can be used daily in bad cases. Tea tree oil and lavender oil can be used for toenail fungus but mainly just keep them clean and cut down since they will grow upward and thick instead of outward like the rest of the toenails.
Oral Antifungals like Lamisil or Sporo nox are expensive and need blood work. They might damage the liver.
By Robyn Fed from Hampton TN
I had a bad case of athlete's foot that no medication would resolve. Out of desperation, I used moxa smoke for 5 minutes and resolved it completely and permanently until now, 5 years later.
Editor's Note: Moxa is a Chinese medicinal made from dried mugwort. Here is a link to a Wikipedia article about the use of Moxa.
Try using a potato for killing athlete's foot, yes it works! I had my ex-husband use every cream and ointment, even scheduled a doctor's visit for this awful, itchy, bothersome, and sometimes smelly problem.
To treat fungus on feet, soak feet in white vinegar for at least 20 minutes each time. Continue three days in a row and the fungus should be done.
What is a home remedy for athlete's feet?
By Barbara
November 1, 2011
0

found this helpful
You can soak your feet in apple cider vinegar 4 times a day. Dry well when your done. Do this until it clears then stop! You can also soak your socks in vinegar and wash as usual!
November 2, 2011
0

found this helpful
Potato is the only cure which worked for my son and my ex-husband. Cut it in half rub over clean feet 2-3 x a day, keep feet dry very important. The enzymes in the potato is what works! We visited Dr., bought RX's etc. it always came back. This cure worked on sweaty football players feet, it will work for anyone...Good luck!
Prevent Athlete's Foot In Your Winter Shoes. This is the time of year you take out shoes/boots you haven't worn in a while. A fungus you chased away last year may still be lurking in your footwear, especially if it is leather.
I don't know if this has to do with beauty, but how do you know if you have athlete's feet?
By Jazmin
September 6, 2010
0

found this helpful
September 9, 2010
0

found this helpful
Athletes foot is pretty basic. You get cracks that open up between toes & they sting & hurt. Your toes & foot may itch & things get red.
Here's the thing most don't know, athlete's foot is candida on the outside, on your feet. Vaginal yeast infections, are candida there, dandruff is candida on the scalp.. Candida has many faces.
Here's the thing, though, if the candida comes from the inside, you need to address it there. There are natural things you can take for it or you can get a Rx for it from a doctor.
It like warm, damp, closed in areas, that have low oxygen, but candida is something not to ignore, when it's systemic, it can cause many health issues, including diseases.
In a small double boiler, heat the wheat-germ oil with the jojoba oil and the beeswax just until the beeswax melts. The mixture should have a creamy consistency.
***
***
Apple Cider Vinegar: Soak your feet in hot water with apple cider vinegar (one part vinegar to four parts water) a couple of times a day for 20-30 minutes. This seems to kill the actual fungus. Dry your feet. Apply a moisturizer to your feet. As your skin cracks and peels from fungus, that skin dries out and dies, yet makes more spots for the fungus to take hold. The remedy kills the fungus, then medicates and moisturizes the skin so it can heal. If you have fungus underneath your toenails, you may need to file them down until they're pretty thin so the remedy can reach the fungus underneath. A good moisturizer would be the crushed garlic in oil that you can find in the grocery store. Other good choices would be tea tree oil, sesame oil and olive oil. Note: Garlic oil, tea tree oil and sesame oil are effective by themselves against athlete's foot, as noted below. To prevent future outbreaks of athlete's foot, repeat the above remedy once each week.

Hydrogen Peroxide: Apply hydrogen peroxide with a Q-Tip or cotton swab especially just after a bath, shower or foot soak. Allow to dry. If you wish, you may follow with an application of apple cider vinegar and then, after your feet have dried, apply one of the moisturizers mention above. Repeat twice daily until all signs of athlete's foot are gone.

Tea Tree Oil: Rub on feet twice a day. Tea tree oil kills the fungus that causes athletes feet.

Sesame Oil: Rub the oil all over the infected area once a day. Athlete's foot will usually be gone within a few days.

Hair Dryer: Wash feet and dry thoroughly using any good bath soap. With hair dryer on high heat setting, dry feet well especially between toes. Get as close to feet as you can without burning. If dressing afterwards, always use clean dry socks (preferably white cotton socks). Do this at least morning and evening. If you regularly blow dry your feet, you should never have athlete's feet again.

Grandma's Gallberry Root Remedy: Boil some gallberry roots and soak your feet in the solution (let it cool somewhat, don't want to scald yourself). Do this each day for a week. This is a very old remedy that works. Note that this is a foot soak, so do not drink!
Be sure to wash all your white socks in water containing bleach. Then wash your other socks and wash or clean your shoes regularly. From time to time, mist the inside of your shoes with Lysol.

Note: Use of anti-bacterial soap actually makes athlete's foot worse and increases the chance of getting athlete's foot by killing the good bacteria as well as the bad, often allowing bad bacteria to take over and to accumulate and grow in the shower.

By Tony from Utopia, TX
Answers:
Remedies for Athlete's Foot
Thanks Tony!
Excellent post. At least once, everyone has had it and/or knows someone who suffers from athlete's foot. I will pass this on to all I know.
Jennifer CA (05/15/2007)

By jjager
Remedies for Athlete's Foot
Good post, however, I really must CAUTION everyone, but ESPECIALLY diabetics and those with nerve damage in their feet---DO NOT USE A HAIRDRYER ON YOUR FEET. One of the worst wounds I saw while working at the wound care center was on a man who had dried his feet with a hairdyer and burned them deeply It was months before he was sure he wasn't going to lose his foot.

Pat your feet dry with a towel and then fan them by hand until you feel they are dry. This is good enough.
If possible slip on some cheap flip-flops and let LIGHT and AIR get to your feet. Athletes foot is a fungus and has to have warm, dark, moist areas to live. Keeping feet clean, dry and exposing them to light and air will effectively fight the demon. (05/16/2007)

By Sara
Remedies for Athlete's Foot
Thank you so kindly. I lost my right leg in a car accident. Amputees can get that fungus on their limb if they're liner has not been properly cleaned each night.
(01/16/2008)

By keeper60
I am looking for a natural treatment for foot fungus.

By Ann from Saginaw, MI
Answers:
Athlete's Foot Remedies
My sister-in-law had poor results with over the counter products, so she tried tea tree oil. She said it worked very well. I've bought it from a health food store. (06/15/2010)

By mrs.story
Athlete's Foot Remedies
Try soaking your feet in some diluted vinegar, hydrogen peroxide also works. Change your socks regularly, wear flip flops or go barefoot when you can. Sprinkle some corn starch in your shoes to keep the moisture down. Tea tree oil as Mrs. Story says also works as it has drying and clarifying properties. :) (06/15/2010)

Athlete's Foot Remedies
If you want an old natural remedy, here is one. A very old remedy is rubbing hardwood ashes on the area. I believe you just rub the ashes on and leave them. Your feet would look a bit dusty, but they shouldn't look extremely dirty! (06/21/2010)

By emmamamie
For those of us who suffer from itchy feet, I recommend using Lysol spray in your shoes once a week. This kills the fungus that creates itchy feet.
Click to read more ideas from older posts on ThriftyFun.
Related
© 1997-2016 by Cumuli, Inc. All Rights Reserved. Published by
ThriftyFun
.
Page
generated on August 28, 2016 at 8:16:05 PM on 10.0.2.126 in 4 seconds. Use of this web site constitutes acceptance of ThriftyFun's
Disclaimer
and
Privacy Policy
. If you have any problems or suggestions feel free to
Contact Us
.