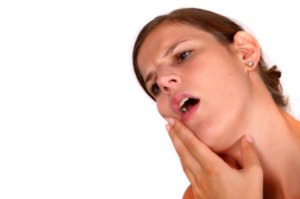 Canker sores in your mouth can be quite painful, but can be easily treated with household remedies. This is a guide about remedies for canker sores.
Ad
---
Solutions: Remedies for Canker Sores
Read and rate the best solutions below by giving them a "thumbs up".
The best way to clear up a canker sore is truly putting baking soda directly on it. I went to the doctor with a mouthful of canker sores and they didn't have a clue. The sores were so bad I couldn't even eat or talk. I decided to burn those suckers off with baking soda and within two days they were gone! Love my baking soda. It does sting, but if you keep applying until it doesn't sting anymore, it will feel better.
By sweetshellzz from MI
I have canker sores often and have used may different home remedies, over the counter medication without great success. A friend told me to rinse the area with lemon juice. It stings at first, but after several times of rinsing throughout the day, the sting lessens, and the canker sore healed much faster.
I always have lemons on hand, so do not have to run to the store when a canker sore starts to rear it's ugly head. Try this it really does work.
By Bobbie from Rockwall, TX
Give a "thumbs up" to the solution that worked the best! Do you have a better solution? Click here to share it!
Questions
Here are questions related to Remedies for Canker Sores.
I have several little blisters on my top lip that are very tiny, as well as, what I think are ulcers or canker sores inside my cheek and bottom inside of my lip, like 4 or 5! I don't know what they are or what causes them.
I've had cold sores before and they usually disappear within a few days to a week, but this time it's been about a month on and off. I am really stressed. What do I do?
By Jose from Fresno, CA
AnswerWas this interesting? Yes No
Ad
---
---
Most Recent Answer
By Kinga 8 09/06/20150 people found this helpful
Honey mixed with ceylon cinnamon works for me. take about a 1/4 tsp a couple times a day and keep it in your mouth as long as possible. Cheap and tastes good.
---
Archives
Thrifty Fun has been around so long that many of our pages have been reset several times. Archives are older versions of the page and the comments that were provided then.
My 10 year old daughter has re-occuring canker sores. Anyone have a home remedy that actually works?
I am 29 and have suffered since I was little. I get them once a month if I do not take preventative measures. The good bacteria found in natural yogurt is what works for me.
If you have a canker sore on your lip (or worse, on your tongue) you can help it heal within a day by putting a small bit of baking soda right on the sore. Then let it drool for about half a minute. Rinse your mouth with cold water and no more hurt. You can follow up with swishing around warm salt water if you like. Usually one application does the trick.
Source: I've been doing this since I was seven years old. My mom was a believer in baking soda, so am I and I'm now 55.
By scrcrow from Orem, UT
---
RE: Baking Soda for a Canker Sore
I brush my teeth with baking soda, to include the tongue and gums so that my mouth smells and feels clean in the morning. Once a day is what my dental hygienist recommended. (08/01/2009)
By mklema92658
My 5 year old gets canker sores occasionally and when he does, brushing his teeth is horrible. He usually doesn't say anything until teeth time.
To cure a canker sore, dip a Q-Tip in Pepto Bismol. Place Q-Tip directly on sore. It is very cool and soothing and will heal the sore within a day or two. It is safe to swallow any excess Pepto or you can spit it out, but it's better to swallow it because chances are your stomach is or has been upset too and the Pepto will help it, too.
You can even use the Generic Pepto from Dollar General or Wal-mart. You may need to repeat this two to three times a day. Usually by the second day, it's not sore anymore.
Source: I am a retired nurse and one day I tried it because I have always used Pepto-Bismol for stomach upsets.
By Laplob from Illinois
---
RE: Canker Sore Remedies
As a dietitian, I am a firm believer in that most of our health problems stem from what we ingest. I have always suffered from (what I thought) was sporadic flare-ups of canker sores. I have heard numerous theories about what causes them and so I never really tried to connect the dots with food until recently. I figured since everything else was out of my control (like viruses, genetics, etc) then maybe, just maybe, I had been doing it to myself, so I decided to keep a food diary for 1 year. Also, every time a canker sore began to appear, I noted it in the food diary. It actually didn't take very long before I noticed strong correlations between my flare-ups and certain thing I had eaten within the past few days!
There were 2 specific things that, if eaten/ingested, almost always seemed to be followed by canker sores: alcohol and anything tomato related. So I decided to test this correlation by first removing alcohol entirely from my diet for 3 months. Nothing changed. I still had flare-ups at least once a month like I had always had.
Here is where things got interesting. I turned my focus toward tomatoes and anything with tomatoes in it. This was very difficult for me because I love tomatoes, and I put ketchup on many things. However, I dedicated myself to this big task and began another 3 month test. No tomato slices, no ketchup, no red pasta sauce, etc. The difference was noticeable almost immediately. After just a couple of days, I noticed that my gums felt "less sensitive" to the touch. I never even knew this was abnormal because they had always felt sensitive, but suddenly they felt better!?
I knew I was on to something at this point and I have continued this difficult elimination even beyond the 3 months. I have now gone 7 months without anything tomato-related in my diet and I have since had just 1 canker sore! Also, I got the sore when I caught a nasty head cold about a month ago.
I never would have considered something as healthy for you as a tomato as the source of what had made my life miserable since childhood. Whether it is the acidity or something else that my body just has trouble with, I'm not entirely sure. It could be a weird food allergy, but all I know is that I found the trigger for my life-long problem with canker sores and eliminating it from my diet has helped me tremendously.
I can't guarantee that it will be the same for you, but I encourage everyone who has issues with these pesky sores to look into removing all things tomato from your diet for a while and see if your flare-ups reduce. It was very difficult to totally eliminate tomato since it is in so many products, but if you watch your diet closely it gets easier. It has helped me tremendously so I hope it helps you too. (02/16/2010)
By jtgambit33
RE: Canker Sore Remedies
I find drinking pineapple juice is good for all mouth sores. (03/17/2010)
By Lady Bee