Remedies for Sweaty Hands
Sweaty palms or palmoplantar hyperhidrosis often begins around 13 and continues throughout life. While embarrassing, medical treatment and self care can help alleviate the symptoms. This is a guide about remedies for sweaty hands.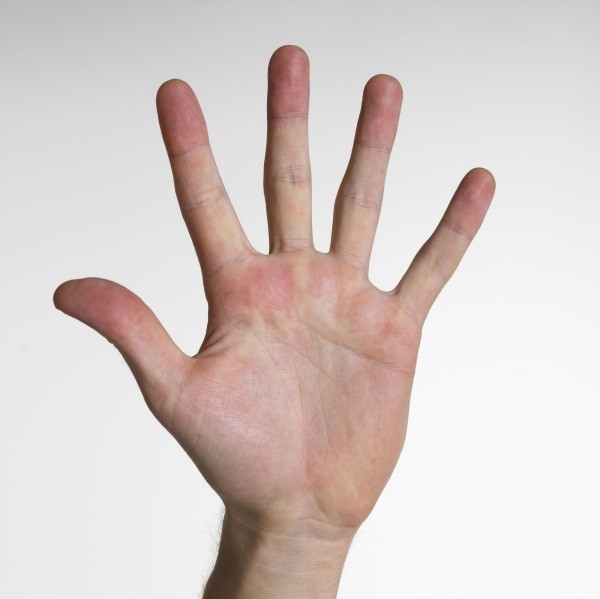 Filter

: All Articles
Sort

: Relevance
My 12-year-old has a problem with sweaty palms and feet. This has been a problem since she was a baby. At 12 she is embarrassed by the problem. She constantly has to wipe her hands while writing, drawing, using the computer, etc. She is unable to wear most sandals and some styles of shoes because of the build up of moisture on her soles. Does anyone have a solution to her problem?

ddavisgray from Texas
December 15, 2009
0

found this helpful
I also have hyperhidrosis. I've lived with it all of my life. I've had the ETS surgery twice, first time was unsuccessful and the second time only corrected my left hand (right hand still sweats). I now have uncontrollable compensatory sweating (sweating of the back, torso, thighs, and butt.) The compensatory sweating is sometimes more embarrassing than the sweaty hands, especially if you live in a hot climate, as I do. There are many websites you can check this out at to get more informed. Hope this helps someone. Hyperhidrosis is a very embarrassing thing to live with. People don't understand unless they have it and deal with all that comes along with it.
November 11, 2011
0

found this helpful
I sweat very badly through my palms and feet. I swear this problem is so embarrassing and I have been going through this since childhood, and feel really bad about it. My friends make fun of me all the time. Whenever I go to socialize with people I think of this problem and wouldn't dare to even shake hands with them. I am scared to try new things and even touch some stuff. Please help me out.
January 7, 2013
0

found this helpful
I also have this problem, I've had it ever since I was really young, I'm 15 now. It's so embarrassing and people make fun of me for it. I asked my doctor and she said the only way she knows is surgery, or botox. I'm scared that neither of those will work. I hate it though! I always am wiping my hands off, and I cant even shake someones hand! I also can't wear sandals... I hate it!
March 25, 2013
0

found this helpful
I suggest to use drysol or milcu powder. I used that for a months and it is very effective.
Read More Answers...
My hands sweat way too much and no one understands the problem unless they go through it. I would really appreciate it if you guys could give me some helpful suggestions that stop sweaty hands permanently. I know a lot of you guys ask questions like this, so please reply asap. Thanks!
By Maria
May 12, 2013
0

found this helpful
My son has the same problem. His doctor put him on a hand cream called Drysol. Hopefully this helps.
May 20, 2013
0

found this helpful
I would also suggest Drysol. Ask your pharmacist to get it for you if it is not in the store. It should be in the antiperspirant section.
What are the best solutions to help an 8 year old with excessively sweaty hands?
By Karin from FL
April 26, 2010
0

found this helpful
If you feel this is a problem I would take my child to the doctor, either a pediatrician or a dermatologist. In the mean time try using an antiperspirant. one that doesn't have a deodorant. One brand name would be Certin-Dri. I don't think there is a deodorant in that. Ask the pharmacist they will gladly give you free advice.
April 27, 2010
0

found this helpful
I would take the child to their pediatrician.
April 27, 2010
0

found this helpful
Baby powder helps. I know someone that had an operation done for that problem.
February 5, 2011
0

found this helpful
There is a treatment that helps with sweaty hands & feet. My son (now 15) suffers from hyperhidrosis & has since a baby, just not diagnosed until around age 10. Some insurance companies consider it experimental, but will consider paying for it after trying clinical strength antiperspirant, then Drysol (Rx). It's called "iontophoresis". The dermatologist & rheumatologist both recommended this as the next step but neither could tell me how to get the treatment. I searched for several months & finally found a connection to it with physical therapists. Apparently they use it for arthritis, etc. I checked with a local PT & she agreed to help us.
There are 2 different types of iontophoresis treatments, one using patches with a solution & the other uses tap water...submerge your hands/feet in the water & it runs electrical currents, using the minerals in the water to control the sweating. We tried the patches with the PT, 3x's a week & gradually reduced to 1x per week. The only problem w/ the patch is it only worked where the patch was. Since this is a lifetime treatment (just reduces amount of treatments needed), we eventually purchased the water machine to use at home. It covers the entire areas & has worked great (when we actually get my son to sit long enough to do the treatment...lol). I really hope this information will help others with this horrible problem!
Read More Answers...
If you have trouble with sweaty palms, a squirt of antiperspirant deodorant to them will help alleviate the problem.

By Robin
Related
© 1997-2016 by Cumuli, Inc. All Rights Reserved. Published by
ThriftyFun
.
Page
generated on August 21, 2016 at 6:19:22 PM on 10.0.2.7 in 5 seconds. Use of this web site constitutes acceptance of ThriftyFun's
Disclaimer
and
Privacy Policy
. If you have any problems or suggestions feel free to
Contact Us
.