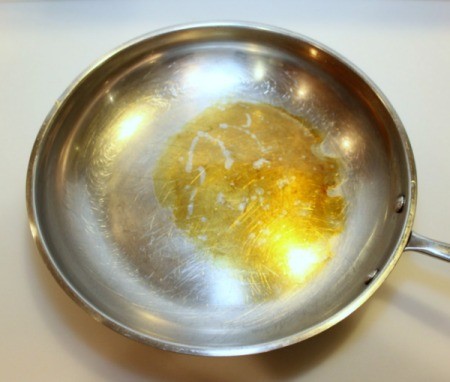 I forgot to remove my pan from the burner after frying taco shells, causing the oil to burn onto the pan.
Approximate Time: 10 minutes
Supplies:
1 Tbsp Dawn dish soap
water
Ad
---
Steps:
Add Dawn dish soap to the pan. Fill the pan about halfway with water.
Put the pan on the stove and boil for about 5 minutes. Be sure to set a timer.
Using a metal spatula, carefully scrap away as much of the oil as possible. NOTE: Do not use a metal spatula on a non-stick pan.
Empty the soap water into the sink. Then scrub with a sponge to remove any remaining oil.
Ad
---
By Gloria Z 10 234 10/19/20130 people found this helpful
I use Ezoff Oven Cleaner the non-toxic kind. I spray the pan then put in a plastic bag and let it sit over night. Next day I just wipe it off with a paper towel.
By Rose Mary F. 10/20/20130 people found this helpful
I have stains like this on cookie sheets. One cookie sheet has a finish on it. How do I remove similar stains from cookie sheets without hurting the finish?
By Rene Ruby H. 10/26/20130 people found this helpful
SOS pads work great for this. They clean up glass and metal baking pans with no soaking required. Just wet the pan and swipe with an SOS...comes out great! Make sure you buy the pads that are already soaped.