Removing Iron-On Labels and Patches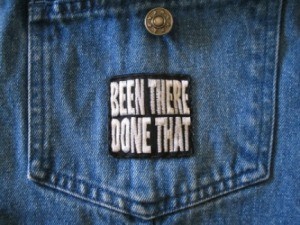 If the decal is beginning to peel up or you just want to remove it, you may be wondering how to get off iron on patches. This is a guide about
removing iron-on labels and patches.
Solutions
Share on ThriftyFunThis guide contains the following solutions. Have something to add? Please share your solution!
September 21, 2016
0

found this helpful
This is a guide about removing an iron-on transfer from a t-shirt. To clean all traces of an iron-on graphic without damaging the fabric, can be a challenge.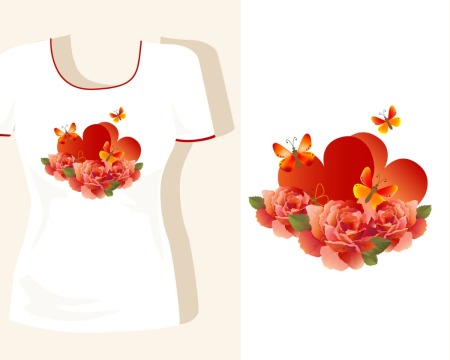 Questions
Ask a QuestionHere are the questions asked by community members. Read on to see the answers provided by the ThriftyFun community or ask a new question.
I bought my husband a dress shirt at Goodwill. It's in perfect shape, but I discovered there is a strange iron on label inside the collar. It's like paper, but it's tough.
I have tried Goo Gone and fabric softener. I have tried heating with the iron. I have tried plain water. I even tried digging it off with a flat screwdriver, but it isn't even fazed. I am at a loss as to how to get it out. Does anyone have any ideas of what would work? Thank you.
By Ruth from Hawthorn, PA
March 2, 2010
2

found this helpful
Best Answer
Easy Instructions. Things You'll Need:
Ironing board
Iron
Cloth or parchment paper
Step 1) Place the garment with the iron-on label on an ironing board, with the label facing up. Turn your iron on to the highest setting.
Step 2) Place either a thin piece of cloth or parchment paper over the label.
Step 3) Apply heat to the cloth or parchment paper over the iron-on label for 10 to 15 seconds.
Step 4) Carefully remove the cloth or parchment paper and immediately pull the corner of the label. The label will be hot; consider using a knife to slowly peel back the label.
Step 5) As the label cools, stop peeling and repeat. You may need to steam it off with a damp cloth.
March 3, 2010
1

found this helpful
Best Answer
I see that you said you tried an iron, if you try the method "kffrmw88 " suggested and it doesn't work, you may have to put a softer label over the top. Perhaps a dry cleaner would have a suggestion also.
In order to get out of sewing about 25 patches/badges on my daughters Jr Girl Scout Vest, I used something called "Sew No More" which was recommended to me by my aunt. I, of course, put them all in the wrong spots! I tore one of the patches off and there is now a shiney dried glue spot in the shape of the patch. Does anyone know if this stuff washes off the material? On the tube it says it is washable, but that is when the patches are on. I dont want to rip off all the patches and be left with a bunch of shiny spots all over it. Any advise before I end up having to buy her a new vest?
Thanks,
Kim from NJ
By guest (Guest Post)
November 9, 2006
0

found this helpful
I would take a scrap of fabric that is similar in weight and texture (maybe denim) and do a "test" patch with another scrap of fabric. Let it dry like you did on the vest and then tear it off like you did on the vest. Try some different products on the test "glue patch". I'd try rubbing alcohol, or acetone nail polish remover or a product called "oops" (found in the painting supplies at WalMart). You may need to moisten it and then scrape with your fingernail to remove it. Hope something works for you!
November 11, 2006
0

found this helpful
I would like to know where you bought the 'Sew No More'.
I have some patches I need to put on a denim jacket.
...and good luck on finding a way to remove the shiny spots.
November 12, 2007
0

found this helpful
is this like the no sew hem its like white cloth tape you use to hem pants with an iron if so when i wanted to lower my hem i had to carefully peel it off
By guest (Guest Post)
December 31, 2007
0

found this helpful
I added some sequins to a top. I used sew no more the sequins are falling off now and all I have is lots of dots of shiny dried glue. I need to get it off! Do you really think that the nail polish remover will work?
January 28, 2014
0

found this helpful
I found two nice, almost new shirts that have a tag with the name of the previous owner on them. They are unobtrusive and seem to have been added by a dry-cleaner, but I would prefer to remove them. Do you know how?
By Tom
February 16, 2014
3

found this helpful
I have work uniforms from Cintas. I no longer work at the company from which I received them. They are nice and universal for any new job; painting, pressure washing, etc., any General Labour. So I need to remove the company name and leave my name. So I tried ripping them off and just put a giant hole in one of them shirts. So I did some looking and alcohol was something I had read to use. Sure enough, it loosened the patch enough for me to pull off. I put it on a cotton ball and rubbed on the back on the patch. And v'wwahla
June 30, 2016
0

found this helpful
Really? Just plain old rubbing alcohol worked on your professionaly done uniforms? I need to do that to my husbands work shirts.
May 18, 2005
0

found this helpful
I am trying to remove a professionally ironed on applique from a burgandy cotton shirt. Any suggestions?

Priscilla
By guest (Guest Post)
May 19, 2005
0

found this helpful
You may have tried this, but just iron it loose yourself, on the reverse side of the shirt. Put some old cloth over the cloth of the shirt, exactly on the reverse side of the applique, so that you don't burn the shirt, and iron away on high. The glue will soften and then you can pull away the applique. I have used this technique with some success. The problem is that sometimes there are stubborn remnants of glue. Normally those too can be lifted by putting the old cloth directly on top of them, after you take away the applique, and continuing to iron. The glue will melt even more and be absorbed by the old cloth.
The temp. of the iron should be high to work through the glue, so be careful and watch out for burning.
August 4, 2016
0

found this helpful
Try this. It does NOT WORK
January 31, 2017
0

found this helpful
Used a hairdryer on high/hot setting. Held it to back of appliqué that had been put on school uniform shirt professionally. It was off in five seconds!
December 18, 2014
0

found this helpful
I had some pjs personalised for my nephew, they arrived and the name was spelled wrong. They are a Christmas present and I need a solution to remove it quickly as the company has a no returns policy on personalised products. Please help.

By Emma
December 18, 2014
0

found this helpful
Can't help on the removal but, if the company made the incorrect spelling mistake then they are responsible. Return and request a correction or a refund.
My son just got back from a field trip that was 2 hours away and he bought a nylon drawstring bag. The decal or silk screen is starting to peel off in 5 or 6 places already. Is there any way to reattach the print? It looks like new, not all wrinkled up. Thanks for any help.
By Jill
December 24, 2011
0

found this helpful
Use fabric glue. You can get it at the craft stores. Get a small inexpensive flat brush also to paint the glue on the back side of the decal, attach back onto the nylon bag and secure with tape till it drys.
How do you remove adhesive patches from jeans?
By J from Mesa, AZ
July 3, 2013
0

found this helpful
Here are my personal tips on removing iron ons.
-Dissolve the transfer adhesive using rubbing alcohol.
-Iron the clothing under a piece of parchment paper.
-Wet the transfer and then iron it off.
-Peel the transfer away with your fingernails.
-Wash the clothing to remove any remaining bits of glue.
Other tips:
-A Teflon-coated iron works best for the parchment paper method.
-Use Goo Gone if the iron-on does not come off.
-Combine several of the methods above if desired.
For more information about iron ons and patches, you can visit. www.irononpatches.info.
March 2, 2015
0

found this helpful
How do I remove professional paint on logos?
By Pat from Baltimore, OH
How do you remove a decal from a polo shirt?
By Jackie from Fall River, MA
Related Content