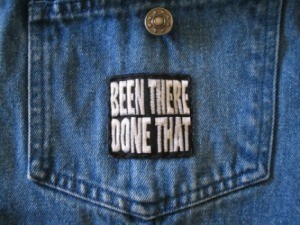 If the decal is beginning to peel up or you just want to remove it, you may be wondering how to get off iron on patches. This is a guide about removing iron-on labels and patches.
Ad
---
Questions
Here are questions related to Removing Iron-On Labels and Patches.
I bought my husband a dress shirt at Goodwill. It's in perfect shape, but I discovered there is a strange iron on label inside the collar. It's like paper, but it's tough.
I have tried Goo Gone and fabric softener. I have tried heating with the iron. I have tried plain water. I even tried digging it off with a flat screwdriver, but it isn't even fazed. I am at a loss as to how to get it out. Does anyone have any ideas of what would work? Thank you.
By Ruth from Hawthorn, PA
AnswerWas this interesting? Yes No
Ad
---
---
Best Answers
By kathleen williams [76] 03/02/20100 people found this helpful
Easy Instructions. Things You'll Need:

Ironing board
Iron
Cloth or parchment paper

Step 1) Place the garment with the iron-on label on an ironing board, with the label facing up. Turn your iron on to the highest setting.

Step 2) Place either a thin piece of cloth or parchment paper over the label.

Step 3) Apply heat to the cloth or parchment paper over the iron-on label for 10 to 15 seconds.

Step 4) Carefully remove the cloth or parchment paper and immediately pull the corner of the label. The label will be hot; consider using a knife to slowly peel back the label.

Step 5) As the label cools, stop peeling and repeat. You may need to steam it off with a damp cloth.

---
By Ann Winberg [306] 03/03/20100 people found this helpful
I see that you said you tried an iron, if you try the method "kffrmw88 " suggested and it doesn't work, you may have to put a softer label over the top. Perhaps a dry cleaner would have a suggestion also.
---
In order to get out of sewing about 25 patches/badges on my daughters Jr Girl Scout Vest, I used something called "Sew No More" which was recommended to me by my aunt. I, of course, put them all in the wrong spots! I tore one of the patches off and there is now a shiney dried glue spot in the shape of the patch. Does anyone know if this stuff washes off the material? On the tube it says it is washable, but that is when the patches are on. I dont want to rip off all the patches and be left with a bunch of shiny spots all over it. Any advise before I end up having to buy her a new vest?

Thanks,
Kim from NJ
AnswerWas this interesting? Yes No
Ad
---
---
Most Recent Answer
By jessica (Guest Post) 12/31/20070 people found this helpful
I added some sequins to a top. I used sew no more the sequins are falling off now and all I have is lots of dots of shiny dried glue. I need to get it off! Do you really think that the nail polish remover will work?
---
I had some pjs personalised for my nephew, they arrived and the name was spelled wrong. They are a Christmas present and I need a solution to remove it quickly as the company has a no returns policy on personalised products. Please help.

By Emma
AnswerWas this interesting? Yes No
---
Most Recent Answer
I found two nice, almost new shirts that have a tag with the name of the previous owner on them. They are unobtrusive and seem to have been added by a dry-cleaner, but I would prefer to remove them. Do you know how?
By Tom
AnswerWas this interesting? Yes No
---
Most Recent Answer
By Sean A. 02/16/20140 people found this helpful
I have work uniforms from Cintas. I no longer work at the company from which I received them. They are nice and universal for any new job; painting, pressure washing, etc., any General Labour. So I need to remove the company name and leave my name. So I tried ripping them off and just put a giant hole in one of them shirts. So I did some looking and alcohol was something I had read to use. Sure enough, it loosened the patch enough for me to pull off. I put it on a cotton ball and rubbed on the back on the patch. And v'wwahla
My son just got back from a field trip that was 2 hours away and he bought a nylon drawstring bag. The decal or silk screen is starting to peel off in 5 or 6 places already. Is there any way to reattach the print? It looks like new, not all wrinkled up. Thanks for any help.
By Jill
AnswerWas this interesting? Yes No
---
Most Recent Answer
By Mary McJay 12/24/20110 people found this helpful
Use fabric glue. You can get it at the craft stores. Get a small inexpensive flat brush also to paint the glue on the back side of the decal, attach back onto the nylon bag and secure with tape till it drys.
How do you remove adhesive patches from jeans?
By J from Mesa, AZ
AnswerWas this interesting? Yes No
---
Most Recent Answer
By Viky Love 1 07/03/20130 people found this helpful
Here are my personal tips on removing iron ons.
-Dissolve the transfer adhesive using rubbing alcohol.
-Iron the clothing under a piece of parchment paper.
-Wet the transfer and then iron it off.
-Peel the transfer away with your fingernails.
-Wash the clothing to remove any remaining bits of glue.

Other tips:
-A Teflon-coated iron works best for the parchment paper method.
-Use Goo Gone if the iron-on does not come off.
-Combine several of the methods above if desired.

For more information about iron ons and patches, you can visit. www.irononpatches.info.
I am trying to remove a professionally ironed on applique from a burgandy cotton shirt. Any suggestions?
How do I remove professional paint on logos?
By Pat from Baltimore, OH
How do you remove a decal from a polo shirt?
By Jackie from Fall River, MA
Solutions: Removing Iron-On Labels and Patches
Do you have knowledge about this guide topic? Feel free to share a solution!