Julie
Bronze Feedback Medal for All Time! 149 Feedbacks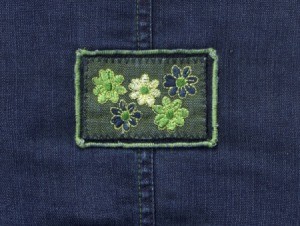 How do you make embroidery machine appliques for iron on patches? I bought a Singer Futura 150 sewing and embroidery machine and I have successfully created lots of embroidery designs onto items like shirts, towels, etc. But I want to know how to make a design so I can cut it out and use it as a iron on decal.
I'm familiar with the different stabilizers such as water soluble, which dissolves in water, the tear away kind and the stay on thicker kind. And all work well with the designs I put on these items. I know others create there own decals from their machines but I do not understand how it's done. What type fabric is used? What type of stabilizer is used? If using the water dissolving stabilizer does the stabilizer go on top while its embroidering on the design to be washed off later? And how do you cut out the finished design so that it looks professional when applied to other surfaces?
I know after it's finished you put Heat and Bond iron on fusing to the back side. My designs are the ones that get stitched on at once. Meaning that I do not have many that get stitched on first in the color pages style with the outline stitched on first then filled in with the rest of the design. I have found some designs that are like coloring page fill ins but still do not know what type fabric they are to be embroidered onto or how you cut them out to look right.
I want to be able to make my own in my hoops I have for my embroidery machine, then be able to iron them on my clothes like the bottom leg on capris or in the t-shirts center to match. I have already put on a design onto my t-shirts by using my t-shirt and letting the design go straight on. There must be some way to do what I am wondering about. If anyone out there has done their own with their embroidery machines can you please share the how to's on that with me please?
I Googled on it but only got one person explaining it which made no sense to me at all. If you have pics of how to do it step by step that would be just wonderful! Thank you in advance.
Julie from Tenn
Answers
By Becky. (Guest Post)
July 20, 2008
0

found this helpful
Well Julie if you find out Please let me know. I am surfing constantly for the same problem. itsretrotweety59 AT yahoo.com and I will email you as well.
By Becky. (Guest Post)
July 20, 2008
0

found this helpful
Here ya go Julie, Floriani Press N Bond.

Julie
Bronze Feedback Medal for All Time! 149 Feedbacks
July 23, 2008
0

found this helpful
What is that becky? Is there a web site that tells about it? I guess not many people on here know much about using a machine and doing the appliqués. I finally joined a futura group that is SOMEWHAT helpful about it. here is the link if you want to join its free you just have to be moderated first then you can join it. I'm going to try it on bluejean fabric first they say do that then cut it out.
Besides doing a design on shirts or towels your just limited on things because you have other layers of fabric that get in the way. I tried taking say jean legs apart then after doing the design putting them back but its double trouble. So I hope to be able to do the appliqué patches to be able to use on more things like purses hats, etc. thanks Julie
groups.yahoo.com/.../
Answer

this Question

Iron-on design procedure? Please help me guys. Include list of materials and where can I purchase those materials. Thanks in advance.

Answers
By (Guest Post)
September 23, 2007
0

found this helpful
Staples (and I'm sure other office supply stores) sell packs of iron on transfer paper. You can print out your own designs and make your own t-shirts. I made a shirt for my oldest daughter about 6 years ago and my younger one now fits into it, and it's still holding up nicely. Simply print, then iron.

September 23, 2007
0

found this helpful
Fabric stores also would have these. I made a family quilt for my mother using copier iron on transfer paper to make the pictures on. Then I ironed them unto quilt squares. Read the package.
Some is for using with a copier and some is for using with a lazer-jet printer. Decide how you are going to get the picture unto the paper first. THEN BUY THE CORRECT TYPE.

September 25, 2007
0

found this helpful
hi rudy's mom and guest
thanks for the information ...it helps me to understand on how to do it...
God Bless You!

October 22, 2007
1

found this helpful
I make my own "iron on's'. I buy 'witchery-atitchry" or any "fabric bonding material' Then I follow the instructions for using it. I buy material that has designs on it that I like, use the bonding agent to make it self-adhesive and iron it onto other material or clothing.This I seal with fabric paint.
You can also find fabric with prints that were meant to be used this way. I usually put them on t-shirts or sweat-shirts for gifts. Granna
Answer

this Question

Can anyone help me? I am looking for what 'type of glue' to use that can mimic the iron applique effect. It needs to be able to be applied to the back of materials and let dry. Then when applying heat to it later on, with an iron, it mimics the iron-on appliques effect.
By Joyce from Australia
Answers

June 28, 2010
0

found this helpful
I'd suggest Wonder Under. It's a paper backed fusible webbing. I haven't bought any for several years, but I used to get it in the area of the fabric store where they have the clear plastic/vinyl on rolls. I believe it's sold in folded sheets in packages, too.
We did a craft maybe 20 years ago, where we'd take apart silk flowers, and lay the petals on the Wonder Under. Cover it with foil (to protect the iron), and iron to transfer the adhesive to the petals. When cooled, peel the petals off of the paper backing, and it's now like an iron-on. Place the petals onto whatever (we did some t-shirts), cover with a press cloth or more foil, and iron to apply (just like an iron-on applique). We went around the edges with some fabric paint, just to seal everything down.
Looking back, it was kind of a gaudy creation, but we had fun and thought it looked great. We were able to wash our creations on the gentle cycle. If you cannot readily find it in Australia, check online. Best of luck!

Grandma J
Silver Feedback Medal for All Time! 270 Feedbacks
June 30, 2010
0

found this helpful
Heat and Bond is stronger than WonderUnder. I use both. Instructions are on the packaging.
Online: http://www.joann.com There are those which are ultra heavy to light. Depending on your project. You can buy mega yards or as little as 5 yards. I keep it in the cupboard all the time.

July 1, 2010
0

found this helpful
Thank you every one for this help. I appreciate your time in answering.
Have a wonderful weekend ! ;D
Joyce
Answer

this Question