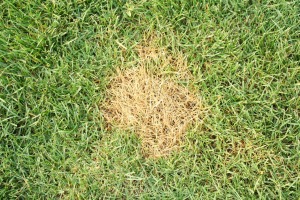 Question:
I have a spot on the lawn. We are in a new home and the front lawn was sodded last summer. There is a patch of brown grass in the very middle of the front yard that goes brown, then greens up a little after a heavy watering or rain. We regularly water the whole yard so we can't figure out what is causing this.
It's not grubs. Could there have been an excess of rocks or pea gravel left under this sod when planted that would cause the grass in this one area to brown. It's about 3 feet in diameter an is almost circular in shape. What can we do to keep this area green?
Thanks for any and all suggestions!
Hardiness Zone: 6a
Marianne from Trenton, OH
Answer:
Marianne,
The symptoms you're describing sound like Brown Spot (also called Brown Patch), a fungus afflicting Bermuda Grass, Kentucky Bluegrass, tall Fescue, Perennial Ryegrass, and Creeping Bentgrass. It often occurs in areas with high humidity or in lawns growing in heavy shade. Brown Patch is characterized by a small round or horseshoe-shaped brown spot, which eventually grows and spreads to a few feet wide. It's common for the inner portions of the spot to green up (recover), while the outer edges of the spot stay brown. To prevent Brown Patch, aerate the soil in affected area, and if necessary try to increase the amount of sun exposure the areas receives. Avoid using excessive amounts of nitrogen fertilizer.
Another (fungus) possibility is a Dollar Spot. Dollar Spot is common to Kentucky, Bluegrass, Bent Grass and Bermuda in humid climates. They are characterized by small, silver dollar-like circles (up to the size of a grapefruit), that are brown or straw-colored in appearance. This fungus is most commonly seen during warm, wet weather and on lawns lacking in nitrogen. To prevent Dollar Spot, water only as needed and in the morning hours so that grass has plenty of time to dry before nightfall. Keep your lawn well aerated, remove dead thatch and avoid excessive amounts of nitrogen fertilizers-especially in the spring and fall.
Good cultural practices go along way to preventing these diseases. Your local garden center can also recommend fungicides that are appropriate for both of these diseases, but they are expensive and are also only recommended as preventative measures.
Ellen
Ellen Brown is an environmental writer and photographer and the owner of Sustainable Media, an environmental media company that specializes in helping businesses and organizations promote eco-friendly products and services. Contact her on the web at http://www.sustainable-media.com
More Answers:
Is It Getting Watered?
Are your sprinkler reaching that area. I have a few spots in my lawn where the sprinklers don't cover very well and I get the brown spots if not hand watered.
By Poco
Adjust Sprinklers
Possibly your sprinklers aren't hitting it evenly.
By Linda
Treat Mites With Cornmeal
I also have the same problem with my sodded yard. My neighbor as well. We got info from our local nursery. They told us it was a mite. To use dry cornmeal on the spots. The critters eat it and swell. No more mite. You might want to cut back on your watering a little. It could also be a fungus of sorts. The ground must be dry when you put the cornmeal down, and just on the brown spots. Give it a week or so. Not an overnight remedy but it sure will save you bundles of money.
By Especielle
Insect At The Roots
I have some brown also, and it has grown with the summer, where the sprinklers are hitting. Someone told me it is caused by insects in the roots and the Scott brand makes something for it. I haven't tried it, but figured I'd pass it along.
By staley
Fungicide For Brown Spot
It is probably "Brown Spot" Possibly use a fungicide.
By Karen in SC
Pet Waste?
I wonder if it is from dog or cat urine or doodoo. Try "Revive" on it. it cost $13.00 and 2 applications and the grass is back to green IF it is from doodoo
By connie