The first step in recaulking around fixtures, countertops, and other areas is to remove the existing caulking. This is a guide about removing old caulking.
Ad
---
Solutions: Removing Old Caulking
Read and rate the best solutions below by giving them a "thumbs up".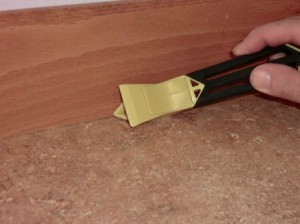 I needed to remove the old caulking between the backsplash and the counter. I found a really neat tool at Lowe's that made this task very quick and easy! Originally I had tried a razor blade, but without much success. All you do is slide the tool along the surface and it scrapes up the caulking without damaging the surfaces.
Give a "thumbs up" to the solution that worked the best! Do you have a better solution? Click here to share it!
Questions
Here are questions related to Removing Old Caulking.
How do I remove old caulk from a bathtub? I have a tool but the caulk is so hard I can't remove it.

Wanda from Dayton, OH
AnswerWas this interesting? Yes No
Ad
---
---
Most Recent Answer
By Gerald Groomes 4 09/30/20090 people found this helpful
If you're a "Penny-pincher" as I am, use a hammer & chisel to remove the hard stuff. Just be careful not to use a lot of muscle when hammering- tap the chisel.

This should remove most of the caulk. Finish by using a putty knife or scraper. Be sure to thoroughly clean the area with alcohol. This removes the 'oily' residue and helps the caulk adhere.
---
How do I remove caulking from my shower?

NC from CA
AnswerWas this interesting? Yes No
Ad
---
---
Most Recent Answer
How do I remove rubberized caulk from chrome faucet?

Cissy from Tulsa, OK
AnswerWas this interesting? Yes No
---
Most Recent Answer
By lisa 5 18 06/29/20070 people found this helpful
Hi Cissy,
have you tried to carefully cut it away with a razor scrapping tool? That's what my dad (a licensed plumber) does and my son, (a card carrying plumbing apprentice) when they reset my fixtures.

Here's a tip too, bleach products are apparently very bad to use on Chalk sealants. I know because I loved my bleach pen in the bathroom, but it didn't love me, LOL. Both explained (repeatedly) how it should NEVER be used on sealant as they replaced it all cause the bleach made it come off all the places it wasn't supposed to, including the seal around the bottom of the toilet.
Good luck
Fickle
What's the best way to remove caulk in a shower between the tile and aluminum glass frame so that the new caulk will seal completely?
By Andrew M.