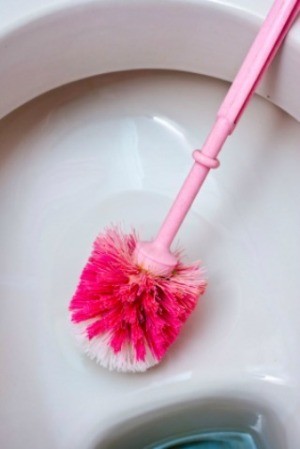 It is nice to be able to keep your toilet clean and stain free. This guide is about removing rust stains from toilets.
Ad
---
Questions
Here are questions related to Removing Rust Stains from Toilets.
In one of my bathrooms I have a commode that gets two rust spots in the same place, all the time, even on the very rare times that I have gotten rid of them. It is a brand new toilet. The really weird thing is that the new toilet gets the rust stains in exactly the same place as the old toilet did. How weird is that?

I've tried a lot of things: CLR, special rust free products, Comet, toilet wands, Greased Lightening. Anyone with a wonderful idea? Thanks so much!
AnswerWas this interesting? Yes No
Ad
---
---
Most Recent Answer
By Sherry [2] 10/24/20080 people found this helpful
I have dealt with iron in my water for years and have found that SnoBol brand toilet cleaner will get rust off. The rust will come back though and you will have to clean again. I would not recommend that it be used on chrome fixtures. I will ruin the finish. I hope this helps.
---
We have purchased an old building that sat empty for a couple years and the pipes are rusty. The toilets have rust in them even though they have been replaced and are used regularly. How do I clean the rust out? CLR doesn't work nor does any toilet bowl cleaners. Thanks.
By Trish
AnswerWas this interesting? Yes No
Ad
---
---
Most Recent Answer
By gbk [45] 07/17/20120 people found this helpful
I have some rust in my water and I use white vinegar on my shower, shower curtain and my toilet. Just spray on full strength and let sit and it will take a swish with a brush in the toilet but will come clean. the shower I don't do anything with it but shower and before I get out or just after while wet I spray with the white vinegar. Good luck

---
How do you get rid of rust in toilet bowl? I've tried bleach cleaners.
By Sandy
Solutions: Removing Rust Stains from Toilets
Do you have knowledge about this guide topic? Feel free to share a solution!