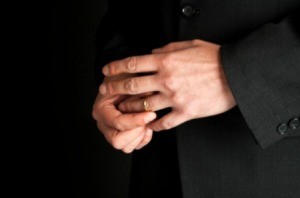 Many of us have on occasion had the misfortune to have a ring stuck on our finger. It can be painful, cause swelling, and can be difficult to remove. This is a guide about removing a ring that is stuck on your finger.
Ad
---
Solutions: Removing a Ring That is Stuck on Your Finger
Read and rate the best solutions below by giving them a "thumbs up".
The subject of removing a ring from a swollen finger has previously been thoroughly covered in Thrifty Fun so I'm just adding some information about cutting into rings. Cutting a ring off your finger will not destroy the ring. Any ring can be repaired by a competent jeweler. The ring will probably have to be cut anyway in order to make it larger. Then you will still have all of your original ring, plus a little piece extra that makes it bigger. Even a diamond eternity band can be fixed but it will cost more than just having a normal ring sized. Be sure that you go to a jeweler who is really experienced in repairing jewelry.
By DeBushe [18]
This works every time. If you can't get your ring off your finger, spray Windex all around the ring and off it will come. You'll never forget this tip after it works for you just once. Have a nice day.

By Gayl from Walpole
Give a "thumbs up" to the solution that worked the best! Do you have a better solution? Click here to share it!
Questions
Here are questions related to Removing a Ring That is Stuck on Your Finger.
Tips for removing a ring that is stuck on your finger. Post your ideas.
Ad
---
---
Best Answers

By Cindy09/27/2009
When I was a kid my Mother washed a washateria. One time we were there a lady got her hand caught in a wringer. Her fingers were swelling fast, and she could not get her ring off. One of the ladies ran grabbed a bottle of bleach and poured in on her hand. The ring came off. With out the bleach she would have probably lost her finger, we were about 30 miles to the hospital. Since then when I have a ring that hard to get off I use bleach. It has never hurt any ring. If your finger is swollen you might do as Danialle said and soak your hand in ice water first to bring down the swelling.
---
Best Answers

By Marg [16]09/26/2009
Don't keep tugging, your finger swells. Try soap, oil, or washing up liquid. Failing all else I've seen one of the guys in the fire station cut a ring off a child's finger, and boy, did he like the attention! Marg from England.
---
Best Answers

By Rasalin (Guest Post)04/23/2005
Slide dental floss under the ring and wind the floss around tightly and evenly past the first knuckle. Move ring up as you wind.
---
Best Answers

By Kathleen [4]03/06/2005
I was given this tip by a jeweler who used this trick for pregnant women with swollen fingers before he resorted to cutting the ring off: use hemorrhoid cream! It reduces the swelling and greases up the finger so that the ring slides right off. Then just clean as usual.
What is the best way to remove a too-tight ring from my finger?
By CB
Ad
---
---
Most Recent Answer

By Shannon O. [1]10/22/2011
Window cleaner, lotion, liquid soap; they all worked for me.
I need to have my wedding ring repaired. However, I am unable to get it off of my finger. Any suggestions? I tried soaping it, but could only move it to the first joint. Short of having it cut off, I'm open for any ideas.
By Pat from Brookfield, WI
---
Most Recent Answer

By Fairon [1]05/16/2011
Try taking a water pill, it may help. Also if you spin the ring while pulling it off sometimes they will come off that way when they wont pulling it straight off.
What do you do if a ring gets stuck on a finger? A ring got stuck on a child's finger and we wriggled and wriggled. The ring would not go past the knuckle, and if we tried to use slippery ointments, the child's finger turned blue. We are thinking of going to get the ring cut, but it might scare the child. Does anyone have other ideas that are not as painful as this? We do not want it to get serious. Do we need to go to the hospital? Thanks in advance.
By Mimi
---
Most Recent Answer

By Linda [45]12/29/2014
Google or You Tube - removing ring from finger. There is an easy and quick surefire way to remove it with just a string!
How do I get a diamond ring off my finger?
By Helen
---
Most Recent Answer

By Angie Pritchard03/07/2015
Using lotion or Vaseline so you don't have to get your ring dirty will take a nickel size amount then massage on the area around your ring. Using butter can grease your ring but will easily come off. If you don't have those items in your house then using hot water and soap can lift it up a little.
Archives
Thrifty Fun has been around so long that many of our pages have been reset several times. Archives are older versions of the page and the feedback that was provided then.
Tips for removing a ring that is stuck on your finger. Post your ideas.