A home fire, even a small one, will require repair and cleanup. This is a guide about repairing after a fire.
What paint covers and removes the odor from soot after a kitchen fire?
By nratsma
---
Most Recent Answer
January 5, 2013
Years ago we did a fire rehab job. We tried the expensive soot removers. Totally Awesome from the dollar store worked better! Also call your local tool rental center and find an ozone generator. Car detailers and casinos use them all the time to kill odors. Be careful, though, because it will kill plants or pets. Get everything living out while in use. Finally, you cannot get the smell out of the wood. Use a lacquer paint to "seal the odors in". It is pricey, but it's the best way. Also, before you put up the sheetrock, put a few buckets of dehumidifier crystals in between the studs. Every layer of protection helps.
---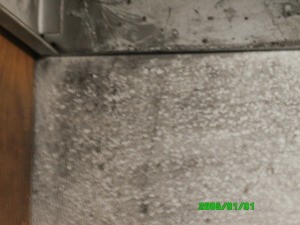 I had a small stove top fire in a skillet and the fire scorched the wall above the stove underneath the overhead vent. It scorched the wall and the cabinet with black smoke. What is the proper way to clean off the smoke and how can I remove it from the wood cabinets? Regular soap/water will not remove it, just spreads it.
By Cher
Professionals use a heavy-duty suction machine to remove tough soil from walls and ceilings. A homeowner may use a vacuum wall brush attachment, emptying or changing the bag often. You may need to clean the wall brush in suds, rinsing and drying thoroughly before using again on clean surfaces; or buy a new brush.

Next treat clinging soot by applying the type of absorbent putty used to clean wallpaper. Then washable surfaces should be washed with suds. If repainting is needed this preliminary cleaning is vital because paint or varnish will not adhere to soil. Use moderately-strong alkali solution such as 2 tablespoons to a gallon of water of washing soda, trisodium phosphate or ammonia, for soil-based soot if soot does not come off readily with regular suds. May need to apply a sealer compound such as "BIN" before repainting (see "REMOVING SMOKE ODORS AFTER A FIRE" under ODOR.

Wash windows, mirrors and lighting fixtures with lukewarm suds, adding a little ammonia to both the suds and rinse water.

If woodwork is refinished with paint or enamel, pretreat and suds the same as walls.

Heat causes most plastics to melt and fuse. If there is no heat damage, smoke and water have little or no serious effect and plastics can be washed with suds.

Wash porcelain enamel with hot suds. A special cleaner of the type used for automobiles may be needed to remove heavy smoke discoloration.

MSU Extension
About The Author:
This article was written by Anne Field, Extension Specialist, Emeritus, with references from Arkansas Extension bulletin How to Clean House After a Fire.
Does anyone have an idea for cleaning grease fire residue off of painted walls?

Laurie from Kaukauna, WI
Feedback:
RE: Cleaning Walls and Hard Surfaces After A Fire
My friend used TSP cleaner. She got it at a hardware store, and it comes in a box. We scrubbed the walls with it. She was a 4 pack a day smoker who did not open windows, and the walls were yellowed with tar and sticky. This stuff worked! Good luck. (11/30/2006)

By meoowmom
RE: Cleaning Walls and Hard Surfaces After A Fire
I use "greased lightning" that you can purchase from your local dollar store or Walmart. I am a smoker and my small bathroom gets a build up of smoke and nicotine that needs cleaning twice a year. This product works well for me with no scrubbing needed. (12/02/2006)

By jcdeen3
RE: Cleaning Walls and Hard Surfaces After A Fire
We helped clean the walls of a smoke fire. The firemen told the people to use alcohol, as that's what they use to clean
walls, windows, etc. I believe you use full strength.

Good luck. (10/31/2007)

By Elaine
My house had a small fire. The dryer caught on fire, and the pantry it was in had a little fire damage. The kitchen and bathroom have smoke, water, and black soot and a heavy black dust on them. What should I do? Should I gut the walls or can I scrub them clean and then prime and paint?
By Michael from Somerville, MA
Feedback:
RE: Cleaning Walls and Hard Surfaces After A Fire
You can scrub and then paint with Kilz paint, but you must make sure there is no soot in your duct work or it will just keep coming back. (11/06/2009)

By garyandpat
RE: Cleaning Walls and Hard Surfaces After a Fire
Professionals use TSP. (11/10/2009)

By muttmom
RE: Cleaning Walls and Hard Surfaces After a Fire
Get a gallon of Krud Kutter at Lowe's for about $11. Follow the directions [I had 2 large buckets, one with partially diluted Krud Kutter, the other clean water, and I used old face cloths to wash a wall covered in soot]. Start at the bottom of the wall and wash section of wall with soapy mix, wait 2-3 minutes, then rinse with clean water. Do not let any of the soapy mix fall on your wood floor, as it will remove the finish! (11/10/2009)

By JoanDogs