Repairing a Saggy Headliner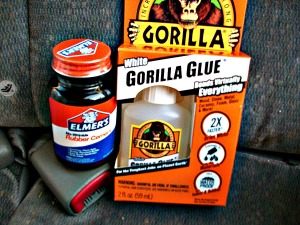 If the headliner in your vehicle comes loose and gets saggy, it can make the interior very unattractive. This is a guide about
repairing a saggy headliner
.
Solutions
Share on ThriftyFunThis guide contains the following solutions. Have something to add? Please share your solution!
This is not the first car that I've owned that's thin ceiling material started to droop down, but I finally created a way to fix it!
After experimenting I found one glue that worked along with a little help from a few pieces of cardboard to hold it in place until it dried.
Check it out!
Total Time: 1 hour including dry time
Supplies:
Gorilla glue
a few pieces of cardboard
spritz of water
Steps:
After trying both tacky glue and rubber cement (neither worked) I tried Gorilla Glue for this project.

You must "lightly" moisten, with water, one side of the project that you are gluing together. Don't use tons of glue, it expands a bit bigger when it makes contact with the moisture. Read glue instructions.
Use the glue nozzle to run some glue along one side of the loose material (or preferably directly onto the ceiling where the material separated from in the first place, your choice) and push the two pieces together.
The "trick" I used was to squeeze the two pieces together using a piece of cardboard wedged in between the top and bottom of the window. See photo. That was like clamping them together in a very awkward spot. This project needs the clamping/pressure to adhere the two materials.

Leave it for 30-60 minutes and remove the wedge!
Good to Go~
Read 2 Comments
Questions
Ask a QuestionHere are the questions asked by community members. Read on to see the answers provided by the ThriftyFun community or ask a new question.
I have a 1995 Volvo 850 wagon. The headliner is coming down. I have an estimate for $400. for repair. I can't afford that. Any ideas on how I get it to stay up?
By Erika
November 18, 2010
0

found this helpful
Been there, done that. That special glue was not so special but expensive. And difficult to use. And it did not last very long. What happens is a batch of bad glue gets on it. The environment the car sits in, part of the country where you can bake inside a closed car to the -40 degree temps in the winter. This had adverse affects on the glue. Best you can, take a mini hot glue gun and try to do some tacking. Nothing is going to be a permanent fix.
November 19, 2010
0

found this helpful
Reading this gave me a smile! Many years ago, my grand-dog pup, Ollie, a boxer with separation anxiety, chewed the headliner of my new car while waiting for my son! I mean chewed it to pieces!! I took an old quilt, folded it to something resembling the stripped area, and held it in place with several tight tension rods. It worked for the life of the car and was an interesting (and, insulating) conversation piece.
November 19, 2010
1

found this helpful
I had the same trouble with my 1991 Chev. S10. Truck. I went on the internet to DIYS searched for Auto Headliners. It told me exactly what I had to do, which was easy. I took the whole headliner down (just follow the screws where headliner is attached, take old material off. Clean form real good. I then bought headliner material and spray at Joann's Fabric or any fabric store usually sells it. It cost me about $60.00 to do it right. If I can do it, anybody can, as I am 72 years old woman.
Ps: It turned out beautiful and still is looking good.
November 6, 2016
0

found this helpful
Thanks
Read More Answers
August 3, 2007
0

found this helpful
Help, my headliner in my pick-up fell out. What kind of glue can I get to put something up there. The top really gets hot and so the a/c really isn't as cold as it could be.

Thanks for your help.
By guest (Guest Post)
August 7, 2007
0

found this helpful
You could go to an automotive parts store and ask them for some ideas.I know 3M makes spray adhesive for that purpose.Just be careful if it is styroform as some adhesives could melt the styroform. Or you could visit a bodyshop that makes those repairs all the time and ask them what they use.
August 7, 2007
0

found this helpful
Another suggestion; The same thing happened to my dad's '51 Ford that he restored. This worked great! He took the headliner down, removed the fabric and bought some vinyl from the fabric store and applied adhesive (probably a liquid glue) and applied it to the headliner "board", which on newer vehicles is almost like cardboard anyway. It worked and looked nice. Also, depending on the thickness of the backing, you can try using thumbtacks or the types of tacks that are are used to hold slipcovers in place that kind of screw into the fabric. I've seen this work in some cases also. Finally, check a junkyard for the same year and model truck you have for a replacement. Good luck!
Jenny
By guest (Guest Post)
August 7, 2007
0

found this helpful
Had a good laugh from this one! Years ago, my granddog (then, a puppy), chewed up the entire headliner in my car-he had separation anxiety! Anyway, I used an old quilt, which I suspended with the use of tension curtain rods (the kind with springs which make them adjustable), place at both ends of the headliner area and a couple of more in the middle area to keep it elevated. I couldn't even be angry with him!
August 7, 2007
0

found this helpful
years ago I used 3m spray adhesive and it held for quite a long time.Just be careful of the wrinkles
Related Content