Glueing Droopy Car Headliner
This is not the first car that I've owned that's thin ceiling material started to droop down, but I finally created a way to fix it!
After experimenting I found one glue that worked along with a little help from a few pieces of cardboard to hold it in place until it dried.
Check it out!
Total Time: 1 hour including dry time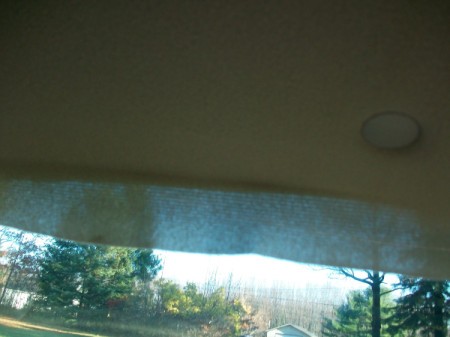 Supplies:
Gorilla glue
a few pieces of cardboard
spritz of water
Steps:
After trying both tacky glue and rubber cement (neither worked) I tried Gorilla Glue for this project.
You must "lightly" moisten, with water, one side of the project that you are gluing together. Don't use tons of glue, it expands a bit bigger when it makes contact with the moisture. Read glue instructions.
Use the glue nozzle to run some glue along one side of the loose material (or preferably directly onto the ceiling where the material separated from in the first place, your choice) and push the two pieces together.
The "trick" I used was to squeeze the two pieces together using a piece of cardboard wedged in between the top and bottom of the window. See photo. That was like clamping them together in a very awkward spot. This project needs the clamping/pressure to adhere the two materials.
Leave it for 30-60 minutes and remove the wedge!
Good to Go~
Add your voice! Click below to comment. ThriftyFun is powered by your wisdom!
November 14, 2015
0

found this helpful
Or you could just do what I saw once - I was loaned a car which was up for sale. Great car... except for the three egg flip utensils hovering above the rear windscreen. These were wedged into the roof lining trim to - you guessed it - hold up the saggy roof lining. It was a unique solution if nothing else, and most curiously, the utensils were all brand new complete with tags - purchased for the sole purpose of holding back the roof lining.
Two weeks later the car was sold and I returned it to the person who had loaned it to me. The following day I made a comment to him about the unusual "repair" method, which was met with a genuinely unhappy "oh damn, I meant to take them out before handing the car over!"
March 15, 2017
0

found this helpful
Donna, Thank you thank you thank you soooo much! Very helpful. That spray is far too expensive for me. Rediculously priced. That's why i came here looking for help.
August 2, 2017
0

found this helpful
This is one of the first times I ever got a logical explanation to a problem! Thanks dude! Sagging fabric on a car's interior sucks!
Add your voice! Click below to comment. ThriftyFun is powered by your wisdom!