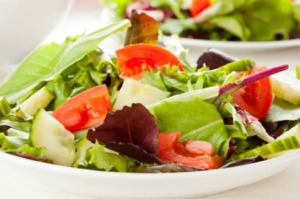 When preparing food for a large group, it is a challenge to have enough, but not too much. This guide contains salad ideas for 100 people.
Ad
---
Questions
Here are questions related to Salad Ideas for Large Groups.
How much potato salad for 100 people?

Dodie from Horse Shoe, NC
Ad
---
---
Most Recent Answer
By Penny Stoehr [28]10/10/2006
30 pounds potatoes
4 cups chopped onions
7 1/2 cups celery
30 hard boiled eggs

DRESSING:
6 TBLS. salt
2 TBLS. pepper
2 quarts real mayonaise
2 quarts miricle whip
1/2 quart pickle relish
1 cup dill pickle juice or more if needed

OPTIONAL:
Yellow Mustard to taste
Celery seed
Diced Carrots for color
Diced Green Pepper
Crumbled Bacon
Cubed cheese -small

Peel potatoes. Cook until tender but not mushy. Let cool overnight.
Next day:
Dice potatoes bite size. Set aside.

MIX:
Mix all ingredients, except potatoes, really good.
Add potatoes. Mix really good.

Cover overnight to let flavors blend .

Enjoy.
I need a pasta salad recipe that feeds 100 people for my sister's graduation party. Anybody have one?
By Lyd
Ad
---
---
Most Recent Answer

By Carly St.Clair [4]03/19/2010
Pasta of your choice (tri-color) is a good one
canned olives chopped
Italian dressing
bacon pieces
minced carrots and celery
parmesan optional
OR
Pasta
Ranch Dressing
chopped ham from 5lb loaf
canned olives chopped
minced carrots and celery
I am planning a salad bar luncheon for 100 people. I need to know how much of the various items will feed this many people.
lettuce
cherry tomatoes
onion
broccoli
cauliflower
sprouts
beets
peas
olives
turkey
ham
chicken
cheese
sunflowers
diced egg
cucumbers
celery
thousand island dressing
ranch dressing
Brenda from Bisbee, AZ
---
Most Recent Answer

By Christine IN (Guest Post)02/22/2008
Go to recipes for 100 lots of good things. Hope this helps.
I need help estimating the cost of and ingredients needed for a salad for 50. I will be making it with a romaine and iceberg lettuce mix, shredded carrots, cucumbers, tomatoes and salad dressing.
By Aaron from Nashville, TN
---
Most Recent Answer

By Barbara Petty [13]04/23/2010
I believe that I would call one of the Larger Churches there in Nashville. The ones that serve meals on Wednesday nights.

The person who plans and prepares those meals for such a large crowd would probably be glad to help you with the amounts you would need to buy to feed 50 people. And could probably tell you the best place to purchase your veggies too.
I want to get a recipe for macaroni salad, but the main thing is to actually give me an idea of quantities of ingredients.
By Cara
---
Most Recent Answer

By Babette [35]03/22/2015
Grandma Mohr's Macaroni Salad

One large package salad macaroni
1 large green bell pepper
1 small can pimento
One bunch green onions
4 stocks celery
6 hard boiled eggs

Dressing

1/2 cup mayonnaise
1 p. sandwich spread
1 tbsp. Prepared Mustard
1 tbsp. paprika
1 tbsp. garlic salt
1 tbsp. cayenne pepper

Directions
Boil the macaroni to just done, drained and run under cold water to cool, while macaronis cooking cut peppers, onions and celery into medium sized pieces.
Mix all dressing ingredients in a large bowl and mix thoroughly pour and cooled macaroni and chopped vegetables, gently mix in chopped hard boiled eggs.
It is even better the second day
Solutions: Salad Ideas for Large Groups
Do you have knowledge about this guide topic? Feel free to share a solution!