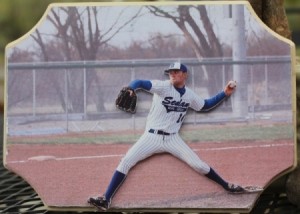 I have found a great new hobby, it is called photo cutouts. I have had a pile of pieces of acrylic taking up room in my garage. So the other day while I was moving the pile once again, I asked myself, "What can I do this stuff?". Then it hit me, I remembered a long time ago there was a store that sold photo cutouts, that is where you take a photograph glue in onto the plastic then cut out the main subject with a scroll saw.
Well I took it one step further I printed two copies of the same photograph. One on just regular paper, the other on glossy paper, I glued the plain paper photograph onto a blank piece of wood, which I found at a garage sale for $.50. Then I cut out the photograph on the glossy paper and glued it to the one on the wood blank, and presto I have pop out photograph which looks 3D.
Hope you enjoy. Oh by the way, the pitcher in the photograph is my grandson Brady McCoy from Sedan, Kansas.
By John from Haysville, KS
October 18, 2011
0

found this helpful
Nice work!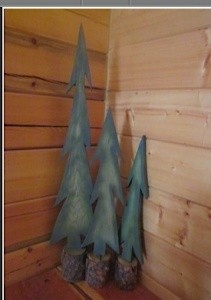 These are scroll sawed trees with real bark.
Approximate Time: 4 - 5 hours
Supplies:
8 ft. by 1/2 in. board
scroll saw
acrylic light green paint
dark green spray paint
1 dowel 1/4 inch
real tree bark
wood glue
tree branch 3 -4 inch diameter by 4 inch high
sand paper
drill bit size of dowel and drill
Instructions:
Cut tree shapes to your height and own pattern.
Sand the rough edges.
Drill a hole for the dowel in both the tree shape and the log.
Put glue in holes and add dowel.
Paint the light color on each tree.
Stand up the trees and spray paint (outside) the edges and outer part of tree leaving the lighter color inside.
Find bark from an old branch or purchase from a craft store. Glue on bark. The bark is glued around a cylinder of wood (branch).
Stand and enjoy.
By Louella from Billings, MT
June 18, 2012
0

found this helpful
Love it! Can't wait to give this project a try. I can see these being used almost anywhere....covered porch, empty corner, etc. Great idea.
Harlean Greathouse
0

found this helpful
This little wooden bear has a magnet to be used for displaying a child's drawings. Made of wood, but this pattern could also be used with craft foam.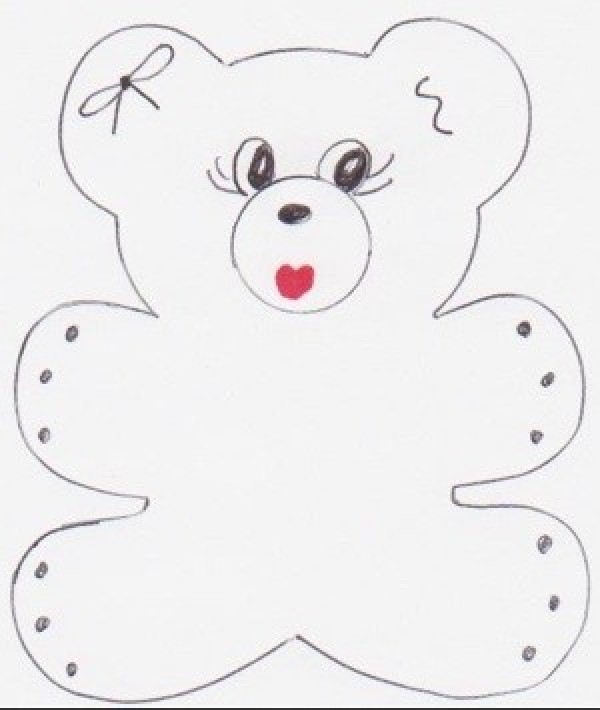 Tools and Materials:
scroll saw
black Sharpie
acrylic paints: red, white, and brown
scrap of ribbon
round craft magnet
Directions:
Trace pattern onto light cardboard, transfer to 1/4 inch plywood and cut with scroll saw.
Dilute brown paint: 1 part paint to 4 parts water. Dip bear into paint covering all sides. Let excess drain and wipe gently with a soft cloth.

Using the picture at the top of this page as a guide, draw the features with the black Sharpie. Use the Sharpie also to personalize with "See what ______ Did" or "See What ___ Made".

Glue a round craft magnet to the center back of the bear, and glue a small bow to the ear.
Use the red paint for the mouth and the white for the dot in the eye.
Use it to hold the child's artwork on the refrigerator. This is a craft that a child can help make.
An adult should cut the bear from the wood. Note: If you don't have a scroll saw, you could make this with a piece of art foam instead.
Use a toothpick dipped in the white paint to put the dot in the eyes.
By Harlean from Hot Springs, AR
The instructions are also in a PDF file for which you may need Acrobat Reader to view. Download Acrobat Reader
Click Here to download the Teddy Magnet for Fridge Instructions in PDF format.
August 7, 2008
0

found this helpful
Harlean...
how absolutley adorable !! I just love it.
thank you for sharing this cute craft with us. I can't wait to make some for the grandchildren