Whether you are assigning or decorating clothing, sometimes you want that marker not to be washed away. This guide is about setting permanent marker on clothes.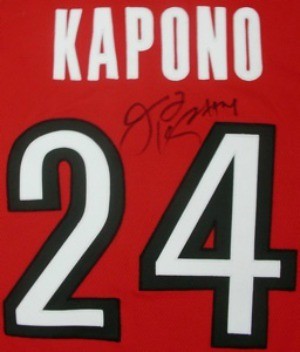 Filter

: All Articles
Sort

: Relevance
Do you have a child or teen's birthday coming up? How about a church youth group? Here is something we did that youth of all ages enjoy. We bought a package of colored Sharpies. They come in a set of 24 and might be a wee bit on the expensive side, but are worth it for the different shades of colors you get.
Have the young ones, and young at heart bring a t-shirt, pair of jeans, or anything else they have permission to decorate. Place a stiff piece of cardboard in between the front and back sides of the clothing. Lay out the markers on the table and let them go to it.
I have found that after they air for about an hour it helps to heat set the clothing in the dryer for about 10 to 20 minutes. Airing helps get rid of the lingering odored from the Sharpies.
By McCollonough from Nashville, TN
How do you SET Sharpie Ink into clothes (primarily cotton or cotton blend t-shirts and also dennim pants/jeans).

I work at a Scout camp and at the end of each week all the staff and kids sign each other's camp shirts (or Jeans - mom's GOTTA love that! LOL). Anyway, last year, my daughter wore her t-shirt a lot and all the sharpie "permenant" ink came out in the wash - isolated case of NOT wanting it to come out, but I can't find anywhere to tell me how to make sure it DOESN'T come out!

Thanks,
Scouter James
Answer
Was this helpful?
Helpful?
Yes
July 9, 2013
1

found this helpful
Here are the exact full proof way on how to set ink into clothes. Items needed- Salt, Iron, White Cloth. These instructions included in the link are very simply. ***Always wash in cold water as less as possible or dry clean. You must place the item of clothing with ink on it onto ironing board. Place the white cloth over the area where you'd like the ink to to set, Iron over the cloth on med-high heat setting. After waiting 24 hours after ironing every area. Place 1/2 cup salt into washer with cold water, no detergent. Wash item. Then dry in dryer.
http://www.ehow.com/how_6696555_set-ink-fabric.html
Reply
Was this helpful?
Helpful?
Yes
Read More Answers...
This is the last week of school for me and I'm gonna have people sign my jeans, but if I wash them the Sharpie will come out. I need to know to get the ink to set so that it will be there for a while and not wash out after the 1st or 6th wash. I can't get out to get some special fabric ones, so help please!
By Kitty H.
Answer
Was this helpful?
Helpful?
Yes
You can also hand stitch/embroider the signatures. I have a linen tablecloth from long, long ago that quests would sign and were embroidered over each signature. It looks really cool and you can use whatever color embroidery thread you would like for each signature. Yes, it's time consuming but it's worth it and a piece of artwork that cannot be washed away no matter what and will defintely last for your lifetime and beyond :-)
Reply
Was this helpful?
Helpful?
Yes
Read More Answers...
I've drawn on my pants with Permanent Marker and I LOVE the designs I did. How do I preserve it?

Serena from WPB, FL
Answer
Was this helpful?
Helpful?
Yes
You can use a colorless, water--based, acrylic paint as a sealant for the marker designs. Just brush a thin coat over your designs and allow to dry for 24 hrs. I'd probably turn jeans inside out and apply the acrylic to the back side of the designs as well, to prevent fading from both sides. Once dry, the treated fabric will feel stiffer than the rest but, it should soften up when washed.
Reply
Was this helpful?
Helpful?
Yes
Read More Answers...
I made a homemade t-shirt with different colors of permanent Sharpie marker, and would like to know how to wash it without smearing the marker and ruining the t-shirt?

Rita
Answer
Was this helpful?
Helpful?
Yes
(Submitted via email)
The vinegar mixture made the marker run all over the shirt. Do not do this!
Lisa
Reply
Was this helpful?
Helpful?
Yes
Read More Answers...