Sewing stretchy fabric can be tricky. You want to follow a few simple steps to ensure that the finished seams lie nice and flat and at the same time do not break when the garment is worn or the item used. This is a guide about sewing stretchy fabric.
I am sewing wind pants with zippers down each leg. The material I have is only stretchy in one direction. Which way should I layout the pattern pieces? Should I have the stretch be vertical or horizontal?
By Sally D
Answer
Was this helpful?
Helpful?
Yes
Always when sewing pants or any clothing from a stretch fabric... the stretch should always: "wrap around you". Otherwise you will end up with legs stretching long, messy and differently, bags and wrinkles of all strange sorts at the crotch and backside.
None of us needs that sort of attention, nor the waste of your fabric and efforts.
Best of sewing.
Reply
Was this helpful?
Helpful?
Yes
Read More Answers...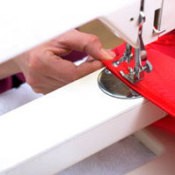 Tips from the ThriftyFun community for sewing stretchy fabric without warping.
Use Tissue Paper
Have you tried sewing with tissue paper? Sandwich the fabric inside the paper, the feed dogs will not stretch the paper. Once the seam is sewed, you just have to rip the paper off. You only need a narrow strip, maybe 2 inches wide.
By Lois
Stretch The Fabric While Sewing
Be careful. If you don't stretch the fabric a bit while sewing, you will find that the stitches break when the fabric stretches while being worn.
By Sue
Adjust Pressure
You should be able to adjust the presser foot pressure. Check your machine manual. For lightweight fabric - more pressure and for heavy fabric - less pressure. Play with different settings to see what works best. A teflon coated presser foot will also help some fabrics glide through easier. Also try lightly steaming and pressing the seam after sewing to shrink the stretching back to normal. Sometimes this helps with certain fabrics.
Use Ball Point Needles
Make sure you are using a ball point needle and loosen the tension of your pressure foot. Tissue paper also helps.
Helpful Tip: Make sure the package says ball point needles. I once asked the sales person to give me needles for stretch fabric. She gave me universal needles. My daughter made it for the last dance to her Jr. prom because I had so many problems trying to sew with the universal needles. After the event, I purchased ball point needles and they glided through the material like silk. That was an experience that both my daughter and I will never forget.
By Joanne
I'm wanting to make onesie dresses. How can I attach the cotton material to the onesie and still keep the stretch. Should I use elastic thread in my bobbin and still pull the onesie that stretches while sewing the cotton fabric to it?

By Aleah
Answer
Was this helpful?
Helpful?
Yes
Whilst sewing stretchy tee shirt type material the stitching puckered up and went tight. The cotton I used was polyester. Should I have used Trylco cotton?
By Marian L
Answer
Was this helpful?
Helpful?
Yes
There are several causes for what you are describing. One is that you may have the tension setting set too high or too low for the fabric. Or you could be using the wrong stitch setting.
Another might be the type of thread you are using - polyester thread is best when stitching stretch material because it stretches with the machine stitch and tension setting much better than cotton thread does.
You could be using the wrong type and size needle - always use a ball point or 'jersey' needle of the correct size for the thickness of fabric you are sewing.
Check your user guide manual for the correct thread-needle-tension-stitch settings for your machine, and always make up a test strip with a doubled over scrap piece of your fabric to check settings before stitching into the actual garment pieces. In this way you will see beforehand what settings work and which do not. It's worth it to make notes, too.
Reply
Was this helpful?
Helpful?
Yes
Read More Answers...