Maintaining good soil is your most important task as a gardener-even more important than maintaining your plants. If you're starting a new garden or your plants and flowers just aren't growing well despite your best efforts, then having your soil tested probably makes sense. Sending your soil to a laboratory, however, can be both costly and time consuming and unless you're a trained agronomist, the results are often difficult to understand. Fortunately, there are easy ways to test your soil at home. Of course, they are not as scientifically accurate or exacting as laboratory tests, but they will provide you with a basic understanding of your soil.
The Crumble Test
Grab a handful of medium-dry soil and look at its texture. A soil with good structure will simply crumble when you squeeze it in your hand. If you can squeeze it into a ball, it contains a high content of clay. If you can leave scratches on the surface of the clod, it contains a significant amount of sand. If, on the other hand, it feels greasy in your hands, your soil contains a fair amount of silt.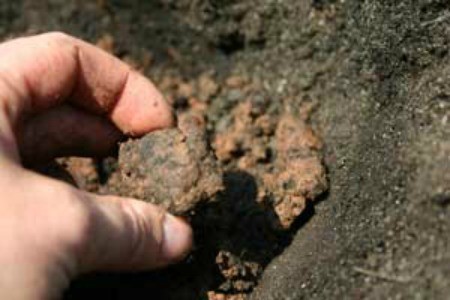 The Root Test
Dig a hole two feet in depth next to some plants in your garden so you can examine the development of their roots. Good workable soil will allow roots to develop straight down into the soil. If the roots of your plants start to run laterally at some point along their development, they have reached a hardpan or plow pan layer-a layer of compact soil that needs to be broken up.
The Drainage Test
To test the your soil's drainage performance, dig a 2 ft deep hole in your garden and fill it with water. If the water remains pooled after a reasonable amount of time, you need to improve your soil's drainage.
Testing For Organic Nutrients
There are a couple of ways to determine if there are high quantities of rich, organic matter in your soil.
Worms: Because earthworms naturally gravitate to areas high in organic nutrients, you can tell a lot about your soil's health by the number of worms present in your garden. Sift through a cubic foot of soil from your garden (1ft x 1ft x 1ft hole) and count the number of worms you find. Soil healthy in organic matter will have at least 10 worms in a cubic foot-a good barometer of the overall life present in your soil. Fewer worms mean less life is present and you need to increase the nutrients available in your soil.
Related Content
(article continues below)
Tomatoes: If you garden is lacking in nutrients, your plants will be usually your best indicators. Tomatoes, for example, respond to a variety of soil deficiencies:
nitrogen: slow growth and yellowing foliage
iron: veins stay green but leaves turn yellow or light green
potassium: noticeable streaking, spotting, curling or mottling of older leaves
phosphorus: small plants with dark green/blue foliage and poor fruit development
calcium: blossom end rot, young leaves remain wrinkled and folded
Nitrogen Fixing Plants: Dig up and examine the nodules of nitrogen fixing plants, like peas, beans, alfalfa and clover. When broken open, the nodules should be pink if they are fixing and storing nitrogen like they are supposed to be.
The pH Test
Look no further than the native weeds growing in and around your garden to get an idea of your soil's pH levels. Hawkweed, horsetail, lady's thumb, dock and sorrel, for example, all prefer to grow in acidic soil. You can find inexpensive, do-it-yourself pH test kits available at most garden centers.
Unlike the weather, soil is one of the few aspects of gardening over which we have total control. If we have a basic understanding of what type of soil we're starting with, we can amend the soil as needed and achieve the best balance for our plants. If after these simple tests you still feel the need to have you soil tested professionally, contact your local extension service for advice specific to your area.
Read 1 Comment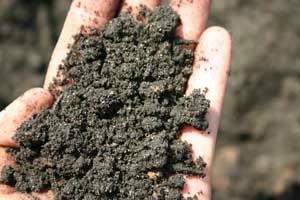 Question:
How does one make his own soil testing kit?
bbleackley from Saskatchewan
Answer
bbleackley,
You can make your own kit to test your soil's pH, but keep in mind that it will only give you a general indication of acidity or alkalinity. Most plants grow best in soil with a pH of 6.0 to 7.5. it won't be as accurate as getting your soil tested by a certified lab. To make your own pH testing kit, you'll need a couple of glass jars, some vinegar and some baking soda. Start by spooning several tablespoons of soil from your garden into a jar. Take two to three samples of dirt from the topsoil and two to three samples from 3-4 inches deep. Mix all of the dirt together. Now spoon two tablespoons of the mixed soil into each jar and mix in a little bit of water until the soil is just moistened.
In a separate container, mix a tablespoon of baking soda with two tablespoons of water. Pour this into one of the jars containing soil. If the soil starts to bubble or fizz, it may mean your soil is on the acidic side of the pH scale. If it doesn't fizz at all, you may have alkaline soil.
Now add a tablespoon of white vinegar into the second jar containing a mixture of your soil. This time if it fizzes, it may mean your soil is more on the alkaline side of the pH scale.
If your soil is acidic, you will want to increase soil pH. Lime is most commonly used. To lower the pH of alkaline soils, use compost and manure. Remember, changing your soil's pH takes time. The best time to perform a soil test and add amendments to your soil is in the fall.
Read 2 Comments
How do I test my soil? Do I hire someone to do it or is it a DYI project?
By Judy from Riverside, CA
June 4, 2012
0

found this helpful
Best Answer
In my state the University has a cooperative extention service that does soil testing. When I contacted them they sent me instructions and a box to put the soil sample in to mail back to them. In a couple of weeks I recieved a print out and information on how to improve the soil. The cost was about 10 dollars.
June 5, 2012
0

found this helpful
Look in your telephone directory under County Government and see if your county has a cooperative extension agency. In our county they do free soil testing.
June 5, 2012
0

found this helpful
June 11, 2012
0

found this helpful
You can go to any Garden center, Home Depot, Lowes or even Walmart or Kmart in the garden center & get a soil test kit. Very simple to do. There are several kits. Some more extensive than others. I just used a basic kit with 1 tube & capsule in it. It lets me know what to do to ammend the soil.Read chart on back of pkg. Good luck!
June 11, 2012
0

found this helpful
Contact your local Extension Service. They have a small packet with directions on how to gather your soil for testing. Return the packet with your soil contents and with in a short time you wll receive a reply and how to rememdy your soil. There is a small fee for this packet. jjs w Palm Beach, FL
I was wondering, how do you test the soil in your garden?
Thank you.
Hardiness Zone: 5a
By Joyce wis from Janesville, WI
May 29, 2009
0

found this helpful
Go to your local Extension Service Office. They have a kit that you can buy (reasonable) and they will tell you how to collect the soil in different areas. You then send the sample away where it will be checked and you will get a reply.When you talk to the extension office-they explain every thing to you. Good luck. If you don't test your soil, how will you know how to amendent it. You will be wasting money, if you add some thing to your soil that is not necessary. Jeannnette
By testing your soil in your lawn every 3-4 years, you can keep on track if your lawn needs to have nitrogen added or not. Nitrogen is the key nutrient needed for a thick, green lawn.

By Terri H.
Testing Soil for Planting
Upon getting ready to start your garden, test your soil first, to see if it's dry enough to work. Form a ball with your hand in the soil and squeeze it. If it crumbles and falls apart, it's dry enough to plant. If it remains in a lump, wait a few days for the soil to dry up.
By Terri (06/18/2005)

By ThriftyFun