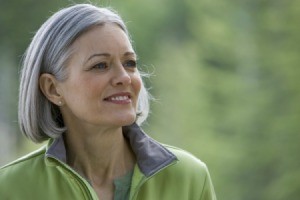 Many woman choose to maintain their gray hair naturally. This page contains tips for graying hair.
Ad
---
Solutions: Tips for Graying Hair
Read and rate the best solutions below by giving them a "thumbs up".
Several years ago, my husband and I went through several months of treatment and recuperation with my husband's colon cancer. While he was recuperating at home, I started doing his haircuts. Now that he has been "clean" for several years, I still do it because it is more economically feasible. Both he and I are completely silver, or so I thought. This morning, I was doing his cut and I saw a little black dot with a little thread-like thing sticking out. On closer inspection, I found ONE black root with ONE dark brown hair sticking up! We laughed and laughed about it so I thought I'd better share.
I homeschool my daughter, and in one of the stories that we were reading (Neighbor Rosicky by Willa Cather), a 1920's frontier woman covered her graying hair with a brew of strong tea. I tried it, and it works! It doesn't completely cover the gray, but it does make it less noticable, and only costs the price of a tea bag per day. Nancy from PA
Give a "thumbs up" to the solution that worked the best! Do you have a better solution? Click here to share it!
Questions
Here are questions related to Tips for Graying Hair.
I am getting grey hair. What can I do?
By Joan from Roswell, NM
AnswerWas this interesting? Yes No
Ad
---
---
Most Recent Answer
By Betty 104 753 04/08/20100 people found this helpful
Sorry, and ya'll can call me vain if you like but grey is not ALWAYS beautiful. There is nothing more unattractive when we all walk out of the salon looking just alike, grey with a VERY short neckline cut or tight permed. When I have to find a new hairdresser if I walk out looking like everyone else I don't go back. I colored for years and when I decided to let it all grow off I looked tired and dull and my hair had no body. When I colored it again people raved at how attractive it was. I'll probably go to my grave as a blonde. Yes, grey can be beautiful on some but not all. The right color job can do wonders.
---
I need to know how to naturally let my gray grow out faster, but healthy and shiny!
By Ann
AnswerWas this interesting? Yes No
Ad
---
---
Most Recent Answer
By Grandma J 54 1,041 03/06/20110 people found this helpful
As we age, this suggestion is an important one. Do not wash your hair daily but rinse it when you shower and add a conditioner daily. It makes your hair shiny and manageable and look fresh.
My friend decided she was done being a natural redhead that was done often. Her natural red gave way to grey. It was a couple months of frequent hair cuts (short) that had her hair where she wanted in short time. What reside had stayed after the first 6 weeks looked like natural highlights. The next cut took that growth out too.
I am 56. My hair still grows about 1 inch a month, so no more than 2 months goes by without a proper razor cut. Still a natural red head but the frequent trims keep it red, the grey stays in as high lights.

One thing, hair length and certain colors at certain ages needs to be watched closer. Some styles of grey will age you past your grandmother. If you have a youthful style but the grey color screams 30 years older, you don't want that!
---
What can you do for grey hair that is starting to yellow?
By Velma
AnswerWas this interesting? Yes No
---
Most Recent Answer
By Nell 1 1 08/27/20100 people found this helpful
I use yellow out. You can buy it at a beauty supply store. If that do not work use Shimmering Light, but don't leave it on more than four or five minuetes or it will leave you hair purple.
---
Have you used color enhancing shampoos on your virgin gray/white hair? Do they add color and do you have to use it for a number of shampoos in order to see results?
By Betty
AnswerWas this interesting? Yes No
---
Most Recent Answer
By mcw 80 1,753 02/13/20110 people found this helpful
Ask your hairdresser to add in lowlights to the bottom layers of your grey hair. While the first instinct of many people is to add highlights, lowlights will create depth in the color and enhance its natural beauty. Wash your hair with shampoo formulated specifically for grey hair. This shampoo enhances the natural color and protects it from yellowing.

Condition your grey hair with conditioner formulated just for grey hair. This conditioner not only protects it from yellowing but combats dryness as well. Use a purifying shampoo once a month to remove any buildup on your hair. The trick to enhancing grey hair is to keep its natural tone and not allow it to be altered by yellow and brown buildup caused by polluted air. Keep your hair trimmed. Trimming hair prevents breakage and helps it grow in healthier, enhancing its beauty.

Go to a beauty supply store to purchase shampoo especially made for grey hair.
Does anyone have any tips for long gray hair? I would like suggestions for attractive styles for older women and tips for keeping it looking healthy. Thanks.
By Rose1953 from Greer, SC
AnswerWas this interesting? Yes No
---
Most Recent Answer
09/13/20090 people found this helpful
The best suggestion I can give as I was a hairdresser is to find a good straight on face picture of yourself that you can cut up. After you cut the picture out completely only leaving your face and shoulders but no hair other than if you have bangs, then take the photo and start browsing magazines, newspapers, etc for hairstyles even look on line for them and dont discount wigs as an option for this. When you find a photo of a hair style that you like take the photo of yourself and lay it over the face of the model in the picture. This may not be a "perfect fit" but it will give you a pretty good idea of what you will look like with that specific style. This seems to work well using the computer as you are able to pull up wigs and hairstyles alike to " try out " your new style.

Once you find something pretty close to what you like and that will fit your lifestyle try going to a wig shop and trying on some wigs, this will give you a very good idea of the look on you. Once you do find a style make sure to get a picture as there is nothing worse than trying to describe a hairstyle to a hairdresser that has never seen the style as well as how to cut it in for you so the photo is the best and if it is a wig that you like the style of use your cell phone or digital camera and take a picture of it on you to show your stylist. Hope this helps and good luck on your new look.