Any ideas how to promote my hand crocheted items? I've been doing craft shows and I have a site on Etsy.com. It's notjusthats.etsy.com. I've put a lot of time and money into this, but I'm not seeing the rewards. Maybe I'm being a bit impatient, but it's been about 3 months now. Any suggestions how to get my name out there?
By Sheila from Burlington, NJ
By guest (Guest Post)
Flag
January 28, 2007
0

found this helpful
Best Answer
Hi Sandy; Have you tried visiting small shops (ie. florists, spas, boutiques) any store that would compliment your craft and ask to display them on consignment? They have nothing to lose and everything to gain if they sell. You can also make a brochure with pictures of your crafts with contact information; and then of course there are the craft fairs and ebay. Good Luck to you!
March 25, 2010
0

found this helpful
Best Answer
Have you tried selling them in a yard sale or have a stand at a local flea market?
June 5, 2011
0

found this helpful
Your crocheted hats look gorgeous. Other options for selling crafts online include eBay and artfire.com
Good Luck
I want to make things to sell, but I am not good on sewing or jewelry making.
By Rebecca L.
March 9, 2015
0

found this helpful
Best Answer
If you want to sell things that you have made, you need to develop the skills and experience in a craft or crafts such as knitting, crochet, painting-oil & watercolor, pottery, woodworking, metalurgy, etc.
Choose a craft and dedicate yourself to the ongoing learning and continual practice it will take to achieve the skill level to produce items to sell. This will require many months, at least, and perhaps years before you can start to sell your crafts. Good Luck!
July 13, 2015
0

found this helpful
You don't have to be an expert crafter to get started crafting. Here are some crafts you could sell and get started with fairly easily:
Candles
Soaps
Wreaths
Ribbon angels or doily angels
Christmas ornaments or cards
The internet can be very helpful. Search for something that's not too complicated that you enjoy doing and try selling your finished products. It will be trial and error as you figure out what people want to buy.
If you were making them to sell for a charity, how much would you ask for them? How much do they sell for?
By Brenda
February 15, 2014
0

found this helpful
Best Answer
Depends on the size. If you make the mask ones for headache $5.00, then go up a couple dollars for each one until you get to the big ones. I sell big ones for $15.00 to $20.00. Make sure you have information to send with them for use. Hype it up like it is a new idea or breakthrough and you will sell more.
February 21, 2014
0

found this helpful
I was always told, cost of material then half again. Hope this helps! Debre
Wherever I go I take my handy craft bag with me. I do a lot of crafts that include sewing and whenever I am waiting for long periods at a time such as at hospital visits I work on my crafts. I always try to take a completed sample with me if the product is small enough and you wouldn't believe how many times I have sold my sample or taken orders by people seeing my work. My advertising just by working on my craft paid off and cost me nothing.
By Ann from Loup City, NE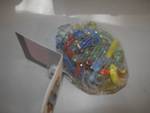 Save colored onion bag netting for small items. If the bag is open ended, simply tie a knot in one end; fill, allowing approximately 6 inch excess; and cut off remainder.
Prepare a label or gift card on your computer, print, and glue to cardboard (it can be a circle, heart, animal shape, etc.). This card will be folded in half, so print accordingly. After folding card in half, use a hole punch to place one hole in the center (if hole punch won't reach, then fold card and punch on edge).
Open card, twist netting, and run the open end through the hole in the card (so it will be on the inside of the folded card). Twist netting again and tie a loose knot. Cut off any excess netting. Fold the card and use one staple to close. This would be great for craft shows or gifts.
By Ann from Mineola, TX
I'm looking for a way to display children's aprons and chef hats at my local market day. I looked into buying a mannequin, but they are very expensive. Is it possible to make one? I plan one having my daughters modeling them. I just don't know how to hang or display what I have for sale. Thanks in advance.
By Kristina from south TX
May 5, 2010
0

found this helpful
I made hats for my daughter's bridal shower and hung them with clothes pins on garland across my window and then clothespinned the rest right onto the curtains. I am thinking you could find a way to do it on ribbons or cord or rope between two tables. The clothespins made it easy for the guests to take them down to look at them.
May 5, 2010
0

found this helpful
I have sold vests and they hang very nicely on the edges of the awning you will (most likely??) have to use. They sway in the breeze and attract attention.
You also asked about keeping the "line" of items the same. This has been successful for others, but that does not mean you can't make some cards and let people know you can and do make other things as well.
In business, just keep this in mind..."fast nickles are better than slow quarters". If you items are smaller, you save time and money making them, and the buyer saves money buying them.
Also, and this is just me, I like to sell things that are flat or can be for ease in shipping. You may not have to ship, but keep in mind, a lot of your customers will. Having a product you can put in a quilted envelope is a real selling point.
Good luck and do display what you are selling?? We would all love to see it!!
Poor But Proud
May 6, 2010
0

found this helpful
If you want a head shape blow up a balloon cover it with paper mache, several layers, let dry, let the air out of the balloon. Paint a face on or cover with a cloth. Watch second hand stores for stryrofoam wig stands also.
From personnal experience, too much variety confuses customers, stick with a couple of related items and have a nicer variety. Poor But Proud had great ideas about shipping and ease of handling your product.
What crafts are selling these days?
By Annie from NH
September 27, 2011
0

found this helpful
A lot will depend on the area you live. Not all things sell equally in all parts of the country. You could go to etsy.com and see what people are selling there.
September 28, 2011
0

found this helpful
Good advice. Also ebay and look at handmade or home made. I will help with that right now.
http://www.ebay.com/sch/Handcrafted ... _catref=1&_trksid=p3286.c0.m1538
If you lose the linc, simply go to ebay and put "crafts" in the both search fields, then "handcrafted finished pieces". Also, fabric squares sell well, granny not as well but you can always try.
If you live in a colder clime, crochet or sew items for smaller dogs, kids, or elderly citizens. Anything for pets and kids or helping people stay organized is a great way to start out. Keep your costs down and sell them for less than they might find them, if they can, at discount stores. The holidays are coming and ornaments sell well.
Good luck and let us know how you did?