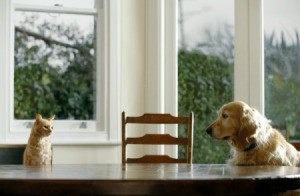 Although it may seem part of their nature, you can train a dog not to chase cats. This is a guide about training a dog not to chase cats.
Ad
---
Questions
Here are questions related to Training a Dog Not to Chase Cats.
How do I stop my dog from chasing cats?
By Bonnie J from Prineville, OR
AnswerWas this interesting? Yes No
Ad
---
---
Most Recent Answer
By kidsNclutter 06/03/20090 people found this helpful
Our dogs have responded fairly well to the "Leave It" command when they begin to bother the cats. That only works when we are present to give the command. After a while they might cease in their attempts to bother cats. Our cats mainly live in the large finished basement w/ their own private picture window, so don't feel sorry for them, they are quite content. Sometimes the dogs are just curious & sniff the cats or want to play w/ them. It might help to give the dog plenty of attention in the presence of the cat, or pay attention to them simultaneously if you can. There is some valuable info on the internet related to this topic.
---
I have 2 small dogs that get along with my friend's cats, until one of cats starts to move! The dogs will sit next to the cats, be nose-to-nose with them and will even try to play with them. But when the dog is is another room and one of the cats walks by, the dogs chase them and become aggressive. Any suggestions on how to get them stop the chase?
By AndieL from Bristol, PA
Solutions: Training a Dog Not to Chase Cats
Do you have knowledge about this guide topic? Feel free to share a solution!