July 21, 2009
7

found this helpful
I have an annoying habit of picking up orphaned sugar bowls, creamers, and little teapots that have no lids, as well as old planters too small for plants and vintage fabric scraps too small for anything, in hopes of finding creative uses for them.
Lately I've been making pin cushions. Wouldn't these make cute table decorations? You could give as door prizes for a wedding or baby shower, mother-daughter banquet, red hat tea party, or any gathering of ladies? You can pick these up for as little as 25 cents, but if you need lots or are looking for a certain color or style, start collecting them well in advance of your event!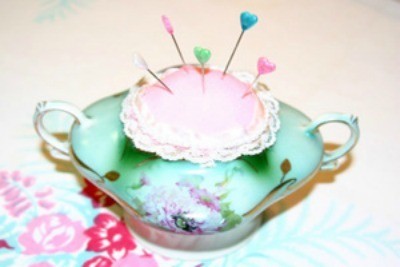 Approximate Time: 15 minutes
Supplies:
old sugar bowls, small pitchers, teacups, teapots, tiny pottery planters, etc.
Styrofoam ball, cut to fill the hole (or use tightly packed Fiberbill)
coordinating fabric scraps - vintage is best!
ribbon, beads, bows, tiny flowers, etc.
hot glue or tacky glue
fancy straight pins
Instructions:
Wash and dry your sugar bowl and sand off any chipped edges with an emery board.
Touch up chipped paint if desired and seal with light coating of varnish. (Dishes with missing lids are best because there is a "lip" around the hole where you can attach the Styrofoam ball. They're also really cheap!)
Cut Styrofoam ball to fit (or use Fiberfill).
Cover ball with fabric scrap and glue raw edges to back. Stretchy fabric works best.
Add ball to sugar bowl and glue in place.
Add trims as desired, strategically hiding cracks and chips with embellishments.
Small tags used by scrapbookers may be tied on handles and used as place cards with the person's name.
Add pins.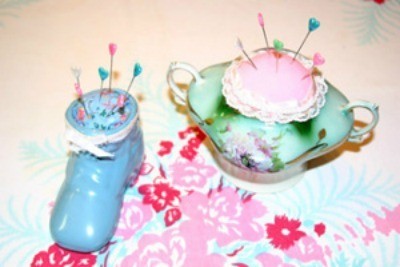 By Cindy from Waynesburg, PA
July 25, 2009
0

found this helpful
Love this idea. Thanks for sharing. Great Granny Vi
Read More Comments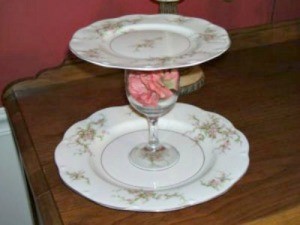 Put this tray on your vanity or dresser to hold your jewelry or use it on your buffet to serve desserts or treats. It would also make a nice gift.
Approximate Time: About 15 minutes
Supplies:
vintage plates (2 different sizes)
wine glass
silk or dried flowers
E6000 glue or porcelain glue
Instructions:
Place flowers inside of wine glass.
Put E6000 glue or other porcelain glue around bottom edge of wine glass and glue to center of large place.
Run another bead of glue around rim of glass and place smaller plate on top.
Allow to dry before using.
By Rachel's Mom from Wilkesboro, NC
May 19, 2009
0

found this helpful
I love this idea. I find vintage plates at yard sales and thrift stores all the time for sometimes a dime or a quarter! This would make a great wedding gift too!
Read More Comments
January 24, 2012
0

found this helpful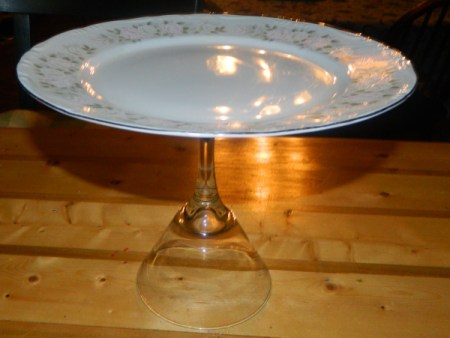 I had two china dinnerware plates stored in my cabinet; I wanted to display them or use them. I made matching cake platters. I used an inexpensive stemware piece, coarse sandpaper, quickset epoxy glue.
Read More...
I used lots of old china and tea pots etc. Last year several of my tea pots and cups broke even though they were in a storage bin outside. I live in Michigan. Anyone else have this happen? How do I know what can stay out over the winter? I hate to make and sell stuff if it's gonna fall apart.
September 24, 2015
0

found this helpful
There could be many reasons for your broken china and cold temperatures may be one reason. As you state you use old china pieces that usually do not come with their original safety and handling requirements, you probably do not know what kind of care each piece may require.
There are no quality guarantees you can assume in purchasing, collecting, etc., of old china so, accordingly, you are not able to provide a guarantee of no defects, etc., if you sell old china.