I haven't found anything related on this set, only that they are Chinese. Does anybody know the value, history (age), or anything that looks alike?
Hope you can help, blessings.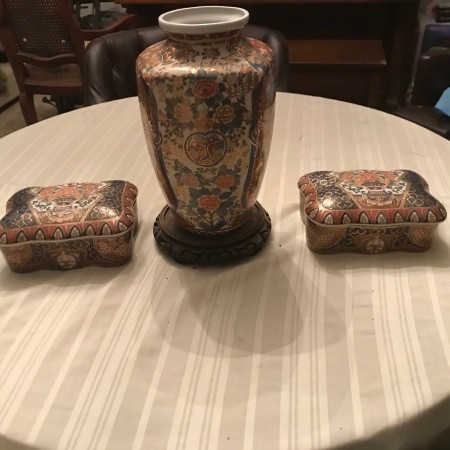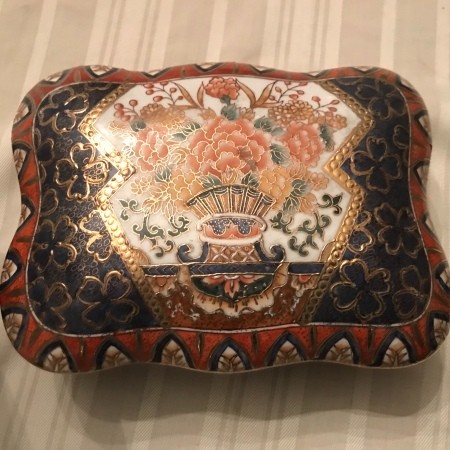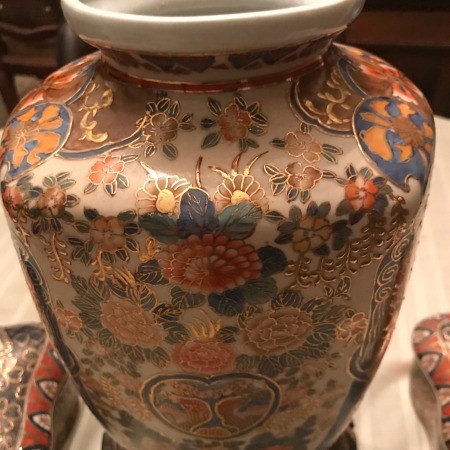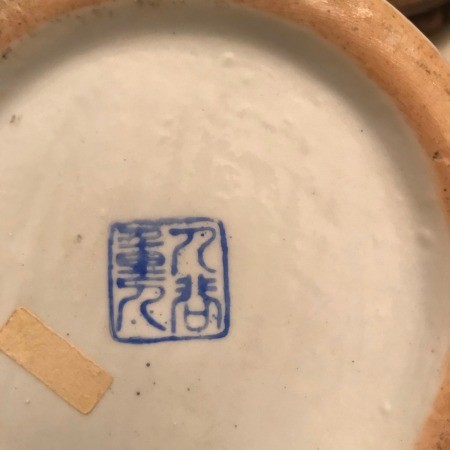 April 3, 2021
1

found this helpful
Best Answer
If you run your finger over the top/sides, is it rough and uneven? I am thinking these are cloisonné, but it is hard to tell from the photos.
While this art form is ancient, I am thinking your pieces are modern reproductions based on the other things you have posted...but as I said in one of my other comments, identifying pieces like this are challenging at best.
These look like pieces I used to sell in the 1970s-1980s when they were new and a hot commodity. They were quite popular back then, although the colors that people favored were much brighter and cheerful. The colors on these are dull, which could make them older--again, almost impossible to tell from photos if the colors are truly dull or if the photos are just a tad dark.
Are they heavy or light weight? They all appear to be porcelain--would that be accurate?
Are the tops hinged? What do the hinges and screws look like if they are.
Let us know if you are able to learn more from the Facebook group. Thanks for sharing!

DianaHM
Silver Answer Medal for All Time! 440 Answers
April 9, 2021
2

found this helpful
Best Answer
Porcelain marks remain one of the best means we have to identify the pieces. Correctly understood it is like a timestamp and sometimes like a fingerprint of the potter. So let's read the mark of your pieces.
I see that there is a marking within a square. This mark is oftentimes indicative of Kutani - a style of Japanese porcelain, traditionally supposed to be from Kutani, now a part of Kaga, Ishikawa, in the former Kaga Province. The word Kutani means Nine Valleys and is the name of an area and a village. The two characters that make up the word Kutani consist of the character for "nine", ku and "valley". Kutani characters are sometimes slightly modified in marks. You can find these characters in the mark on your pieces (on right). Remember that the Japanese marks are normally read from right to left and top to bottom. It means that you have Kutani Japanese porcelain pieces.
Many Kutani made pieces might have just the artist's as a mark, and no location. The second two characters in your mark mean the name of the artist - Shigeto. I found only Nakamura Shigeto, Ceramic Art Association, Kutani Ware Traditional Craftsman, Ishikawa Prefecture, 1946-Graduated from Komatsu Industrial High School.
www.kutani-uwae.jp/.../
Here you can watch his kutani porcelain:
www.google.com/search?q=%E4%B8%AD%E6%9D%91%E9%87...
I saw that Kutani Ware Cup Nakamura Shigeto was sold for $300, but on this cup there is a completely different mark.
www.ebay.com/.../383790465116?_ul=BR
To be honest, I have not seen such a mark on his porcelain as on your pieces. Maybe he used a different mark earlier. I think that you need to contact a specialist in Kutani porcelain or someone from the Ceramic Art Association
https://www.j-ceramics.or.jp