Is my bone china tea sets worth anything? I just want to know before I get rid of them. They are all Duberry, I think that is what they say on the bottom.
Answers
September 4, 2018
0

found this helpful
Here's a link with a lot of photos and pricing range variants depending on patterns. Hopefully, you will find yours in this grouping.
September 4, 2018
0

found this helpful
I like to go on eBay and see what items actually sold for. You may have to check regularly for a few months
September 7, 2018
0

found this helpful
For china retail values I always use Replacements.com to find out what my dishes sell for (value) retail. There is a search engine and you just match the photos to make sure you are picking the right item:
www.replacements.com/index.htm?rplSrc=7Y&rplSubEvent=6245204...|401|4729988&utm_content=27955486265
Their site will give you a retail value for each dish type (you can then add up what you have to get a value for the set--RETAIL--you will most likely NEVER get retail in any sale (flea market, yard, sale, to an antique store etc.)...so for selling value, if local, knock off at least 1/4 to 1/2 of retail price to value your set.
I sold a large number of dishes to them a few years ago and feel I got a fair price as Replacements gave me about 1/4 of their retail value. In my case this was perfect as I couldn't even get a buck a plate at the flea market because where I am no one wants these dishes--but in other parts of the country people do want them!! It was a win win!
You have to request a price list from them and follow their directions explicitly if you want to sell to them--there is a sell button on their site. They do not buy every dish they sell (it's all about supply and demand)...they price out what they buy by piece and they tell you the max of each piece they will buy or if they don't want a certain plate type or bowl type. Check back frequently because they buy list changes monthly.
You also have to pack the items VERY CAREFULLY as they are so fragile and if they get there broken, you are out the dish and the postage. I recommend double boxing items or if you live near North Carolina driving there. That is on my bucket list to take the rest of my set down there to sell and using the cash to pay for the vacation.
By the way, usually they sell their dishes on eBay as well as their own site...so for dishes, I typically just go directly to Replacements to value items as eBay is a duplicate of what is already on their site.
Hope this helps!
September 17, 2018
0

found this helpful
It seems that if DuBarry is the only name on your set it is not as valuable as other brand name china with the Dubarry shown as a pattern name. In other words, Dubarry is a pattern and used by numerous companies such as Lenox, Spode, Royal Daulton, etc..
"Elegant - Shelley database term for the highly decorated series of patterns, primarily on the Gainsborough shape produced in three or more colors during the World War II years, including such patterns as Georgian, Crochet, DuBarry, Regal, Sheraton and Duchess."
You will probably not find your set at Replacements unless you have a brand name but you may find your patterns - which, as I understand it, patterns under the DuBarry name only are old patterns reproduced on new china.
You can check Replacements for your china but I think you could contact them as Pghgirl suggested to see what they would offer you.
It is also said that a tea set without the teapot would be about 1/2 the value of a full set.
www.replacements.com/.../?query=dubarry&lrs=1&facets=Rc2xCoNAEIThV5GptwiCiNvmBSzSich5niRBVHQV5bh3dzES6...
You can find "Dubarry" china listed for sale and sold on Etsy and eBay but the pieces will all have a brand name (I did not find any listings for just "Dubarry) so not much use in trying to find a value.
You might want to ask for a free appraisal and see what information they will give you. If you follow this route you will need several photos and especially a good, clear photo of the bottom of a plate/saucer as well as number of pieces you have.
Here is a link to check if you wish to read about appraisals.
September 17, 2018
0

found this helpful
Go on replacements.com and see what they are worth.
September 18, 2018
0

found this helpful
Sorry but unless there is another name besides Dubarry on your tea sets you have reproductions of the original designs. This does not mean they have no value, it just means they will not have the high value of the original sets/designs.
The original sets were/are made by major chinaware companies and have the word Dubarry because it is a design/pattern and utilized by over 100 companies that make chinaware.
If you Google Dubarry you will see that china with Dubarry in the name is shown as a pattern and made by a major chinaware company.
www.google.com/search?q=Dubarry+china&ie=utf-8&oe...
Replacements has a huge amount of Dubarry listed but it all has a major chinaware name with it and there is no just Dubarry china listed on Replacements right now.
But, Replacements may still be interested in purchasing these tea sets so you should still fill out their form and see what they say.
Your tea sets may have another another name besides Dubarry so please check out the bottom of several pieces to be sure.
Perhaps you could post a picture of the markings so someone could maybe help you further with finding a value.
Answer

this Question

...
I have a complete set of bone China from England. It has the "number/letter" markings in the center on the back of the plates. How would I get this appraised and where? We live in Deerfield Beach, Florida.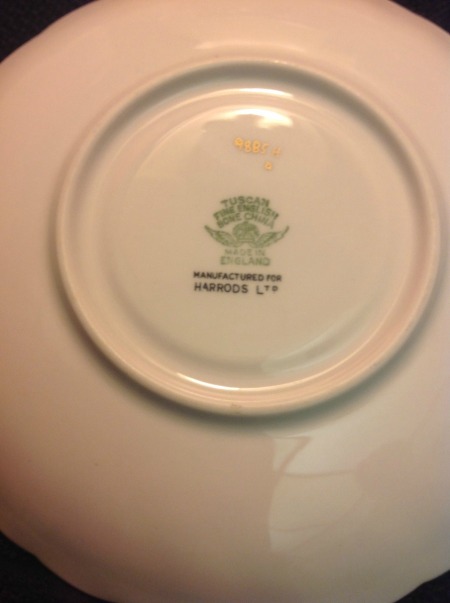 Answers
February 13, 2017
0

found this helpful
You have authentic English bone china. It was made before 1967 because the words, "Tuscan Fine English Bone China" are placed above an English crown. I hope you have the complete set. I'm not sure what it is worth, but this British website would be able to help you: http://www.coll a.co.uk/?cat=229
February 13, 2017
0

found this helpful
Some finer jewelry stores offer china appraisals, as do some upscale auction houses.
February 15, 2017
0

found this helpful
Your photo does not give us very much information as the pattern name, number of pieces or place settings that you are calling a complete set and most importantly a photo of the pattern are missing.
Manufactured for Harrods (on the back) may mean a "private" pattern made only for Harrods or may be just one of the patterns made for Harrods and not sold worldwide.
Because there is no photo or pattern name you will have to do your own research as you have the china in front of you. Basic research for Tuscan anywhere may not tell you anything unless you can get information concerning the patterns sold/made for Harrods.
Replacements is usually the best place to find out the value of fine china but this will not work with the information shown here.
Here is their web site that you can send them photos of your china and they may be able to identify it for you and they may be able to give you an estimate of value.
Answer

this Question

...