April 10, 2021
0

found this helpful
Best Answer
It looks like Frankhoma pottery out of Oklahoma. The color and markings are exactly like theirs, so it's probably either that or a knock off.
April 11, 2021
0

found this helpful
Best Answer
Vintage Dark Brown Ceramic Teapot Occupied Japan and it's worth about $15.
April 16, 2021
2

found this helpful
Best Answer
Sorry, but the backstamp (mark) of your pot is almost impossible to make out in the photo. But if you think that this mark looks like the second from left to right (in the screenshot you attached below), then this is the Elephant above MADE IN JAPAN by Tashiro Shoten Ltd, Nagoya (Japan).
Tashiro Shoten Ltd - porcelain shop in Yokohama which were active before WWII up until 1954. The use of the word "Shoten" indicates the name for a shop which is selling products from its own kiln. Carol Bess White, Made in Japan books has it that Goldcastle, CHIKUSA belongs to Tashiro Shoten Ltd in Nagoya, Japan. Other names used by Tashiro Shoten are "Trico", "Trico China", "Royal Trico", and two logo marks: Elephant above MADE IN JAPAN and TA within a cherry blossom flower. For the Japanese market it appears as if a Japanese mark was used since pieces with the elephant mark is hardly or not at all found in Japan today gotheborg.com/.../20thcenturyjapan.shtml
I see that they did make ceramic teapots with a handle the same shape as your teapot. So this is really TASHIRO SHOTEN LTD JAPAN CERAMIC TEAPOT.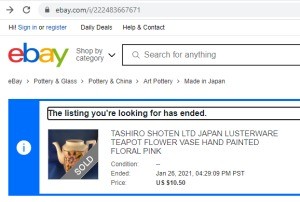 April 9, 2021
0

found this helpful
It will be hard to identify without markings. Perhaps you would want to take it to a dealer.
April 9, 2021
0

found this helpful
In your last photo, what does it say on the bottom of the pot? That would be the only way to find out any information.
April 12, 2021
0

found this helpful
On my recent post about teapot, I still can't find the origin or information regarding it. After looking up in various search engines, I think I found a small clue. Kindly find attached screenshot of logo. the one which matches is located in second from left to right.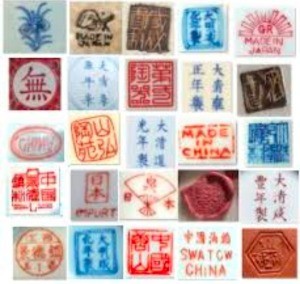 April 16, 2021
0

found this helpful
It it possible to get a better picture of the marking. It is an unusual no drip spout. A better photo of the marking may help. Thanks!
April 24, 2021
0

found this helpful
I'm not sure this has been correctly identified as most Japanese pottery is hand painted with all sorts of designs - these designs/paintings/drawings have always been their trademark.
I would suggest you take it a local Japanese or Chinese market or restaurant and ask for their help.
The marking is just not clear enough and the one noted in the chart appears to have 2 lines of writing and yours only seems to have one.
It's possible that your teapot may be a little more valuable since solid color pieces are not that plentiful and a dark brown is unusual. People love the Fiesta ware and this is sort of in that line. It also appears to be a heavy ceramic and some people are not that crazy about fragile teapots.
If you wish to know more about the teapot you can post pictures on Reddit and probably get better answers. You need a better picture of the full picture.
www.reddit.com/.../