Many cooks have some type of non-stick cookware in their kitchen. This is a guide about using non-stick cookware.
By Dana Sipe 39 75
Does anyone else have a problem with their T-Fal cookware sticking? It seemed like when I would wash my skillet in the dishwasher that it came out a different color and the food in it would stick. Are you not supposed to put T-Fal cookware in the dishwasher? I paid a lot of money (in my opinion) to get pots and pans that don't stick. Is there something I can do to make the skillet nonstick again? Help!

(btw, I hand wash it in the sink now)

luv2craft from Normalville, Pennsylvania
Most Recent Answer
January 3, 2010
I had a set of T-Fal for about 10 years and I washed it in the dishwasher, they only problem I had with that is that the prongs in the dishwasher tended to make little nicks in the finish. Summer of 2009, I bought I set of Paula Deene cookware that was non-stick and it did say not to wash in the dishwasher and also to not use oils of sprays in it.
I want to share something my oncologist told me. He said he hopes I will replace all my "non-stick" cookware with good stainless steel products. He was very definite about this. Since I have come through the surgery and am now cancer free, I will do all he asks. It would be a small price to pay, wouldn't it, to help your body all you can? He has even written a great cookbook for cancer patients.
So, I hope if you are going through cancer or know someone that is, you will spread the word. Start small and add to your cookware as you can. Thanks for reading!
By MS.Scarlett from Oceanside, CA
By Shirely R 6 23
How can I renew the non-stick in my pots?
By Shirely from AL
Most Recent Answer
thr522587 Flag
February 6, 2010
Aluminum cookware is not unsafe nor has it been scientifically proven to cause Alzheimer's! We have more of a chance of receiving excess aluminum in our systems taking medications, including antacids! http://www.ehso.com/ehshome/alzheimers.htm
I have a non-stick fry pan that has rubber on the handle. Is it true that if I cover the handle with foil, I can put it in the oven?

Holly from Bedford, NH
Most Recent Answer
May 13, 2008
I found they will withstand fairly high temperatures, Problem is the handles don't seem to last as long, They start to crumble far far sooner and then you have to throw the pan out, Not worth it in my book, Buy a proper oven dish and use it, you can get the ones that will go from stove top to oven, Buy those
By dorcas 1
How do I clean up pan bottoms? They are non-stick cookware.
By Dorcas from Newfield, NY
Most Recent Answer
December 10, 2010
I use Barkeepers Friend for the bottom of my pans, and they still look like new. It's a powdered cleanser like Comet, etc., but it is not abrasive at all. You can buy it at Walmart and most grocery stores. Works really well.
How do you like the "green" pans, the Orgreenic pans? I bought one and it was non-stick for awhile, but now it sticks like everything else. I seasoned it right and did all I was supposed to do. Anyone else not loving it?
By Linda from Eustis, FL
Most Recent Answer
thr945548 Flag
May 19, 2012
HI I would be very careful who you buy from, my son signed up for a set they were to give him 5 payment to pay for it but ended up charging the whole amount at once.which overdrew his bank account which cost him 185 in bank fees. They also never sent the set to him. It sounds good as far as the videos go though, I found one small fry pan at Walmart so as for me if I can get a set at a store even if it cost more, at least it is better to be safe then sorry
I really love this ceramic frying pan. It has an aluminum core and it works without any butter or anything. I am so happy with it, I had to share it on this site.
I got it two days ago and it was under $20, if I am not mistaken.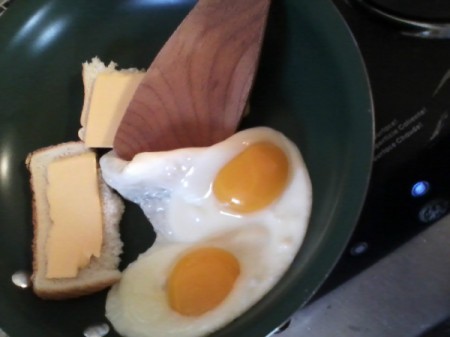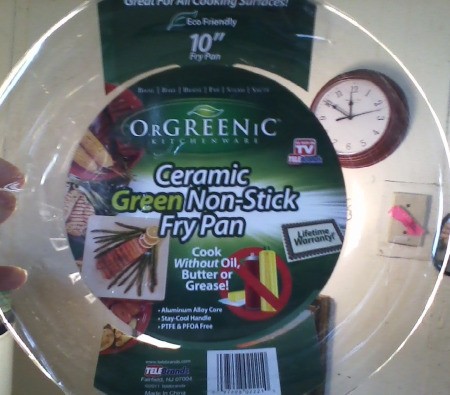 Non-stick pans/skillets will keep their finish longer if you lightly coat them with oil. The non-stick finish is porous and will benefit from this conditioning. This really helps especially if you put any of these pans in the dishwasher. I do this when I buy any new pans/skillets that are non-stick and repeat the conditioning on occasion after using it awhile. I do not recommend putting non-stick pans in the dishwasher, even if the manufacturer says it is safe. The pan may come clean but the finish will break down faster.
By mkymlp from NE PA /USA