Using Non-Stick Cookware
Many cooks have some type of non-stick cookware in their kitchen. This is a guide about using non-stick cookware.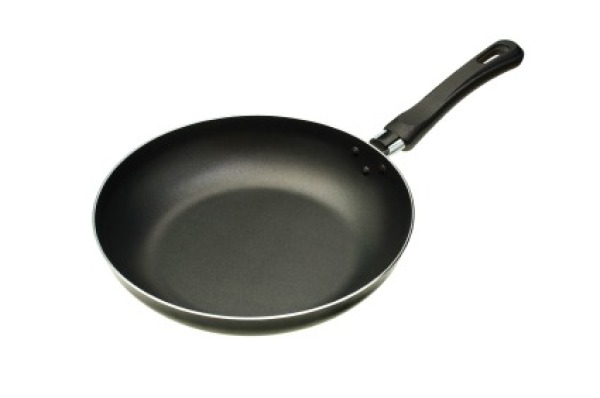 Filter

: All Articles
Sort

: Relevance
I want to share something my oncologist told me. He said he hopes I will replace all my "non-stick" cookware with good stainless steel products. He was very definite about this. Since I have come through the surgery and am now cancer free, I will do all he asks. It would be a small price to pay, wouldn't it, to help your body all you can? He has even written a great cookbook for cancer patients.
So, I hope if you are going through cancer or know someone that is, you will spread the word. Start small and add to your cookware as you can. Thanks for reading!
By MS.Scarlett from Oceanside, CA
Does anyone else have a problem with their T-Fal cookware sticking? It seemed like when I would wash my skillet in the dishwasher that it came out a different color and the food in it would stick. Are you not supposed to put T-Fal cookware in the dishwasher? I paid a lot of money (in my opinion) to get pots and pans that don't stick. Is there something I can do to make the skillet nonstick again? Help!

(btw, I hand wash it in the sink now)

luv2craft from Normalville, Pennsylvania
May 2, 2006
0

found this helpful
I've always been taught to NEVER put ANYTHING non stick in the dishwasher because it ruins the non stick coating.
December 30, 2008
0

found this helpful
The coating on the inside of pans coming off. Does anyone know if this is harmful to still keep cooking and using pans?
February 5, 2009
0

found this helpful
I finally just gave up on my T-Fal skillet and trashed it. I went to good ol Wally World and replaced it for $5.00! Surprising to me. It's not quite as big as the other one was, like it's the next step down, but since I'm just cooking for me now. It's ok.
January 3, 2010
0

found this helpful
I had a set of T-Fal for about 10 years and I washed it in the dishwasher, they only problem I had with that is that the prongs in the dishwasher tended to make little nicks in the finish. Summer of 2009, I bought I set of Paula Deene cookware that was non-stick and it did say not to wash in the dishwasher and also to not use oils of sprays in it.
Read More Answers...
How can I renew the non-stick in my pots?
By Shirely from AL
January 13, 2010
0

found this helpful
Not safe when it comes to cooking and ingesting food once the coating starts coming off but you don't need to throw them away either! Recycle!
I had a really, really large one where the Teflon was coming off and I now use it for a pedicure soap and water soak and a medium large size one I use for water and vinegar solution for cleaning :-) You could also use some of the pots as planters ;-)
January 27, 2010
0

found this helpful
Use the pan as a double broiler. Only to put water in. Can be used as a double boiler to make candles in, also.
February 6, 2010
0

found this helpful
http://tuberose.com/Teflon.html
You should rid all similar cookware as well as Aluminum [has been linked to Alzheimers]. Quality Stain. Steel cleans as well as the coated items; is lifetime durable and is an addition to your kitchen. The large Dept. stores are always having Sales; as well as searching the Internet for pricing.
February 6, 2010
0

found this helpful
Aluminum cookware is not unsafe nor has it been scientifically proven to cause Alzheimer's! We have more of a chance of receiving excess aluminum in our systems taking medications, including antacids! http://www.ehso.com/ehshome/alzheimers.htm
Read More Answers...
How do you like the "green" pans, the Orgreenic pans? I bought one and it was non-stick for awhile, but now it sticks like everything else. I seasoned it right and did all I was supposed to do. Anyone else not loving it?
By Linda from Eustis, FL
May 19, 2012
0

found this helpful
HI I would be very careful who you buy from, my son signed up for a set they were to give him 5 payment to pay for it but ended up charging the whole amount at once.which overdrew his bank account which cost him 185 in bank fees. They also never sent the set to him. It sounds good as far as the videos go though, I found one small fry pan at Walmart so as for me if I can get a set at a store even if it cost more, at least it is better to be safe then sorry
How do I clean up pan bottoms? They are non-stick cookware.
By Dorcas from Newfield, NY
December 2, 2010
0

found this helpful
If you are talking about the outside of the pan, you should be able to use SOS soap pads, or schouring powder of any kind.
December 2, 2010
0

found this helpful
If it is on the outside of the pot or pan, use oven cleaner. If it is on the inside, a "bounce" or other dryer sheet will loosen stuck on stuff. Just put it in the pan, fill with water and leave overnight.
December 10, 2010
0

found this helpful
I use Barkeepers Friend for the bottom of my pans, and they still look like new. It's a powdered cleanser like Comet, etc., but it is not abrasive at all. You can buy it at Walmart and most grocery stores. Works really well.
I have a non-stick fry pan that has rubber on the handle. Is it true that if I cover the handle with foil, I can put it in the oven?

Holly from Bedford, NH
February 13, 2007
0

found this helpful
My advice: No. Unless its directions specifically states it will withstand oven use and to what temperature, use another pan. Only attempt this experiment if you're willing to throw it away afterwards.
February 14, 2007
0

found this helpful
I have put mine in the oven but not at a high temp. (400 and above)
Use heavy duty foil or double up on the least expensive.
February 15, 2007
0

found this helpful
The handle is probably not rubber, but silicone. Some of these handles can withstand normal oven heat, but it is wiser to contact the manufacturer's website and get the recommended limits for the pan. I have such a product from Kitchenaid and the handles are safe to 450 degrees. Good luck.
May 13, 2008
0

found this helpful
I found they will withstand fairly high temperatures, Problem is the handles don't seem to last as long, They start to crumble far far sooner and then you have to throw the pan out, Not worth it in my book, Buy a proper oven dish and use it, you can get the ones that will go from stove top to oven, Buy those
I really love this ceramic frying pan. It has an aluminum core and it works without any butter or anything. I am so happy with it, I had to share it on this site.
I got it two days ago and it was under $20, if I am not mistaken.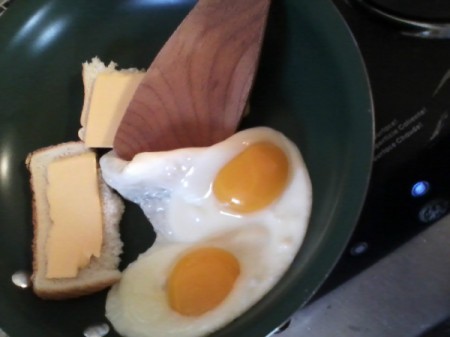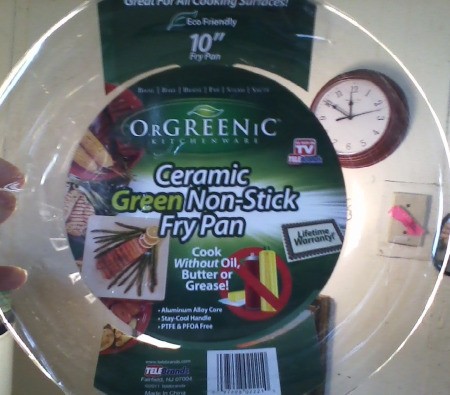 Related
© 1997-2016 by Cumuli, Inc. All Rights Reserved. Published by
ThriftyFun
.
Page
generated on August 21, 2016 at 7:47:59 PM on 10.0.1.53 in 5 seconds. Use of this web site constitutes acceptance of ThriftyFun's
Disclaimer
and
Privacy Policy
. If you have any problems or suggestions feel free to
Contact Us
.