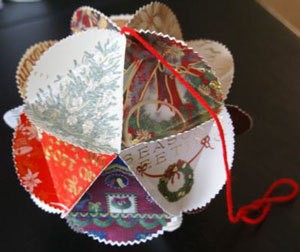 You can collect quite a few of these cards that can be reused in a variety of fun ways. This guide is about using old Christmas cards.
Ad
---
Solutions: Using Old Christmas Cards
Read and rate the best solutions below by giving them a "thumbs up".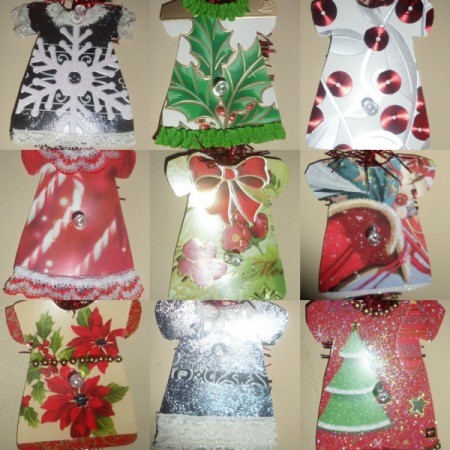 If you have old holiday cards laying around and don't want to throw them away, why not use them to create these cute paper dresses.
Approximate Time: 15 minutes
Supplies:
old Christmas cards
scissors
trims, beads, and lace
a cut out shape of a dress
glue
Ad
---
Steps:
I took old Christmas cards and cut off the fronts.
Then I used one of the card backs to cut out a basic dress shape.
Next, I cut out dresses from the fronts of different cards.
Finally, I glued lace, trim, beads, and even cut outs from the cards to make the little dresses. I have them hanging like a garland down a wall.
By melissa [9]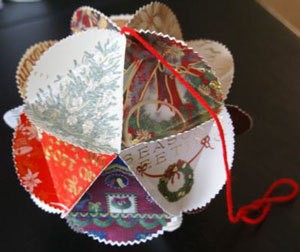 Take 20 used Christmas card (or any other card) fronts and cut out 4 inch circles. Using a triangle template, fold the edges of the circles up to form flaps. Glue the flaps together, add a hanging ribbon and you have an 8" decorative ball.
Approximate Time: 1-2 hours -- longer with young children
Supplies:
20 used Christmas card fronts
cardboard
regular scissors
pinking shears
glue
paper clips (optional)
large binder clip (optional)
ribbon or yarn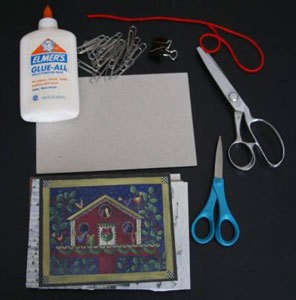 Instructions:
Preparation:
With regular scissors, cut a 4 inch circle and a 3-7/16 inch equilateral triangle on sturdy cardboard (not corrugated). Using these dimensions will make a ball about 8 inches in diameter. Any other size circle will work - just make the equilateral triangle so that it fits inside the circle with all three points touching the edge of the circle.
Select 20 Christmas card fronts that are all about the same thickness of card stock and at least one-fourth inch wider than the diameter of the cardboard circle.
Place the cardboard circle on a Christmas card front and cut around it with pinking shears. So that the circles are uniform, try to get as close as possible to the cardboard circle's edge without cutting into the cardboard. I use a binder clip to hold the cardboard circle and Christmas card securely - it's easier on my hand. You could also use other craft scissors that cut other patterns such as small scallops.
Divide the card circles into two groups of ten.
Take each card from the first pile and center the cardboard triangle with one of the points up (pointing away from you); fold the exposed edges upward to form three flaps.
Do the same with the second group of ten, but place the triangle with one of the points down (pointing toward yourself).
Assembly:
The ball is made in three parts - a top "cap", a middle band, and a bottom "cap". As you are assembling the ball, make sure all the pictures are in the same direction. Paper clips are handy to hold the flaps together while the glue sets.
To make the top "cap" of the ball, take five cards from the first group that were folded with the triangle point up and glue the side flaps together. Set aside.
To make the bottom "cap" of the ball, take five cards from the second group that were folded with the triangle point down and glue the side flaps together. Set aside.
To make the middle band or ring, take the remaining ten cards and glue the side flaps together, alternating those that were folded with the triangle point up with those that were folded with the triangle point down. Set aside.
Cut a length of ribbon or yarn to use for hanging the ball. Glue one end to a small piece of cardboard. Thread the other end through the hole in the center of the top "cap".
Place the top "cap" on the middle band and glue the flaps together where they meet. Attach the ball's bottom under the middle band and glue those flaps together.
If you used paper clips, remove them carefully to avoid tearing the points around the circles.
In order to find the best part of the picture to cut out a circle, cut out a sample circle using scrap paper. Lay this over the card front before cutting and move it around to see how the circle will look.
Make interesting groupings by varying the length of ribbon or make various size balls. Use Christmas cards that have the same theme - all Santas, all wreaths, all one color, etc. Make a ball from other greeting cards - Easter, birthday, flowers.
By Linn VW from York, PA
I received many Christmas cards this year that displayed family photos. Rather than put them in the recycle bin, I am cutting the pictures to fit ceramic tiles and mod-podging the pictures to the tiles. This is creating a set of coasters that will be a reminder of a Merry Christmas for years to come. I plan to give these homemade coasters to the families in January, after all the Christmas excitement dies down
By Judy M. [1]
I love to save greeting cards people have sent me over the years. One day, while going through my box of cards, I thought how pretty they were and it was a shame they were packed away in a box.
I went to a local craft store and purchased an inexpensive frame. Now, when each holiday rolls around, I take one of my greeting cards and slide it into the frame. I can display it on a shelf or end table or wherever I need a little holiday cheer. It's inexpensive and helps recycle those greeting cards!
By Kennedy C. from Virginia Beach, VA
Recycle Christmas cards!

My daughter was pulling out her Christmas decorations yesterday and found a partial box of unused Christmas cards she had sent out a couple years ago. The picture on the front is so adorable and she said "I wish I could remember where I got these so I could buy another box for this year." There were about 15 cards left in her pack, but they were stuck together from the dampness of storage.

I suggested she slide a sharp knife between the pages to separate them, then cut the badly damaged back page off. I told her to use the cute picture side of the card as a postcard by writing a quick note on one half of the back side of the picture and the address on the other half!

Not only will she be able to use these otherwise useless cards, she will also save money on the postage because here in the states a post card still costs less to mail than a letter!

God Bless.

By GrammySheila from Decatur, IL
They can be used for so many things next Christmas: decoupage, wreaths, ornaments, decorations, collage, etc., etc., etc. Put them in a ziploc baggie and store them with your other Christmas things.

By Laura from Long Beach, CA
Here's a great way to use old Christmas cards or those Christmas card samples you get in the mail, or even those Christmas cards you get on clearance after Christmas. If you are like me, then you get those sample card fronts with the beautiful pictures asking you to buy the design. They can be expensive and I hate to throw those beautiful cards away.
Supplies:
old Christmas cards
cardstock, or blank greeting cards
glue
decorative scissors
ribbon or other embellishments
Instructions:
Take your Christmas card and cut off the greeting part of the card so that you are left with the picture part of the card. Cut along the edges of this part with decorative scissors.
Next, take your blank cardstock and fold in half to make a card (if you are using a blank greeting card, just find the front of the card). Take your decoratively cut Christmas card front and glue to the front of your blank card. You have a great recycled Christmas card!
If you are using Christmas cards you bought on a clearance sale, there is no need to do all the cutting and what have you, just simply take a blank sheet of colored paper, or cardstock and cut to fit the inside of your card, and you have a new greeting card to use any time of they year.
I try to find cards that do not have a holiday motif with the picture on the front (which is sometimes hard to do). I found some recently with gnomes on them and had no Christmas motif to them at all. I give them for birthdays, or other special occasions.
I would like to see pictures of things done (for Christmas) out of old Christmas Cards!

Decorations, boxes, tags, bowls, Angels & so on...

melody_yesterday from Sedalia, Missouri
When my sister and I were kids, we didn't have a lot of money in our family. We didn't know it and still had a ton of fun! My Mom would save all the old Christmas cards from years before, she had boxfulls! She then would have us cut out the picture on the front for either a gift tag or to glue inside a paper/plastic coffee cup lid or those O.J. can lids, (these lids aren't sharp and are safe for kids) With this, we would add glitter and things to make it look pretty. The inside of the card wasn't wasted. We would cut out the verse and use it as a gift tag or glue to the bottom edge of the lid. Then you add a string or ribbon to the top and hang on the tree. I'll never forget how much fun that was. My Mother is now 80 and ill, so having those happy memories are very important.

By Gayle from Queen Creek, AZ
Give a "thumbs up" to the solution that worked the best! Do you have a better solution? Click here to share it!
Questions
Here are questions related to Using Old Christmas Cards.
I always save the Christmas cards we receive and like to send them to someone who can use them for recycling or making other crafts. Does anyone have such a name and address of where to send them? Thank you.
Annette
Ad
---
---
Most Recent Answer

By tricia minter [11]12/07/2009
If you have any left, I would be happy to receive some. You can email me at:
Triciaminter AT yahoo.com.
I love to craft with them.
What are suggestions for ways to reuse past Christmas cards?
By Ann R.
---
Most Recent Answer

By