Vegetable Blanching Tip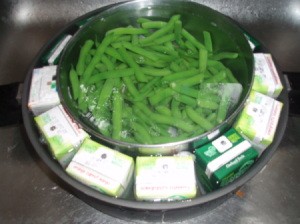 Recently while trying to blanch/freeze 12 lbs. of green beans, I ran out of ice to cool the blanched beans. Instead I used some drink boxes, that I always keep in the freezer to use in lunchboxes to keep food cold until lunch time. I fit them around my metal bowl of veggies and water. They worked great, cooling them off and not melting too quickly!
By AHA! from NE PA
Feedback
Post Feedback
Add your voice to the conversation.