This thing just keeps getting bigger and bigger. It is now almost 5 feet tall. It looks like it will bloom or something, but then just keeps sending out more leaves in the place where it seems a bud ought to be forming.
My husband said it looks like a pot plant, but I'm pretty sure it's not. We've all seen plenty of photos of those things. (And a few people have seen the real thing!) This was not in my garden last year. And I know I didn't plant it this year, it just showed up, so I decided to see what it would turn out to be. The suspense is killing me.
I'm sure when it blooms it will be easy to ID, but so far, nothing. The close-up photo is looking down on the place where it seems a bud should be. Photo was taken a couple weeks ago.
Can someone help?
By Gloria
Editor's Note: Gloria has since found out that this plant is Giant Ragweed (Ambrosia trifica). Here is a link to the follow up post: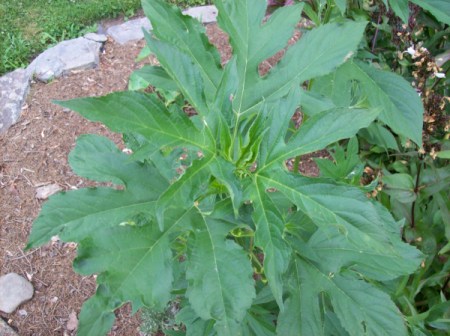 Add your voice! Click below to comment. ThriftyFun is powered by your wisdom!
Not long ago, I asked the ThriftyFun community to help me identify this strange, rapidly-growing plant that mysteriously appeared in my perennial garden. I received replies ranging from wild lettuce to hog weed, but none were correct.
Finally, a botany professor from SUNY Geneseo, NY, came up with the correct I.D. Giant ragweed! Ambrosia trifica, to be specific. As of clip time, it had reached 6 1/2 feet tall. He also told me I'd better get rid of it, post haste, before it had a chance to spread it's nasty pollen all over the neighborhood. Which I did.
Thought you'd like to know the "rest of the story."
By Gloria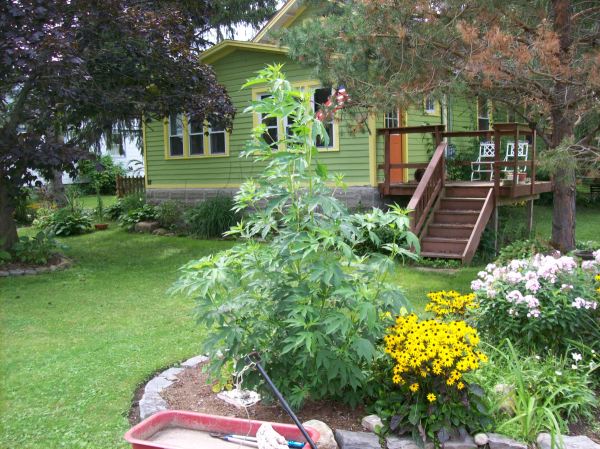 August 19, 2011
0

found this helpful
Hi Gloria,
It was so tall that it looked like a tree. Wow! Ragweed! Funny story. This has happened to us a couple of times, not Ragweed but forever undetermined something. We took it out for fear of what it could become, nightmare on Elm Street. Keep cultivating all your good things, your yard looks great!
Susan
August 19, 2011
0

found this helpful
We have one of these, with the heat and the drought we were glad to have something green growing! Ha, laugh is on us, it is over 8 feet tall and beginning to look ragged. It's coming down now! Thanks for sharing!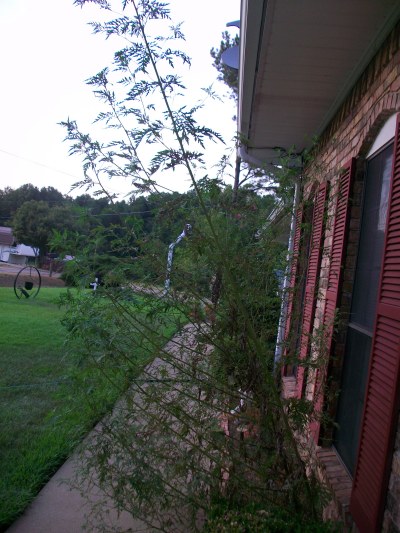 August 19, 2011
0

found this helpful
Thank-you for the update!