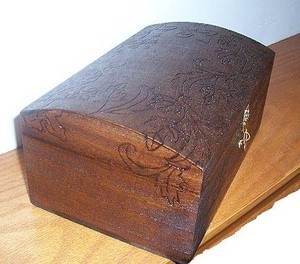 Materials
wood box
wood burning tool
stencil
pencil
wood stain
sandpaper
Paint on or spray on clear sealer
Instructions
Sand the box.
Trace your stencil on the box.
Make sure the wood burner is hot, an start burning in the pattern.
Wood stain your box as desired, with a paintbrush or a soft cloth, letting dry for a hour or so between coats until you get the color you like.
Let dry for one day and then you can paint on or spray on a clear sealer.
Enjoy the craft.
By Crafty Billie from Stockton, CA
Editor's Note: This would be also good for burning wooden recipe boxes.
By guest (Guest Post)
Flag
July 10, 2008
0

found this helpful
Billie, This is absolutely beautiful. You sure make it sound easy enough for a beginner to try. Thank you!
July 10, 2008
0

found this helpful
Truly beautiful, I have one exactly like it unfinished. You've inspired me. Thank you.
July 11, 2008
0

found this helpful
Absolutely beautiful! I didnt think that this would be something I could do, but your instructions sound super easy. Thanks, I just may have to try this.
December 20, 2008
0

found this helpful
Great idea! You did a great job. I have worked with rustic wood for many years and i make all sorts of boxes for the local farmers market.
If you ever want to age a new piece of wood then get some white cider vinegar and steel wool. Soak the steel wool in vinegar and then start rubbing the wood. It will gray up the color to different levels depending on type of wood.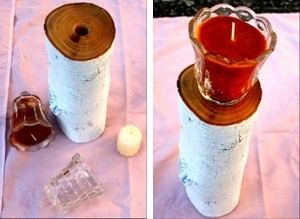 This candle holder is so versatile. We give them as house warming gifts, anniversary gifts, and just because we like our friends.
Use a length of birch wood or paint any piece of wood white. Level the bottom.
Carve out a hole in the top for the glass container. I find my glass candle holders at garage sales, but you can buy them at candle stores. Insert a votive candle.
At this point you can be finished, but I like to add a small amount of scrap scented candle.
Caution: Candle wax is hot when melted and you must carefully handled. Pour it over the votive and you will have a nice scented candle without making a candle if you don't know how.
You are now set for the finishing touches. You might want to give the candle holder as is or you can carve names or initials into the side. Enjoy
By Tedebear from San Jose, CA
August 4, 2009
0

found this helpful
Looks kind of dangerous to me. I'd like to see it a little shorter to prevent falling over and catching afire.
August 12, 2009
0

found this helpful
I think I would have to agree with the prior post. As pretty as it is I think the candle part you chose looks like it could so easily tip over since the base of it and the hole for it is very tiny. I have however seen the same idea in gift catalogs but they use tea lite candles in round tins for the candle topper which the hole for it is drilled in deeper which lessons risk of tipping over causing a fire, pretty idea though.
I am looking for small wooden ladders, 6-18 inches, and also miniature oak trees. If I cannot buy same does anyone have a creative way I could make same? I have searched Hobby Lobby and Michaels.
By Joann from NC
February 20, 2011
0

found this helpful
You could probably make some small wooden ladders with popsicle sticks and craft glue that you can purchase at a hobby store. For the trees collect some small branches and tie them together to look like trees.
February 20, 2011
0

found this helpful
You could try a pet store in the bird department and possibly locate a wood ladder or do an online dollhouse catalog search. If all else fails, you can always make one inexpensively from scrap wood and glue and small cutting tools.
February 21, 2011
0

found this helpful
Thank you all very much! Why didn't I think of a pet store ? Thank you, thank you, again.
February 26, 2011
0

found this helpful
Where can I find free wood projects?
hvactech5 from Virginia Beach, VA