At the beginning of this year, I decided that as much as I liked having dyed red hair, I really didn't like the damage being caused by the over-the-counter hair dye I was buying. The color was great, but losing hair every time I did it, and then dealing with the fade-out was just not worth it. I'd heard a bit about using henna to dye hair and looked into it.
I found a few websites and learned a lot of information about just how damaging commercial hair dye is. When I found the website hennaforhair.com. I decided I'd try their henna. It wasn't cheap the first time because I had to buy 4 packets of henna to dye my hair, which is halfway down my back. I suppose it didn't cost anymore than a salon job though.
I will never go back to commercial hair dyes. My hair is a lovely rich red now. People always tell me it looks natural. It also doesn't fade, so when it's time for a touch-up, I literally only have to retouch my roots, I don't have to re-dye all the rest as I did before.
Hennaforhair.com has other information too on dying your hair brunette, black, or giving it a blondish sheen, all with plants! The henna thickened my hair a bit, which I needed, and it has not been this shiny and lustrous since I was a kid!
Plant dyes are also totally safe for pregnant women, unless of course you are allergic, but allergies to henna are rare. Anyway, worked so very well for me that it would be a crime not to share it!
By Natalie from Washington D.C.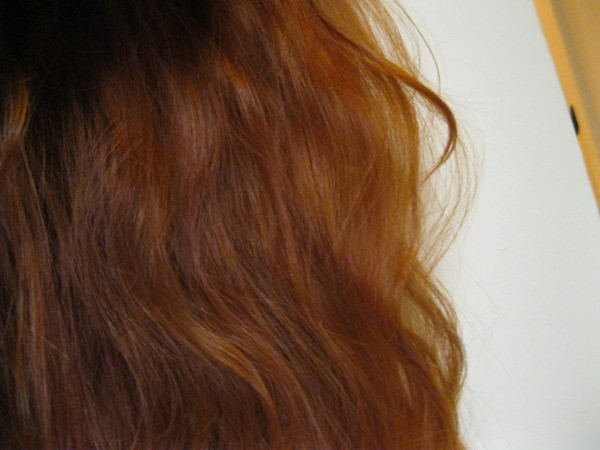 Colored streaks in hair seems to be the "in" thing. My child and the neighbors have used this thrifty method. You take as much hair as you want to color and lay it on a piece of white paper, then simply color with washable markers. There you have it, no peroxide or toxic dye.
By Robyn from Hampton, TN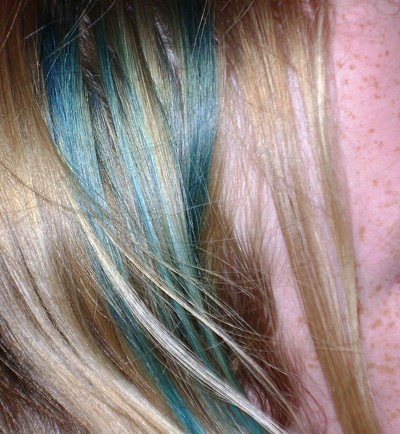 I rubbed walnut hulls into my hair strands to give it low lights, as I did not want to dye my whole head. Although one could. It works great and lasts a long time. I discovered this idea while working with the walnuts from our tree and observing how they stained my hands. So I thought I'd give it a try and am very pleased with the results.
By Anne from Green Bay, WI
I need help with going grey gradually.
By Debbie
January 7, 2014
0

found this helpful
This really depends on if you have been dying your hair and how much gray you have to begin with. If your hair is really dark or light matters, too.
Chin length bob is a good way to keep some length. Dye your hair as close to your natural hair color as possible... maybe 1 shade lighter 9never darker). As much as you will hate the look, let your roots grow for about 3 months. Have a stylist add a couple of different shades of ashy blonde highlights throughout your hair. Wait 2-3 months and trim a bit shorter and get more highlights. repeat every 2-3 months, but get less and less highlights every time. After about a 1 1/2 years, your hair should be pretty much your natural hair (minus highlights) and you can allow your bob to grow longer if you want.
Best way; My mom stopped dying her waist long hair until her roots were about 6 inches long. She is about 60% gray. Very gray in the front compared to the back.
She chopped her hair super short and 15 months later, she has a chin length bob that looks cute and it's all her natural hair. She cut it twice since the "chop" to even out layers from having had such a short haircut.
July 19, 2015
1

found this helpful
Debbie, Honey,
You're going to gradually go grey without any help from us.
Seriously though, if you've decided on not trying to hide your grey hair, I say 'Good'. And I say 'Play it up, instead'. You or your hairdresser can experiment with rinses or semi permanent colors designed to highlight rather than hide your grey hair. They can take away dinginess and add a touch of silver or platinum, or just brighten your grey.
You seem to have accepted going grey and just want to look your best during the transition. That is good. I think you'll be sorry if you start down the old road of permanent colors, dyes, peroxide, ammonia, faded ends, roots showing, retouching, the whole bit.
Listen to Doug
Hello Ladies,

I want to dye my hair. In the past when I dye my hair I get a headache. I am getting older and I want to cover my gray. Please help. I want to know which hair color product that is out there that I can use that is gentle. Also, I get some shedding afterward.

Jacquelyn from Houston, Texas
June 23, 2006
0

found this helpful
There are also brands in the grocery store that carry hair dyes without ammonia - no smell!
June 26, 2006
0

found this helpful
I colored my hair for years. A few years ago (at age 39), my husband asked me to stop coloring it. The first year or so was hard for me, as I had to wait for the dyed part to grow out (I didn't want a short cut to get rid of it.) It is almost totally white now--I get SO many compliments on it! I have even had people ask if I color it white!! I vote for letting your hair grow out naturally! I never would have thought mine would have turned out so beautifully!
August 1, 2006
1

found this helpful
Hi there,
Waterworks haircolor is one I use that doesnt smell at all really. Mixes with water and the peroxide is already blended in w/color powder. I'm VERY chemically sensitive to almost all unnatural scents & chemical stuff and I use it w/no problems! You have to order it online, Thats only place ive found it. Good prices too! good luck! Jess
July 15, 2008
1

found this helpful
You can get waterworks at sally beauty supply % equipment for 4.99 reg price, sally card: 3.99. Sally is located nationwide and the website is http://www.sallybeauty.com . Doesn't carry ammonia so no offensive odors and covers gray. You just mix with water and it is permanent hair color. Hope this helps!
December 9, 2008
0

found this helpful
Thanks for the information. But, my hair is gray and thinning. I need something that's not going to burn the ends.
Use this recipe for red highlights in blonde or brown hair.
Ingredients:
1/3 cup crushed marigold flowers
2 1/2 cups water
optional: red wine
Directions:
Simmer flowers in water in a nonmetal pot for 20 minutes.
Remove from heat; strain when cool; saving the liquid.
After washing hair; apply the marigold decoction as a final rinse; pouring it over the hair and catching it in a basin to reapply several times. (Red wine may be added to the liquid to intensify the effect.)
Allow hair to dry naturally in the sun; if possible.
Repeat the rinsing process with subsequent shampoos until you achieve the desired shade.

By Ellen Brown

Note: Some recipes are not suitable for sensitive skin. Each person is different, so test on the inside arm or wrist for any possible allergic reactions before using these recipes.