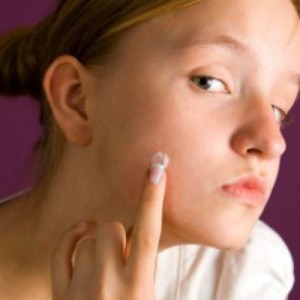 Acne is a common skin condition that many people struggle with. Acne creams can be quite expensive, making homemade acne cream can help save you money. This page contains homemade acne cream recipes.
Ad
---
Solutions: Homemade Acne Cream Recipes
Read and rate the best solutions below by giving them a "thumbs up".
I used to have really bad acne. My mom always told me to apply toothpaste to my acne, let dry and wash off but that sometimes drys out my skin. My sister always stirred egg white until it was frothy and put it on her face until it dried, then the same with the egg yolk immediately after. That never worked for me. So I tried several different home remedies and finally found one that's rather cheap and very effective.
Supplies:
1 egg yolk
2 tsp lemon juice
cocoa butter lotion
toothpaste (about the size of a nickel)
a dash of flour
Ad
---
Directions:
Mix it all together and apply to your entire face. Wash your face with warm water in about 30 minutes.
I was amazed with the results. I hope this works for you. Good luck!
Give a "thumbs up" to the solution that worked the best! Do you have a better solution? Click here to share it!
Questions
Here are questions related to Homemade Acne Cream Recipes.
I want to get rid of acne on my arms and face, but the acne products are too much. Is there a simple and easy way to get rid of acne fast?
By I love animals
AnswerWas this interesting? Yes No
Ad
---
---
Most Recent Answer
By Sue Hadley 04/15/20130 people found this helpful
Another thing you might try... fill your bathtub up with water and add 1/4 cup of bleach (clorox) to the water and bathe in it. It helped my son.
---
I would like to find a homemade remedy for bad acne.
By D.A.
AnswerWas this interesting? Yes No
---
Most Recent Answer
By Dorothy [79] 01/01/20120 people found this helpful
Add lemon juice to warm water and rinse your face.
---
Several years ago my son joined the Marines. While he was in boot camp the boys were expected to be acne free. I am looking for the recipe for the concoction they used. It is a mixture of three ingredients. My son says that they used Aqua Velva after shave and two other things. They put it into a large jar and soaked cotton balls in the mixture. Each night the boys took a cotton ball from the jar and washed their face. No more acne! Does anyone know the recipe?
By faye [4]
AnswerWas this interesting? Yes No
---
Most Recent Answer
By likekinds 109 394 06/11/20150 people found this helpful
Acne is due to internal, endocrinological factors. External treatments address the symptoms only and will not cure acne.

Sorry, Faye. If I knew a recipe, which, when applied nightly, would result in 'no more acne', I would not share it with you nor anyone. I would have it patented and make my first billion $.

Since you brought up the subject, I would remember you most generously in my will.