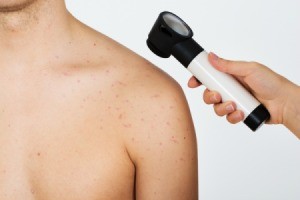 How can you clear back and chest acne? I have bad scarring and acne on my back and chest. My face is fine with very mild acne. I have tried multiple scrubs for my acne, along with acne pills (which were supposed to clear my back and chest acne, but didn't!) and also acne cream.
All of my friends go swimming in bathing suits together. They invite me, but I have to forfeit and come up with a lame excuse of why I cannot go. All of this acne junk has made my self-esteem go way down. Please help me.
By Aliya
Answers

June 14, 2010
0

found this helpful
Best Answer
Over-scrubbing with a harsh, sharp, granular exfoliator can actually make the problem worse. Try a gentle glycolic (8%) or salicylic acid cleanser or gel. It takes time though so just keep at it and use it twice a day. Also, some shampoos and conditioners can worsen acne or trigger outbreaks that resemble acne. Try a mild, sulfate-free or silicone-free shampoo/conditioner like Ever Pure from L'Oreal.

Louise B.
Silver Feedback Medal for All Time! 337 Feedbacks
June 16, 2010
0

found this helpful
Best Answer
You have lots of different advice for the acne, but I would suggest that you wear a light t-shirt over your suit when you go swimming. Lots of people do this for a variety of reasons, and if anyone comments, you could say you do it for protection against the sun, that you burn easily and are sensitive to sunscreen, or that you get a rash from the sun.
There is no need to miss out on swimming because of acne.
Answer

this Question

I've had bad acne on my face for over 3 years. Then a couple of months ago I got acne on my back and chest. I'm going to a waterpark with my family and I don't want to wear a bikini. So I'm gonna wear rash guard. I just recently started using Acne Free Severe, I've heard it's just like Proactive which is the thing that started the acne on my back and chest. Does anyone know anything that can get rid of it overnight or in a couple of days?
By alexis j
Answers

Louise B.
Silver Feedback Medal for All Time! 337 Feedbacks
July 17, 2012
0

found this helpful
Best Answer
There is nothing that gets rid of acne overnight or in a few days. If you have had it for years, and it is getting worse, you should go to a doctor. There are many prescription products that work very well. Home remedies do not work; if they did, no one would have bothered inventing a prescription or over the counter product.
If you can not afford to go to a doctor (in Canada, this would not be an issue), go to your local pharmacist and ask for advice. They can be most helpful and will guide you to the products that are available over the counter. Some of these, used as directed and faithfully, will work if your acne is not too severe.
Answer

this Question