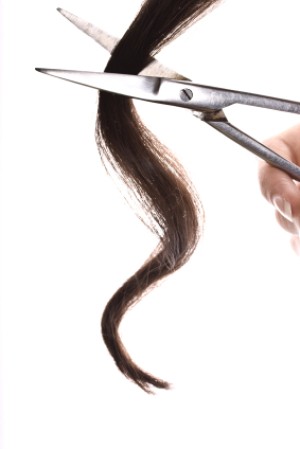 Going to the barber or salon can be very expensive and time consuming. It is easy to cut hair at home for you and your family. This is a guide about cutting your own hair at home.
Ad
---
Solutions: Cutting Your Own Hair at Home
Read and rate the best solutions below by giving them a "thumbs up".
If you are cutting your own hair and want to get "interest" around the edges, just twirl the side strands together, then cut diagonally along the bottom. (Start long. The trick with cutting your own hair is to start "long" then cut gradually so you can cover any mistakes.) First cut dry, then even out when wet and correct cut when dry again. Follow the design of any old haircut you may have to keep its shape. You just want to make it shorter to deal with the length it has grown in.
Source:an old magazine article
By Pam from Los Angeles, CA
My hair is long, to the middle of my back. To cut my own hair, I take my curling iron (cold and not turned on) then grab a section as though I was going to curl it. I slide the curling iron down almost to the end. Then I hold the iron out in front of me and trim off the 1/2 inch of uneven ends. I go around all of my hair this way, just pinning out of the way what's already been cut. I never need help and I save a fortune!

By Melanie
To cut your own hair so that it frames your face in layers, do the following:
Standing in front of a mirror, front comb hair and fasten in a ponytail directly above your nose. Make sure that hair is evenly drawn into covered elastic band.
Decide how long you want the hair immediately above your forehead to be and draw band carefully down to this level.
Cut off all hair below band. You will find that the scissors cut slightly diagonally towards their points, but, if you leave the band in place the small amount of remaining hair can be easily cut off.
Shake hair back and admire. If you want to trim the back as well, fasten a similar, evenly drawn ponytail at the back of your head (you may wish to use a hand mirror behind your head to make sure that it is really even), and again draw the band down and cut underneath it.
Source: A friend told me how to cut the front and I found that the same method worked for the back.
By Verity Eileen from London UK
Give a "thumbs up" to the solution that worked the best! Do you have a better solution? Click here to share it!
Questions
Here are questions related to Cutting Your Own Hair at Home.
If a toddler of 21 months has a severe hair cut, ie all his curls, will his new growth of hair be straight or curly? Is it a good thing for toddlers to have their hair cut regularly in order for the hair to become thicker with each new growth? Thank you.

Merle from Auckland, New Zealand
AnswerWas this interesting? Yes No
Ad
---
---
Most Recent Answer
By Cyinda 214 1,287 08/22/20080 people found this helpful
Unless he has naturally curly hair (that usually means one of his parents also has curly hair) Those baby fine curls will probably be gone when you cut them off. It does not matter how often you cut his hair. It will thicken as he grows up.
---
Archives
Thrifty Fun has been around so long that many of our pages have been reset several times. Archives are older versions of the page and the comments that were provided then.
Even if you are too chicken to try to cut your own hair, you might start by TRIMMING it. I just took the sharpest scissors I have to the front bottom ends of my hair framing my face, which had gotten a little scraggly. A little clip on my freshly washed and dried hair on the ends and suddenly my hair looked much better! And it will get me through until my next haircut. Just make sure your cuts are straight. If that scares you, twist the ends and clip them off that way. Twisting is supposed to work for trimming bangs, too.
Source: My experience and inspiration from a long-ago fashion magazine article.
By pamphyila from L.A.
---
RE: Trim Your Own Hair Between Haircuts
I do the twisting technique for trimming the bangs. Keeps the side hair a tad longer and the ones in the middle shorter. Looks nice. If you are unsure, hold the bangs, twist tightly and just trim off 1/4 inch from the bottom, making sure your scissors don't end up in a non- horizontal position. I've noticed that when I get to the hair at the pointed tip, I tend to tilt the scissors upwards. So now I take extra care to keep the scissors level. (05/27/2008)
By cookwie
RE: Trim Your Own Hair Between Haircuts
Purchase a hair cutting scissor. They really do a better job. Certain hair styles allow for trimming, some don't. I am able to keep my bangs trimmed so that I need less hair cuts. (05/27/2008)
By Har'iet
RE: Trim Your Own Hair Between Haircuts
I keep my hair fairly long, so I just have to part it straight down the back, comb it forward, and trim at the appropriate rib! Haven't had a professional cut in years. (05/27/2008)
By londa