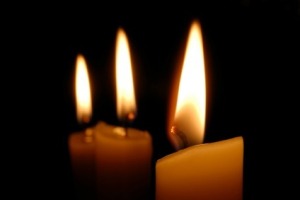 In times of loss it often is a challenge to arrange a tribute for a loved one. This guide is about planning a memorial service.
Ad
---
Solutions: Planning a Memorial Service
Read and rate the best solutions below by giving them a "thumbs up".
Remember that everyone grieves differently, and be gentle with each other! If your loved one was affiliated with a church, temple, lodge, or whatever, talk to them to see if they have a bereavement committee who can assist you.
Pictures can be wonderful, either a slide show or posters showing important times in the person's life; be selective! You don't want to include every photo from day one (unless it is for a small child) and bore people.
Music - recorded is fine, live is fine - whichever (or both) works for you and the space. Favorite songs of the deceased, or songs that make "you" feel better.
The most important thing I would suggest is to remember that the memorial service is supposed to help those who are left behind to put a framework around their grief, give it some substance, and allow others to support the family and loved ones in this hard time.
It is also quite permissible to have memorial services in several locations if the deceased person lived in different areas. Speak to the funeral home to see if they have an affiliate in the other area to assist with logistics there.
Source: A flood of funerals and memorial services of family and friends over the past few months, and lots of reading.
By Eileen from Elk Grove, CA
Give a "thumbs up" to the solution that worked the best! Do you have a better solution? Click here to share it!
Questions
Here are questions related to Planning a Memorial Service.
I recently lost my elderly parents and we're having a memorial service. I've never planned a memorial service before. Does anyone have any suggestions for what worked or didn't work well for your family? We've many family members coming in out of town and I can feel myself getting overwhelmed. Ideas for making a program for the service; an inexpensive keepsake; ways to make family feel involved; etc. Any suggestions would be greatly appreciated. Thank you.
By Maggie_va from VA
AnswerWas this interesting? Yes No
Ad
---
---
Most Recent Answer
By christi [93] 04/25/20090 people found this helpful
My mother in law recently died. Her children set up a board on an easel the funeral director provided and put pictures of her, everyone loved it. Also they took a bunch of pics of her and put them on a cd with pretty scenery and music. I then took that cd and bought 30 dvd-r's and copied it for everyone to have as a keepsake. Only cost me 15 dollars for the dvd-r's. And whatever they charged at the funeral home. Actually I think the first one was free, then you had to pay for extras.
---
I would like to have a memorial for my husband in his home town. The problem is that I don't have much money. I no longer live in Washington state, but across the border in Oregon. I have no car, but my son has Sunday off and can drive me there on that day. Any suggestions?
By Laura from Beaverton, OR
AnswerWas this interesting? Yes No
Ad
---
---
Most Recent Answer
By Tonya [4] 05/11/20120 people found this helpful
Have a get together with family and friends in celebration of your husbands life, not to grieve his passing. Share good times, memories, onery times. The passing of a loved one shouldn't always have to be tears. I am sorry for your loss, my husband died 1 1/2 years ago and he would much rather us of had a good time in thoughts of him. Maybe have the "celebration" in a park or if available someones big back yard. Cook out, mingle, have fun. Unorthadox, maybe, affordable, yes, you still get to honor your husband and share time with family and friends.

This year in honor of my husband, my daughter, grandbabies, and I are going to release balloons with a card from the kids atttached, into heaven for their papa. My grandson and I saw this on a movie one time and he asked if we could do that for his papa. He was very close to the grandbabies, and this is something they will understand and he would love knowing they did this for him.

Again, I am sorry for your loss. God Bless you and your family.
---
My husband of 25 years died recently, and I want to have a memorial for him. He had an avid interest in food; all aspects of it, growing, processing, cooking, storing, and eating. I thought a good way to celebrate his life would be to share a meal with his family and friends. He also loved hunting and fishing, and outdoors. My husband knew many people, but I have no way knowing how many might show up for the gathering. My finances are limited so I'm thinking of having the event on the beach. I need some help in figuring out the menu. I need some way to figure out what I can do that will enable me to feed a few to a mob, and not end up with a lot of waste. Can you recommend anything?
By KendraR