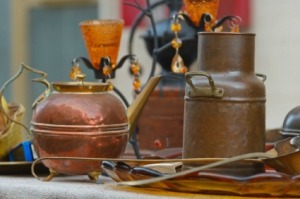 Selling select items bought at yard sales can be a great way to make some extra money. This guide is about buying garage sale items to resell.
Ad
---
Solutions: Buying Garage Sale Items to Resell
Read and rate the best solutions below by giving them a "thumbs up".
I love eBay and have been very lucky at finding valuable items to sell on ebay at garage sales. My latest "coup", a Getzen trumpet that I paid $25 for, and sold on eBay for $750. I invested $120 in having the trumpet professionally cleaned and checked out. I offered free next-day delivery with buy-it-now, and sold the trumpet in four days. Including the high cost of the shipping, and the ebay/paypal fees, I still netted almost $500!
That isn't the best part, though. My wife and I happen to live in an area that most yard and garage sales feature a lot of decorative brass items - candlesticks, animals, planters, and such - and most people are anxious to get rid of their brass items. Maybe it is because of the time spent keeping the brass polished, but for whatever reason, we are able to pick up a lot of brass each weekend for pennies on the dollar. We then cash in our brass at a recycling center. Lately, brass has paid as little as $1.75/lb. up to $2.10/lb. Our best weekend ever was just over $120 for brass that we had invested less than $30 in. We use the brass money to cover our gasoline expense on our garage sale days and usually have enough surplus to treat ourselves to a nice dinner out or to simply add to our "stash".
Give a "thumbs up" to the solution that worked the best! Do you have a better solution? Click here to share it!
Questions
Here are questions related to Buying Garage Sale Items to Resell.
Do you have a garage sale purchase that you are particularly proud of? Feel free to post it below.
Ad
---
---
Most Recent Answer

By linda roberts [7]01/19/2011
I was at a sale and there were 2 big rubbermaid tubs full of dishes. They were heavy weight and looked to be high quality. I bought both for 20 and there turned out to have every piece of china that had been with the pattern. 20 piece service! According to replacments.com $650 worth of dishes! They were a mother in law's who had passed away and nobody wanted. Well I love them and use them daily.
How do you make money from Garage Sales? How do you make money by going to garage sales to buy items and then sell them on eBay? Are there particular items to look for?

Jeremy from Illinois
Ad
---
---
Most Recent Answer
By Sandi/Poor But Proud [446]07/26/2008
I have found the best things to resell from sales are jewelry, and craft supplies. Things like that give you two advantages. One, they are small and light, and most of the time, you can store them easily. Also, jewelry is cheap to ship and if you get nicer things, they are still "irresistable" to those who love jewelry. Craft supplies like kits are flat and easy to ship, most times in a manila envelope. Unless yarn is still
in it's sleeve, don't bother. It has most likely been used, and is no longer an item you can make a profit on.

Don't bother with things that someone can go down and buy at a dollar store. Look for unusual things that a person "might" find in a high end store, but you just bought it for 90% off. That way, you can offer it to someone else for 50% off, and you have just made 400% profit.

Books are ok, because the media rate is cheap to send...but again, they are heavy and bulky to store. The exception to that rule is older, rare books. I found a 1929 Bambi book in a Goodwill in AK, for .25 and resold it for 18.00. Unique frames are good too, but be careful that glass doesn't ship well.

Like the former poster said, Craigslist is the best, since people come to you and there is no shipping involved. Collectibles like teddies and such can be a good investment, but keep in mind the thrift shops are full of them and you are competing with things that people can find anywhere. After a while, you get an "eye" for what you and others would like, and if you have the room to store them, then buy what you think would sell for.

ADVISE ALERT! If you buy from a lot of sales you will eventually run into people who recognize you from your listings or know you are shopping from them to resell. Sometimes, people are selling things out of desperation, and if they find out you are making more from their items than they did, resentments develop. We all know they have the same opportunity to sell them for more, but for whatever reason, they didn't. If you live in a small town and you go to a big city to buy, it's nicer. You cater to folks who might not get to the big city, and can't shop like you can.

One lady I know shops all month in Salem OR, where I live. Then she has her own indoor sale in her little town, once a month for all the gals who are now "rabid" customers! She knows what each person loves, and she usually keeps her profit margin low since all she does is "pre-purchase" the items. Her customers trust her and know her finds will be like Christmas all year.

Stay away from makeup, toiletries, etc, unless they are new and sealed/unopened. I bought what I thought was body spray once from a yard sale, got it home, and luckily just sprayed some in the air outside and walked into it...to find it was pepper spray! Try and stay away from things that are breakable. After a while, you will get the knack of what resells and what stays on your stock shelves. Good luck!

PS: Go to the the library and you can actually find books on this very subject. Some people make a living, or at least a supplement to their living, by doing this very thing.

My photo that I am including is a good example. I bought these Zircon Earrings for 1.00 at a sale, and by the time I sold them in eBay, I got 17.99! I would have been just as happy to sell them on CL since the listing cost me 1.25, but that is still a nice profit!