I have several boxes set up in the garage for our annual garage sale. They are labeled: toys, clothes, housewares, books, and misc. I keep a package of price stickers and a pen handy. Every time I come across something for the garage sale while cleaning, I put the items into the sale boxes and price it right then.

When we are ready for the sale day I simply open the boxes and set things out for display. This has saved me time, energy, and allows me to get everything priced instead of waiting until the last minute. I also have a box for donations. When the garage sale is over, anything that did not sale, goes into the donation box.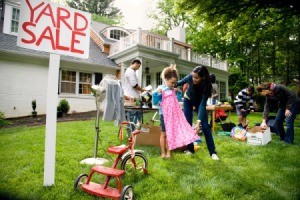 Usually Memorial Day and Labor Day are big yard sale days, but I have noticed it depends on your area. Let's be positive and say your area is big on yard sales these days. Labor Day is just around the corner. Saturday will be the day you want to set up and be prepared to make some sales. Sunday and Monday not so much. Start getting ready now.
Put a box in each room. As you run across stuff you think you might want to try and sell, put the item in the box.
Create a yard sale "kit" box: tape, markers pens, card board and poster board (for signs), change (coins and bills), bags (grocery type plastic) and any other knick knack you think might help the sale go smooth.
Pick a place and arrange ahead of time to use it. This is for people who don't have yards or have a yard too far off the beaten path for a successful sale. Ask a friend if you can use their yard or ask permission from a business that may not be open on Saturdays if you can use their parking lot.

In some areas there are abandoned lots on the side of main roads that have been adopted by people to set up for yard sales on a regular basis. If you plan on going to one of these areas, show up early to get a spot.

Price things while you have time on your hands between now and the sale day. Individually price or plan on a group of things being a dollar (or whatever) each and all placed in a box dedicated to that price.
Find something to sit on and have it handy: lawn chair, sports chair, or stool.
If you are going to do a yard sale with some other people (same family or different), make sure they are aware of the time table. Ask them on different days how they are doing with collecting and pricing stuff. This is a friendly way to remind them and place a passive kick in the pants for some.
If you have big things you want to sell, you can hang a sign up instead of moving the item to be seen. Like if you have a grandfather clock, place a sign out that says "Grandfather Clock for Sale" (or the price). If someone is interested, they will talk to you about it. You can show them the item, or arrange to show it to them at a later time if you are set up away from home.
Be wary of customers who show up in groups that spread out all over the place. Especially if one tries to distract you with a lot of questions about something, but doesn't really seem interested. They may be keeping your attention for others to take things.
And speaking of taking things, look inside cases and boxes of items people want to buy to make sure they aren't trying to arrange for a freebie or three. If you open a CD case and it has 2 CD's in it, be polite and say, "Oh, that belongs in another case". Or if you open a box and it has several things in it say, "Woops, I forgot to get the rest of this stuff out of the box". You don't offend anyone and you may still get the sale of the original item.
If you are going to another location for your yard sale instead of your home don't forget to pack a lunch, maybe some snacks, and definitely some drinks. This removes the desire to pack up early or leave and get something and come back (even if someone is there to watch your stuff). Your objective is to make money, not spend it.
A yard sale is a lot of work but it can be fun if you plan, prepare, and execute in a timely manner. Good luck :)
By Suntydt from Tazewell, TN
Kelly Ann Butterbaugh
3

found this helpful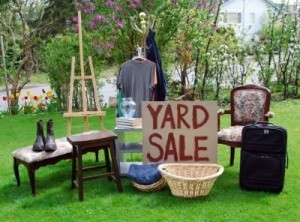 Every yard sale host hopes for a perfectly sunny, prosperous day. Yet, many end their sales with unsold items and hours spent without meeting sales goals. There are a few strategies that will give sellers the results they expect.
Price Your Items Carefully
Know your market and know yard sale pricing. Your lamp might be a designer style that you paid a good deal for originally, but at a yard sale it's just a lamp. Lamps can be purchased for as little as $12 at large box stores, so a lightly used lamp should be priced at half that amount at a yard sale.
Keep things simple and rounded. People like to pay quickly and simply. Price your items as rounded dollar amounts and avoid the $1.50 style pricing. For lesser items under $1, consider combination pricing. Instead of putting $0.25 price tags on dozens of items, place them together as a 4 for $1 table. While someone certainly could purchase one item, this type of pricing encourages multiple purchases, leading to high revenues and less remnant items after the sale.
Offer Sales at the Sale
Nothing attracts people to stores more than sales. While the theme of your day is a sale, turn it up and add sales to your sale. When pricing the 4 for $1 table, consider offering the items as $0.25 or 5 for $1. The last thing you want at the end of the day is a yard full of leftovers. It may even encourage someone to purchase $2 worth of items to take advantage of the sale.
As your yard sale nears its end, start to offer percentage sales. During the last hour of your sale, put up a sign that says 25% off every purchase. In the last portion of the sale, mark things down to 50% off. The math could get tricky, so keep your calculator handy and do the markdown on the total.
Be Willing to Haggle
Haggling is expected at a yard sale. While some people are comfortable negotiating prices, others are happy to pay the prices on the tags. Be prepared for those who want to pay less than the marked price. To counter this, like all great street vendors and car salesmen, mark up your prices a bit. If you're selling a patio set for $100, decide ahead of time where your bottom line sits. You don't want to feel pressure with negotiating, but you want to make your customers happy.
Don't tolerate haggling on low priced items in your under $1 box. Haggling is reserved for large ticket items.
Make Money on Everything on Your Lawn
At the end of the day, you can guarantee that you get some money for every item on your lawn. Whatever is left should be packaged and inventoried. Then, take it to the local Goodwill Store or similar drop-off location. Have the manager or attendee sign your drop-off inventory, and then stash the list in your tax folder.
At the end of the year when you file your taxes, research the government values attached to each item and declare your donations. You may not have sold it for the amount you asked, but you can make a few pennies from your deduction, and someone else benefits from the donation.