Throwing a Neighborhood Garage Sale
Solutions
Share on ThriftyFunThis page contains the following solutions. Have something to add? Please share your solution!
Here are several tips for a successful yard sale:
Offer clean, usable items.
Price your items - people do not like to have to keep asking.
Have change ready to close the deal.
Display items up off the ground on tables. Do not display stuff on blankets on the ground.
Be willing to negotiate a bit.
Create contrasting signs, using big, black, clearly written words on bright paper.
Advertise ahead of time in free papers, bulletin boards, Craigslist, etc.
Invite neighbors to host a garage sale too to increase traffic.
Be pleasant, treat customers in a friendly fashion.
Keep your change bag with you (don't leave it sitting at a checkout table).
HAVE FUN!
By Joyous from Knoxville, TN
Catherine Forman
0

found this helpful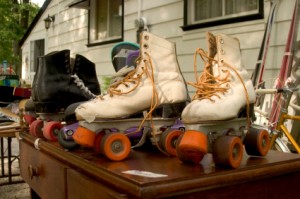 If you have kids, they probably have toys. A lot of toys. Heaps and piles of toys they've forgotten they had, or lost interest in, or just don't use anymore because they grew out of them. A neighborhood yard sale for kids can help you and your kids clean out the closets!
If you have friends with children (and lots of toys) nearby, you can join forces for the yard sale. Hold the yard sale at the house that has the most foot traffic -- maybe someone lives close to downtown, or near a busy park? The kids can man the sale, and the parents can take turns supervising.
Don't be tempted to set out your own stuff for sale; keep it kids stuff only!
Place a notice in the local paper, or have the kids help you make signs to post around town.
Help the children determine appropriate prices for their treasures.
Try to pick a Saturday morning that isn't part of a vacation weekend; hopefully you'll have more shoppers stop by.
Split the proceeds, or use them on something for all the families involved, like an ice cream party after you've closed up shop!
Don't leave the children unattended! An adult should be with them at all times.
If your children complain that they're bored with their toys, you may want to set up a neighborhood kids' yard sale with a different set of rules.
Instead of selling toys for money, make it more like a swap meet. Each child can bring five toys to the yard sale. Each child can leave with five new toys from the yard sale. It won't make any extra space in your closets, but it will solve the boredom problem... at least for a little while!
Invite your child's classmates to the yard sale. Make sure the invitations include the rules and how many toys a child may bring to trade with. Asking for an RSVP will give you an idea of how many people to expect.
Decide on the rules of the swap in advance and stick to them.
A child must donate toys to be able to take toys! Any toys that are left over at the end of the day can be donated to a local charity.
You may need to keep kids honest with a ticket system. Hand out five tickets (or put five rubber bands around the wrist) to each child. After they shop and pick their five toys, they should have no tickets left.
A kids' yard sale would be a good time to have other children run a lemonade stand or sell water and snacks.
Don't leave the children unattended! An adult should be with them at all times.
Be aware that you may have squabbles on your hand, if a seller decides he's not ready to part with a certain toy, or if two buyers want the same thing.
I used fluorescent dots from the office supply store. These work really well if you have large items to mark and they're really easy to spot by the shoppers.
I've also printed price tags on Avery label paper. I put them in columns and then cut them into strips. Be careful to work from the edge in, they can be difficult to peel apart in the center. You can adjust the size of the font to a larger size for those of us too vain to use our glasses in public!
By LittleNana-3 from Sun City, CA
Questions
Ask a QuestionHere are the questions asked by community members. Read on to see the answers provided by the ThriftyFun community or ask a new question.
I am going to be taking part in a community yard sale that is going to be held in a church parking lot. Should I make my own signs? What can I do to make my booth stand out from the others?
By Karaoke Mama
Answers
June 13, 2010
0

found this helpful
Make a sign that says: Great prices and deals.
Make a freebie box with a smaller sign near it that says if you buy one item, you get to choose something from the 'freebie' box.
Be sure to replenish it every hour with more freebie items. Also, towards the end of the day, start packing up things you cannot part with away or segregate it from things you are willing to part with cheaply.
Start telling people that they can fill up a bag for x amount of dollars. More people will flock to your table, maybe purchasing the items that you segregated as well, smile.
June 14, 2010
0

found this helpful
Thank you! These are great ideas. I am going to use them. You Rock!
July 5, 2010
1

found this helpful
Over the last 20 years we've had nearly 60 yard sales including huge benefit charity sales. In my experience in order of importance:
1. Signs (large and legible) any any other available free advertising.
2. Clean items in good repair (a bit of touch up paint or glue can make the sale) well displayed (avoid putting items on the ground or leaving in boxes as many people are not able or willing to stoop down or rummage through boxes). Not enough tables? A box of like items (no breakable or sharp items) is okay placed on a chair.
3. Price every item beforehand (I do not overprice as in our area when an item is fairly priced very few people haggle).
4. Have plenty of change, bags, and newspapers (to wrap breakables).
5. Relax - have fun and enjoy yourself. Welcome/greet each visitor. Play some happy music. Wear a silly hat (mine is a Crown complete with fake jewels and printed with "Her Royal Highness Queen of the Yard Sale" and hubbies is a huge wide brimmed Mariachi straw hat).
Have something to give away to all the kiddos (even just a sticker will bring a smile to a small child). When a customer asks me for info on an item I'm not familiar with I'll cup my hands around my mouth and call out to my husband "attention, attention...associate to electronics" (or hardware/automotive, etc.) We have repeat customers at all our sales and I often see folks when I'm out and about who stop me and tell me they just cant wait, when is the next sale?
Hope you have a great sale, it's hard work but can be profitable and great fun at the same time.
Answer

this Question

...