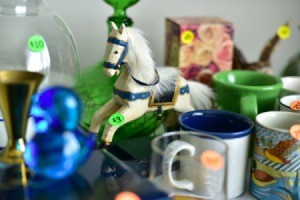 Any suggestions on how to price items that customers can't physically change by swapping stickers or move to another area with a lower designated price? I want to do this without marring the object.
By Susan Gaskell from Birmingham, AL
Answers

April 6, 2010
0

found this helpful
Best Answer
Write the name of the item on the price tag. e.g. "mixer $2.00"

susan
Silver Feedback Medal for All Time! 472 Feedbacks
April 9, 2010
0

found this helpful
Best Answer
I really don't think that there is a way to stop someone from being dishonest. Since I'm the one who usually prices things at our yard sales, I know if someone has changed a tag or not. I usually tell them that someone must have changed the tag, what the real price is, and ask if they still want the item. If the person looks unusally needy, I sometimes just give it to them at the cheaper price. I figure "what goes around, comes around," and trust that when I need something, it will be there for me. There is one family in the neighborhood that routinely changes prices at yard sales to get things cheaper, that really isn't bad off.
I let it go a couple of times, but no longer will. I'd rather give it to a needy person than be screwed by someone. I've also very politely asked dishonest people to leave when they've brought items with changed stickers to me. They act different when they are trying to get away with something, and they know that you know what they've been up to. Looking them in the eye and stating, "I've changed my mind and no longer choose to sell this," gets the point across.

July 5, 2010
0

found this helpful
Best Answer
Hi. I've had close to 60 yard sales over the last 20 years including some big charity fundraisers. I mark everything with 3/4 inch wide masking tape (cheapest one at Home Depot). You can just write what the item is, GF Grl $5 (George Foreman Grill), or GE PHN $2 (GE Phone). For items tape would obviously damage (ie. decorative paper storage boxes or a finely painted plaque), just pull off an extra long piece of tape and fold one third of it back on itself sticky sides together, that part is your label.
Attach remaining sticky part where it cant damage (on the inside edge of paper lid with label end hanging down to be seen). On a figurine attach to the bottom of the figure with price seen without picking up the item. I mark clothes for size and price but do not attach tape to the outside of the garment. Blouses, shirts, coats, jackets, vests and PJs are priced inside just below the collar. Slacks, shorts and skirts are taped on the rear inside of waistband. Use brand or color initials to ID item Fashion Bug (FB), LC (Liz C), RD PNT (Red Pant).
Keep your writing larger for size and dollar amount. The ID abbreviations are just an "aside" for you to know the price tag is on the correct garment. If you've been using pre-made tags this may seem like a lot of work, but for the average yard sale it's easy. I write mostly directly on the tape roll using a permanent non smear marker. I definitely would never recommend not pricing items as I know for a fact pricing items increases sales. For a 2006 AML Leukemia benefit I insisted on and personally marked every item that jam packed sixty (8' x 3') tables. This remains the most successful benefit with which I have been involved.
Good Luck with your sale.

April 5, 2010
0

found this helpful
Don't put a price on the items. Keep a price list for each item. When someone asks the price, refer to your price list that you would on your person.
Read More

Answers