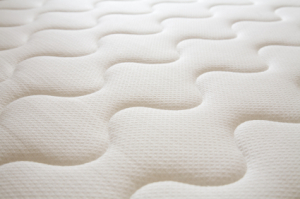 Considering that a third of your life is spent on your mattress, it is no surprise that there are stains to clean from time to time. This is a guide about cleaning stains on a mattress.
Ad
---
Solutions: Cleaning Stains on a Mattress
Read and rate the best solutions below by giving them a "thumbs up".
Pour on hydrogen peroxide on the stain, and immediately scrub with towel. Let dry and reapply if needed. My mattress took two treatments.
By Lee S. from LA
Give a "thumbs up" to the solution that worked the best! Do you have a better solution? Click here to share it!
Questions
Here are questions related to Cleaning Stains on a Mattress.
Does any one know how to get stains out of a mattress? The mattress in my spare room is still new, but it was stained by a guest I had recently. I have tried everything I know, but none worked.
Thank you, Q.
By Lulu from KwaZulu-Natal, South Africa
AnswerWas this interesting? Yes No
Ad
---
---
Most Recent Answer
By Susan 63 03/15/20110 people found this helpful
This takes a while, and is kind of drastic, but it worked. I have a SpotBot, and I set it on a terrible blood stain on a mattress and let it run through a tough stain cycle. then put a fan over the bed until it dried (2 days).

If you don't have a spotbot, I would suggest a upholstery attachment on a carper cleaner, then thorough drying.

Good luck!
---
How can I get oil stains out of my mattress? I placed a bottle top on my bed and the lotion came from the top and left a bad oil stain. I used a degreaser and the stain is still there.
By Alice
AnswerWas this interesting? Yes No
Ad
---
---
Most Recent Answer
How do you clean marks from a mattress?
By M
Archives
Thrifty Fun has been around so long that many of our pages have been reset several times. Archives are older versions of the page and the comments that were provided then.
I have a fairly expensive mattress that is about 18 months old. In spite of using a mattress pad, I've discovered a soiled area on it and don't know the best way of spot cleaning a mattress. I am not sure what the soil is, but I do have dogs that occasionally forget they are not allowed on the bed. I'm sure it's not dog feces or urine but it could possibly be vomit and someone in the household tried to clean it up and didn't tell Mom. It doesn't have an odor. Any ideas?

Nancy from Fort Smith, AR

Feedback:
RE: Cleaning a Stain Off a Mattress
Try an enzyme based stain digester, available in the pet section at most stores. I've used OUT cat pee remover on many items and it really works. I also love Beaumont products pet odor eliminator. (08/23/2004)

By Linda
RE: Cleaning a Stain Off a Mattress
Medical peroxide is about 2 or 3 for $1.00 at the Dollar Store or cheap deal stores. I have used it on set blood on cloth that has been washed and dried in the dryer and it has lifted it out. On such matter it will fizz until it expands it out of the cloth. After I used this and got it clean I would use an auto seat cleaner like Johnson and Johnson, as it can be used around the house on just about anything. When dry, vacuum the mattress. If you live where it is possible, you could put it outside in the sun to air out and freshen up. (08/23/2004)

By m.b.wright
RE: Cleaning a Stain Off a Mattress
I would soak the area with vinegar to remove any smell. It may take a day or two to dry but I've never had any problems soaking an area with vinegar. As far as looks, I've found that baby wipes are great at getting stains off of carpet and furniture so I would try it on the spot. You may have to really scrub. I would do it when the mattress is dry. (08/23/2004)

By Ann
RE: Cleaning a Stain Off a Mattress
I would try Oxi-Clean. I have used it many times and it always removes my stains. Spray the mattress with it and let it set a little while, then take a damp cloth and rub it a little. The stain should come out. (10/30/2005)

By Annette
RE: Cleaning a Stain Off a Mattress
Something that I can suggest when removing the stain, is to make sure that you stand the mattress up, rather than wetting the mattress when it is flat. This prevents the wet soaking deep into the mattress which can then be difficult to dry. (10/31/2005)

By PAULINE LIGHTBOWN ENGLAND
RE: Cleaning a Stain Off a Mattress
Try Folex. It is an enzyme based stain remover and odor remover. You can find it at Walmart with the other rug cleaners. It is worth it. It gets out old stains 90% of the time, especially bodily fluids! It got some perspiration stains off mine. It has a money back guarantee, but it hasn't failed me yet...and I have put it through some nasty tests! (09/27/2007)

By camo_angels
RE: Cleaning a Stain Off a Mattress
I used Resolve Power Stain and Woolite together. I didn't need excessive water, so it dried quickly, and it worked really well, smell and all. (12/07/2007)

By KT
RE: Cleaning a Stain Off a Mattress
When my grand-baby came home from the hospital I had just gotten a new mattress. I didn't have the zip cover on it yet! But a friend of mine said to rub corn starch into the wet spot, let it dry, and vacuum it off. That has been 10 years ago. I still have the mattress and you would never know it happened. NO stain marks at all. (08/05/2008)

By nora
How do I get not only a stain out, but I need to make the stain ring also go away on a pillow top mattress. Every time I go to clean it with a product and it dries, it just leaves a bigger ring. Please help, because this mattress is brand new.
By Tuckmomma from Somerset, KY
Feedback:
RE: Cleaning a Stain Off a Mattress
Try using a carpet cleaner with the upholstery attachment, I think you need to suck out the dirt. I add a little laundry soap when I do my couch. (10/16/2010)

By leekelly