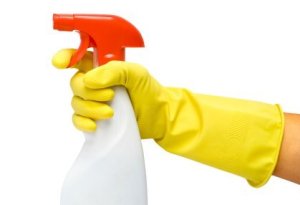 Making your own bathroom cleaners can help you make cleaning solutions that are safer and more environmentally friendly than store bought versions. The trick is making cleaners that are both safe and effective. This page contains homemade bathroom cleaner recipes.
Ad
---
Solutions: Homemade Bathroom Cleaner Recipes
Read and rate the best solutions below by giving them a "thumbs up".
I have fallen in love with my recipe for cleaning the bathroom, the commode lid and rim, counter, and floor. This recipe also works as a hand sanitizer.
The recipe calls for 1/4 teaspoon tea tree oil and 1 cup water. Sometimes I will make more by using 1 teaspoon of tea tree oil and 4 cups of water. I put it in a spray bottle. Shake it very well.
You can make it stronger if you like. A small bottle of tea tree oil, which should always be a a dark bottle, never a clear one, is about $10 or so at Walgreens, sometimes it is $11, but it goes a long way.
At first, the smell of tea tree oil was a bit too much to take, when I did the hair treatment, for lice, last year when the school had an outbreak of it. You take about two teaspoons of the stuff, you could use more if you wanted but you won't, and put it with 1/4 cup of Dawn, mix it up, and shampoo your hair with it - leaving it in for 8 minutes.
As strong as it is, like Vicks, breathing the scent of it is said to increase immunity and well being. Drop one drop in your hand, rub them together and cup them around your nose and breathe.
If you are new to tea tree oil, I would advise just to use the spray on your hands (like the above recipe says). I will sometimes make more up. It has been going FAST. It also gets sprayed in the tub for getting rid of microbes and germs and it gets sprayed on the bath mat.
Anyone with foot problems spray their shoes with Lysol every night. Lysol is not good for cats so don't spray it around them.
Vinegar is great for hair! Some people rinse their hair out with white vinegar, but I always use the apple cider kind. It always puts reddish highlights in my hair.
I have been cleaning ever since the beginning of Spring. I am going to order another plastic broom. The one I ordered before broke when one of the kids tried to use it. I wish I had kept the receipt. I am going to have to find one that is really strong - really strong. You really don't have to use much pressure on them, you just use light strokes. The kids will keep breaking them until they realize that. I am getting one to hide just for me.
By Robyn from Tri-Cities, TN
Get a 1 1/2 liter empty bottle and add into 20-30 grams (approx. 1 oz.) of any washing powder, 20 ml white vinegar (1 Tbsp. + 1 tsp.), and juice of a half a lemon. Now fill the bottle half with water and shake it well. Then gradually fill the other half. Now the bathroom cleaner is ready for cleaning. You can clean sinks, counter, and floor. It's easy, it gives nice fragrance, and it's economical.
By butterfly20 from BH
Need to clean your bathroom and out of cleaner? Toothpaste makes a great substitute for low-abrasion cream cleanser and leaves your bathroom minty-fresh. Just be careful; the fumes will make your eyes water, and clear your sinuses like nothing else!
By Angela L. from Sault Ste Marie, ON
Give a "thumbs up" to the solution that worked the best! Do you have a better solution? Click here to share it!
Questions
Here are questions related to Homemade Bathroom Cleaner Recipes.
I would like to get a recipe for: homemade bathroom cleaners. I am going as organic and natural as possible.
By Rita
AnswerWas this interesting? Yes No
Ad
---
---
Most Recent Answer
Archives
Thrifty Fun has been around so long that many of our pages have been reset several times. Archives are older versions of the page and the comments that were provided then.
I am looking for a homemade cleaner for the toilet and the shower, basically a bathroom cleaner.

Jamish from Ransom, KS

Feedback:
RE: Homemade Bathroom Cleaner
Look for this book: Everyday Cheapskate's Greatest Tips by Mary Hunt.
She has lots of "recipes" for cleaning solutions for every part of the house.
Maybe you can find the book at your local library. I have used several ideas from this book and check out Hints from Heloise, she has alot of great ideas too. (06/27/2006)

By mobo
RE: Homemade Bathroom Cleaner
I use plain old peroxide for a great bathroom cleaner. I get the big bottle and pour it into a spray bottle. It's great for those nasty hinges on a toilet seat and around the base of the toilet (I have linoleum). For stubborn mineral deposits plain white vinegar in a spray bottle works wonders. Let it set a minute, then use a scrubby to wipe it down. The smell dissipates quickly. A great glass cleaner is equal parts white vinegar and alcohol in a spray bottle. It smells bad, but works like a charm and the smell doesn't last long. Using plain alcohol in a spray bottle works on glass, too. Baking soda makes a wonderful "cleanser" powder without worrying about bleaching if it is spilled. Speaking of bleach, one tablespoon of bleach in a spray bottle of water will disinfect any surface, just remember it also bleaches out color. It will also lose its ability to disinfect over night so it will need to be made fresh each day its used. Good luck. (06/27/2006)

By Carla
RE: Homemade Bathroom Cleaner
I actually use a homemade cleaner with disinfectant properties for my toilets, mirror, and cupboard area. It is very easy to make and smells wonderful. All you need is a new empty spray bottle, water, a few drops of castile soap, and tea tree and lavender essential oils. The full instructions are available at openeyehealth.com (01/19/2009)

By openeyehealth
RE: Homemade Bathroom Cleaner
Baking soda is very nice to clean bathroom or just about anything. Vinegar is also a good thing to use. Just wet a cloth with it, use some elbow grease, old saying, good luck. (04/11/2009)

By kffrmw88
In making a cleaner for a cast iron bath tub, what amounts of alcohol, vinegar, and baking soda should be used?
By Don from East Hartford, CT
Feedback:
RE: Homemade Bathroom Cleaner
I have no idea, but anytime you mix baking soda and vinegar all you get is salt water and nice carbon dioxide bubbles. I don';t think that salt water will do much to clean anything. Either one, baking soda or vinegar on its own can be useful as a cleaner. Me, I prefer Mr. Clean. But I do use vinegar on lime scale build up from hard water. (02/21/2010)

By louel53