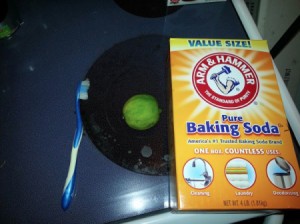 This is my favorite foaming super cleaner! You can use lemons or limes, especially ones past their prime that you are not going to eat. This time I used a lime and simple baking soda. Squeeze the lime directly on impossible to clean places like the burned scum on a glass cooking stove top. Things get burned into the burner, even water leaves behind a black residue that can take hours to scrub off with some harsh chemical cleaner, a razor blade, and tons of scrubbing.
After trying everything out there to muscle the black burned marks off nothing fully removed it. One day I had tried soaking it with lemon juice since I had a lemon that was far past being edible. I knew lemon (and lime) juice is a great cleaner in itself, it eats all kinds of grime.
While the lemon juice was sitting on the spots, I had removed one of those boxes of baking soda that keep the "fridge funk" out of the fridge. I thought it was too bad you just have to throw them out after a month. I decided to toss some baking soda on the lemon juice and tah dah! It's a safe, very potent foaming cleaner. It foamed off the really solid black burnt on stains. I sprinkled the baking soda a couple times as well as squeezing more lemon on the really thick areas. It came off with the wipe of a paper towel. I used a wet paper towel to remove the lemon juice and baking soda, then a dry one to shine it up.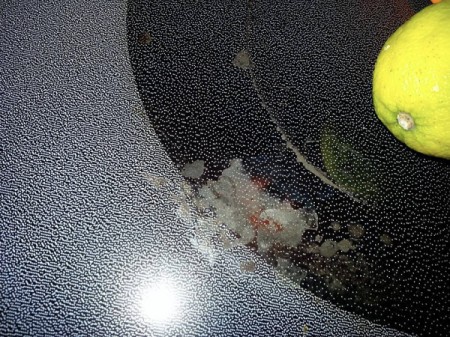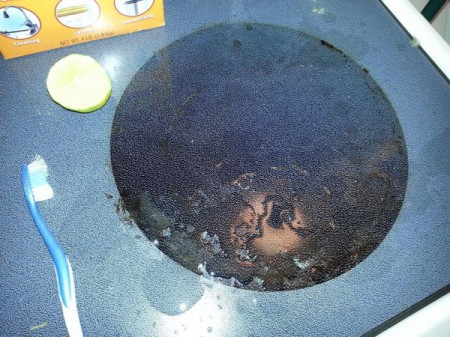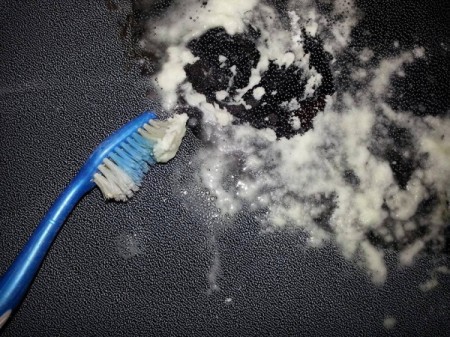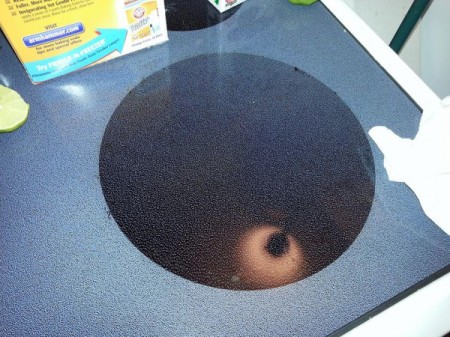 I now use it for removing hard water stains on sinks, faucets, and cooking pot lids, too. It foams deep into and around hard to reach spaces like around faucets. It shines everything up, smells nice, and is very inexpensive. It foams out dirt and grime you just can't reach, a wet cloth to remove it, and a dry cloth to shine.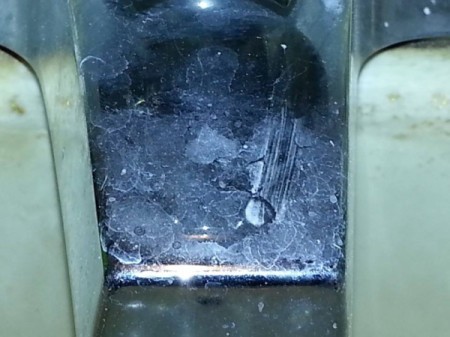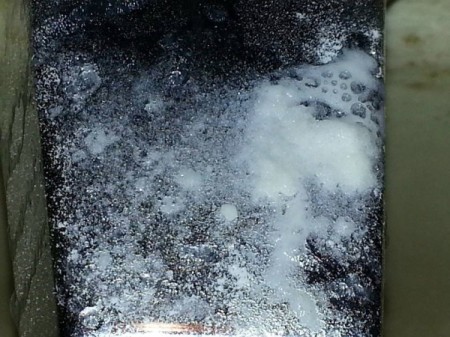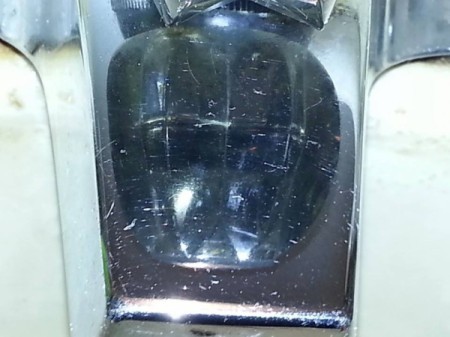 The best part is that you just recycled the baking soda from the fridge and used up a lemon or lime that would have otherwise been thrown away. It's completely safe around kids and pets, plus it leaves no residue. I haven't had it damage any surfaces that I have used it on either. You can mix both lemon (or lime) and baking soda with water in a spray bottle for really large areas. It's still a strong cleaner, but I have found tough spots do better with the concentrated stuff and no water until you wipe it off.