Cleaning With Baking Soda
Solutions
Share on ThriftyFunThis page contains the following solutions. Have something to add? Please share your solution!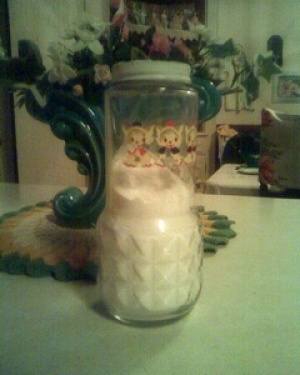 I have started keeping a clean glass Parmesan cheese dispenser by my bathroom and kitchen sink filled with baking soda. Great for a quick scrub for the sink, etc. I also sprinkle it on my toothpaste and sprinkle into my facial cleanser before I apply it (goodbye expensive exfoliators!). I also sprinkle a bit at the bottom of my wicker hamper and trash can to absorb odors. In the kitchen I also use it to clean cutting boards and my garbage disposal.
As you can see, I chose to decorate mine with a vintage decal (it is a 4-C Parmesan jar, by the way, but any large holed jar would work). You can snazz it up however you like to fit your own decor! If you want to put a sticker on it - there are so many gorgeous ones in the scrapbooking department, just put a bit of clear packing tape over it to keep the water out. Not bad for a free jar, and good golly Miss Molly, baking soda is about 50 cents, and non-toxic.
By Carol Young
May 6, 2008
4

found this helpful
To clean the outside of your refrigerator and make it look like new, use baking soda. Take a wet rag, pour some baking soda on it and start cleaning. This cleans the textured parts of the frig, like nothing I have ever seen before.
Read More...
I use a lot of baking soda at the kitchen sink. It's especially good for cleaning and sweetening the inside of jugs used to keep iced tea and such. I always use it for cleaning inside thermos bottles. It's the best when you need an abrasive that's more gentle than regular scouring powders. If you want sheeting action on your hand washed glassware, just sprinkle a bit of soda on your dish cloth.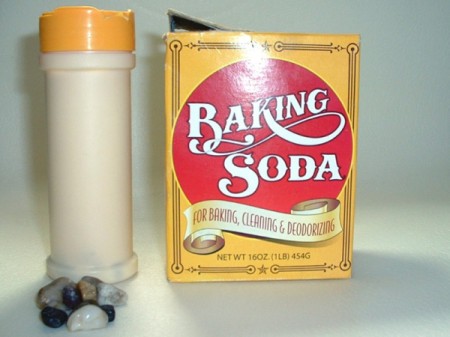 My hands were always wet when reaching for the box of soda. The box would get wet and the soda inside would get lumpy. I solve this little problem by filling a plastic spice container with large holes, 3/4 full with soda. I added a few small stones to keep the soda free flowing.
Now, I don't reach into the cabinet for soda. The container is so small, I keep it near the sink faucet. Best of all, the soda is always dry.
For gas can spills in the car, wipe up as much as you can then generously sprinkle baking soda over the spill. Leave overnight (or two days) then sweep away or vacuum. Soaks up the gas and the smell!
Read More...
April 4, 2001
1

found this helpful
Put baking soda in your kitchen sink, then add vinegar, after it stops fizzing it smells better. Also use baking soda to brush your teeth and under your arms for odor control.
Read More...
May 11, 2001
0

found this helpful
If you are allergic to cleaning products, use baking soda to clean your sinks with. It works great!
Read More...
January 17, 2001
0

found this helpful
Baking soda can clean just about anything around the house. It's great for the bathroom and kitchen and it's a lot less abrasive than commercial cleaning products.
It's also nontoxic, enough so that it's found in many brands of tooth paste.
Read More...
January 17, 2017
1

found this helpful
This natural foaming cleaner works great as a stove top cleaner, hard water stain remover and as a general heavy duty cleaner. Learn how to make this homemade baking soda and citrus foaming cleaner in this page.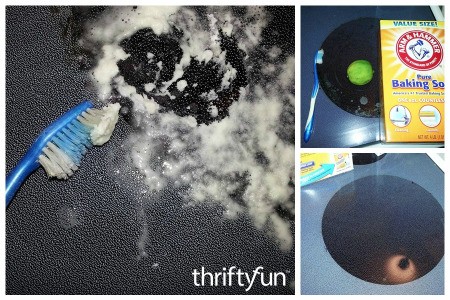 January 6, 2017
0

found this helpful
This is a page about reusing refrigerator baking soda. Once a box of soda has been used to absorb odors in the fridge, it can be useful for a variety of other things.

January 10, 2017
0

found this helpful
This is a page about making your own washing soda. If you can't purchase washing soda and you need some, it is easy to make by heating some baking soda in the oven.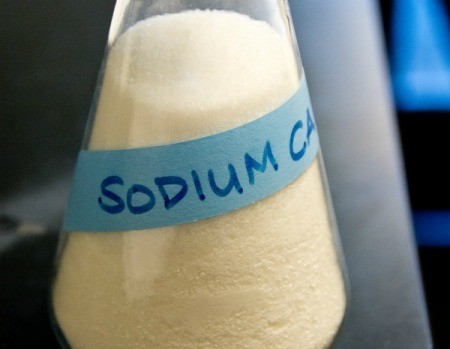 January 6, 2017
0

found this helpful
This is a page about cleaning kitchen appliances with baking soda. A damp rag or sponge with dry baking soda makes a good inexpensive cleaner for appliances.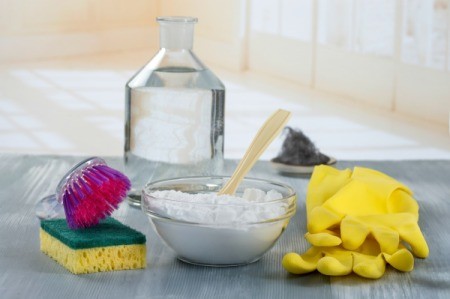 January 6, 2017
0

found this helpful
This is a page about cleaning spills on stove with baking soda. The mild abrasive action of baking soda makes it a very good cleaning agent that won't scratch your stove.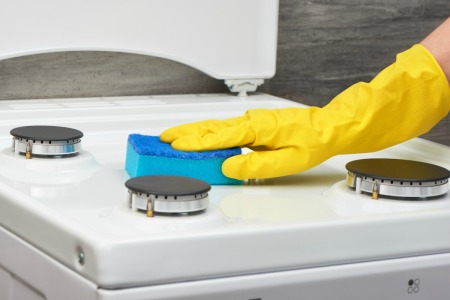 Archives
ThriftyFun is one of the longest running frugal living communities on the Internet. These are archives of older discussions.
October 27, 2009
0

found this helpful
Baking soda is one of the most versatile substances you can have in your home. It makes a wonderful mild abrasive for surfaces that you want to be careful not to scratch. Just make a paste of baking soda with water. You can use it instead of Comet or other abrasive cleaners for cleaning bathroom fixtures. It works well for cleaning spots off chrome and stainless steel.
It can be added to your laundry as a booster (1/2 cup should work) to help clean really dirty clothing or fight odors. Baking soda can be purchased in the baking section at your grocery store. Look for two pound boxes or bags at big box stores to save money and have plenty of it around.

Answers:
Cleaning With Baking Soda
I never believed what my Granny told me all along: that baking soda is one of the best natural cleaners and is also kind to the environment (today, we say it is a "green" product!)

A cup in your smelliest, grungy wash and your clothes will come out fresh and soft! Makes sinks and tubs sparkling clean. A half cup in a bucket of hot water will get the inside of your fridge fresh as the day you bought it. Give it a try, and best of all, it's inexpensive! (05/22/2009)