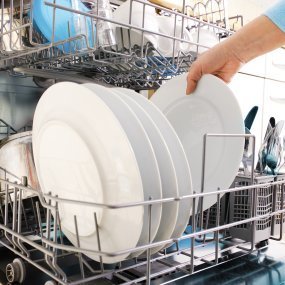 Dishwasher detergent is a necessary but expensive household item. Making your own detergent is a simple way to save money. This page contains homemade dishwasher detergent recipes.
Ad
---
Solutions: Homemade Dishwasher Detergent Recipes
Read and rate the best solutions below by giving them a "thumbs up".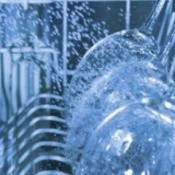 This is like Cascade and Sun Light. This homemade natural formula will safely cut through grease and sanitize your dishes as well.
Automatic Dish Washing Soap
Ingredients:
1/2 cup liquid Castile soap
1/2 cup water
1 tsp. fresh lemon juice
3 drops tea tree extract
1/4 cup white vinegar
Directions:
Combine water and liquid Castile soap. Stir and then add lemon juice, tea tree extract, and vinegar. Stir until blended evenly and store in a squeeze bottle.
Use 2 tablespoons per wash in a standard-size dishwasher.
Note: Do not substitute conventional liquid soap for the Castile soap unless it is a "low sudsing" soap. Regular soaps will produce too many suds and overflow the dishwasher.
Dishwashing Liquid
To a 22 oz. container of liquid Castile soap, add:
10 drops lemon
8 drops orange
20 drops grapefruit
I hope that you love these like I do! Have a wonderful 2011 everyone!
Source: (for Automatic Dish Washing Soap) Casey Kellar, author of Natural Cleaning for Your Home: 95 Pure and Simple Recipes
By Jodi from Aurora Colorado
So here is the recipe for Automatic dish washing detergent.
1 cup washing soda
1 cup borax
1/2 cup kosher salt
1/2 cup citric acid
Shake thoroughly or stir and store in tightly covered jar. Use one tablespoon per load. For best results add white vinegar to the rinse dispenser.
All of the above items can be found in your local grocery store. This recipe cleans; cuts grease and yet gentle enough for fine china.
Source: http://ecomaidsofla.com/blog/2009/11/15/diy-dishwashing-detergent/
By ecogirl91304 from Los Angeles, CA
I have had to be very frugal with my budget and have found myself without dishwasher detergent. I have tried this and found it to work very good! Take a squirt of orange cleaner, a squirt of your homemade everyday cleaner (vinegar/alcohol/water 3:1:2), and a squirt of dishwashing liquid and the dishes do quite well!
By Kellyb from IN
I found out we had run out of dishwasher soap, even the samples I had gotten, and I went to the internet to find out a homemade substitute. Most of them mentioned either washing soda or baking soda + borax - some others mentioned shaved Zote Soap.

We had baking soda - but no borax. So I filled the containers with baking soda and added a few drops of dishwasher liquid to each pan. Then we ran the dishwasher. The waste water came out nice and dirty, with a few teeny bubbles, and the dishes turned out to be nice and clean.

Now, the dishes had been rinsed and were fairly clean already - and it was 1/2 a load at a full cycle - but nevertheless - it did work. I am getting more baking soda and will look for the borax.

(Note: the reason you can't use plain dishwashing liquid is that there would be a lot of bubbling, like a bubble bath out of control - but a few drops in the baking soda seems to be OK.)
Give a "thumbs up" to the solution that worked the best! Do you have a better solution? Click here to share it!
Questions
Here are questions related to Homemade Dishwasher Detergent Recipes.
I use the 1 cup borax, 1 cup baking soda, 1/4 cup salt, and I have purchased citric acid in bulk instead of Kool-aid. How much citric acid should I use?
One of my relatives says the soap leaves spots and a milky film. Any ideas what to add to the soap?
By Larry
Ad
---
---
Most Recent Answer

By S Durgeloh [3]10/03/2011
Rather than baking soda one should use washing soda, usually found in the laundry aisle.
I need a recipe for homemade dish washing detergent for the dishwashing machine.
By Scott from Adelaide, Australia
Ad
---
---
Most Recent Answer

By Laura07/19/2011
Hey wfulps, how about bleach and a drop of Dawn? Should be the best of both worlds without harmful reactions.
Does anyone know of a homemade dish detergent recipe? I save so much with the homemade laundry detergent, but have had no luck finding a dish detergent recipe.
By Amy from Rochester, NY
---
Most Recent Answer

By Melodie9909/25/2011
This works really well for me the koolaide is to help break down the residue and grease.

1 cup of borax
1 cup washing soda
1/2 cup of kosher salt. (you can use regular salt, but I prefer kosher salt, more scrubbing power)
15 pkgs of lemon koolaide. I use the store brand it is a lot cheaper.

I also fill the rinse aid with white vinegar.
I use a spoon full in the pre wash and a spoon full in the one that you lock shut. You probably don't have to do that but I want my dishes really clean. I am a person that rinses my dishes before I put them in the dishwasher. If you don't I dont know how well it will work. But I've had other people say it works great for them too. I store it in a cheap plastic container. Wrote the ingredients on the outside of the jar and labeled the lid.
How do I make homemade dishwasher soap?
By Leslie
---
Most Recent Answer

By S Durgeloh [3]06/01/2011
Mix equal parts of Arm and Hammer washing soda and Borax. For spot free glasses, etc., instead of using expensive JetDri use white vinegar instead.
I live in west TX where the water is hard. I'm using a liquid dishwasher detergent. The dishwasher is not getting my dishes clean and the glasses come out hazy.
I'd like to hear from someone in Lubbock who had the same problem and found a solution; different detergent, etc. I run water from the kitchen faucet until it gets hot before I start the dishwasher, but that doesn't solve the problem. I even put vinegar in the dishwasher and that didn't help.
By Betty
---
Most Recent Answer

By Louise B. [5]02/27/2010
When I lived in an area without a water softner, I poured a cup of vinegar in my rince cycle to get the hard water deposit off of the glasses.

If you are getting deposits of foodstuff on the dishes, or the dishes are simply not coming clean, it is likely a detergent problem, not actually related to the water. Try different detergents. I prefer the powders. I like Calgon, but my water is soft. Also, I previously had a cheap dishwasher that didn't have enough jets to wash the top rack dishes. Nothing made a difference in that machine except only having about half a load of dishes.
What are some homemade dishwasher detergents?
By KMR
Please let me know a recipe of homemade dishwasher detergent. Regards.
By Abdul
Archives
Thrifty Fun has been around so long that many of our pages have been reset several times. Archives are older versions of the page and the feedback that was provided then.
I tried making my own laundry detergent with Zote Laundry soap and Borax.
A while back, I asked if anyone had a tip on making homemade dishwasher detergent. I got the reply to use 1/8 cup bleach, to dissolve the grease, using no soap at all and 1/8 cup vinegar in the rinse cycle to alleviate the lime deposits and get streak free dishes and glasses. WOW, WOW, WOW, did it ever work. I will forever use this recipe. Thanks ever so much.
By Jamish from Ransom, Kansas
Editor's Note: Make sure you add the vinegar at the rinse cycle, as described in the tip, and not when you add the bleach or it will create a horrible gas.
---
RE: Homemade Dishwasher Detergent
I had trouble finding washing soda too until I went out to make some adjustments to my swimming pool water and read the label on the ph increase I got from litehouse pools, sodium carbonate 100%, same as the name brand washing soda!
By Tammy
RE: Homemade Dishwasher Detergent
I used to add bleach to the dishwasher. My daughter worked at whirpool in customer relations. She said the bleach ruins the gasket eventualy and causes leakage. just a heads up.
By Ariela
RE: Homemade Dishwasher Detergent
Please don't use bleach in your dishwasher if you or anyone in your family has breathing problems like asthma or heart conditions. The fumes from bleach will trigger both of these problems. And the hot steam from the dishwasher (or washing machine) will make the fumes spread even more than if you were just using it in the sink.
By Karen
RE: Homemade Dishwasher Detergent
I simply use a very tiny bit of liquid dish soap ( not a dishwasher kind) and then add about 1/2 - 1 cup of vinegar at the beginning of each cycle. I set the dishwasher as usual and forget it. The dishes come out every bit as clean as they did buying commercial dishwasher detergants, which are very toxic according to a news broadcast that I heard. I am trying to go more natural in many areas of life.
By cathy
RE: Homemade Dishwasher Detergent
Just a heads up... mixing ANY kind of acid based product (including vinegar), or ammonia, with bleach can create extremely toxic chloride fumes.
By Kat63
RE: Homemade Dishwasher Detergent
I tried the borax and baking soda recipe with vinegar as a rinse aid but my dishes came out horribly filmy, so I let vinegar soak in the dishwasher overnight and ran it empty, then I tried the recipe at the top of the page for a little normal dish soap and 1/2 C vinegar and my dishes came out beautiful. I'm not sure which one did the trick but it works.
By niboki07But
RE: Homemade Dishwasher Detergent
I just got my dishwasher 2007 model which I installed myself saving $200 bucks and pickup $3.00 part at Home Depot just to get the hot water connected. Don't need to spend $15 bucks on a kit if you 'already had a dishwasher hookup. Anyway the unit came with a sample of Cascade Complete and Cascade Glass Spotter. I had Jet Dry Costco Jumbo Size already to last me a very long time. I also had Costco Krikland Sigtinure Series Automatic Dishwashing Detergent. I've tested that in my new one by itself. I it didn't clean the stainless steel pots and fooks, spoons and knifes so well.
So I gone back with Cascade 2-in-1 Pacs with Dawn did try that with one pad, but found out the hard way you need to use two of those. That did a very good job, but I did add Cascade Complete to the pre-rinse even though that product tells you you don't need to do it. Yeah, yeah. Pots and pans and everything else came out super duper clean. I ran out of the 2-in-1 pads they seem expensive to keep on adding them in. Costco has them for $12 for 90 pads, Wal-Mart 80 pads for $12, 50 pads for $8. I just got the biggest box of Cascade Complete at Costco for $7 bucks.. That cleans everything I put in the dishwasher even cast iron with oil. If it can't clean that then forget it. Which id did clean it so well maybe too well but hey just have to oil the iron and I back in business. I use the Cascade Complete in both places also add a pre-wash. Just to play it safe. I'll stick with this product I did see the Bleach version but don't know if that's a good idea to smell bleach flumes during the drying cycle.. Good luck, making your own still cheaper to buy the ready made product.
By tipstir
RE: Homemade Dishwasher Detergent
I use 1/2 cup borax (can find at walmart, foodlion or publix) and 1/2 cup washing soda (can find at publix or kroger),and vinegar in the rinse.
By tanya
Automatic Dishwasher Soap: I have made the laundry detergent, fabric softener and stain remover (pre-wash treatment); how about a recipe for automatic dishwashers? Anyone have any ideas?

Love this site,

Nelwyn from Bunkie, LA
---
RE: Homemade Dishwasher Soap?
I tried the 2 Tbsp. baking soda/2 Tbsp. borax but my dishes were still cloudy and dirty (07/10/2006)
By oliver1
RE: Homemade Dishwasher Soap?
I used an alternative, although it was not homemade. I used a small amount of laundry detergent in an emergency. I did read about some good recipes here that I'll try.
I'd guess baking soda would dry to a residue. How about adding a drop of dishwashing liquid to get that taken care of? It just SOUNDS like it would work. (05/03/2007)
By Mary
RE: Homemade Dishwasher Soap?
Hi, I am also looking for a recipe of laundry detergent with natural materials. Lots of people use borax, which is not very healthy, I thought, as it is an acid which affects your nerve system, kidneys and liver and gets absorbed through the skin. Are there any alternatives to Borax? (10/08/2007)
By Rudy
RE: Homemade Dishwasher Soap?
I use 1 1/2 tsp each of borax and washing soda in the prewash cup. I don't use the main cup (that closes) at all. I start the dishwasher and once it has started filling with water I put 1/2 to 1 cup vinegar in the tub. When it starts filling for the rinse cycle, I add 1/2-1 cup 35% food grade hydrogen peroxide and my glasses turn out beautiful! It's a bit of "baby-sitting" but I like the results! (12/02/2007)
By niw3446
RE: Homemade Dishwasher Soap?
I've been told that a cup of citric acid added to the 1 box borax + 1 box baking soda will cure the residue problem. (01/17/2009)
By Dawn
RE: Homemade Dishwasher Soap?
My recipe calls for 1 cup washing soda, one cup borax and 1/4 cup salt (I use sea salt). I have no filmy residue at all. It works wonderfully! (01/30/2009)
By EJDCJ
RE: Homemade Dishwasher Soap?
When I priced out the ingredients for homemade (borax, baking soda, vinegar, citric acid, etc.) it was pretty expensive. I use the cheap powdered store brand of dishwasher soap from WalMart or Aldi or even the dollar stores. They all work equally well and are very inexpensive.
Once I tried using just a scant tablespoon of laundry detergent, BIG MISTAKE! This bubbled out of the dishwasher and leaked into the floor even though I tried to soak up the leak with towels. I had a drip in the basement ceiling as a result. Please spare yourself that mess. (01/30/2009)
By OliveOyl