Dishwasher detergent is a necessary but expensive household item. Making your own detergent is a simple way to save money. This page contains homemade dishwasher detergent recipes.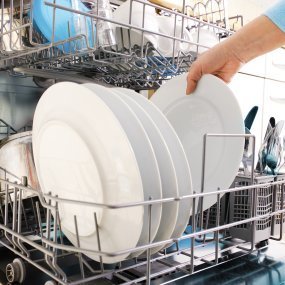 By melissa 275 423
If you prefer liquid detergent for your dishwasher, then this is for you! This is super inexpensive and easy to make. No more harsh chemicals, no more suds bubbles when you pour water into your clean cups. Cheaper and healthier, sounds good to me!
Approximate Time: a few minutes
Yield: a little over 3 cups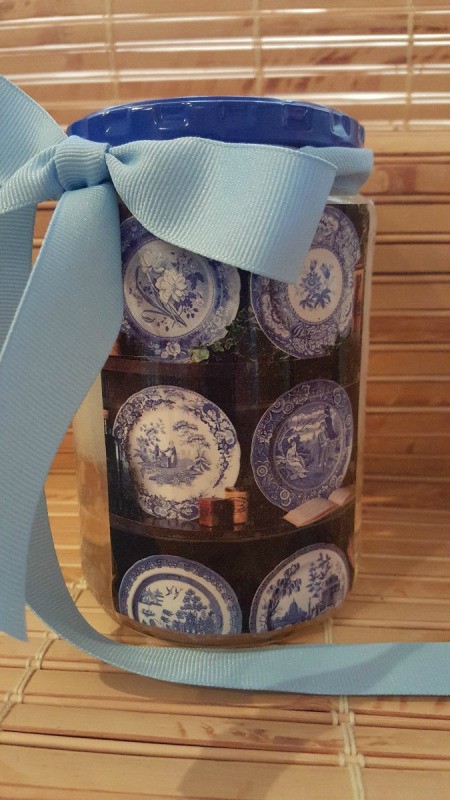 Supplies:
3 Tbsp pure castile liquid soap
3 cups water
1 cup washing soda
empty jar
Steps:
Add 3 cups hot water to a large bowl. Add your washing soda and castile soap.
Mix well.
Pour into a clean jar, I used a pickle jar.
See how it tends to separate? Simply shake it every half hour or so for a couple hours and then before use in the dishwasher.
Use 2 tablespoons per load. If you have hard water, you may want to add vinegar and coarse salt to the prewash to reduce film or water stains.
Enjoy!
Source: Pinterest inspired
By Irishwitch 390 18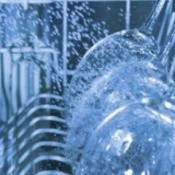 This is like Cascade and Sun Light. This homemade natural formula will safely cut through grease and sanitize your dishes as well.
Automatic Dish Washing Soap
Ingredients:
1/2 cup liquid Castile soap
1/2 cup water
1 tsp. fresh lemon juice
3 drops tea tree extract
1/4 cup white vinegar
Directions:
Combine water and liquid Castile soap. Stir and then add lemon juice, tea tree extract, and vinegar. Stir until blended evenly and store in a squeeze bottle.
Use 2 tablespoons per wash in a standard-size dishwasher.
Note: Do not substitute conventional liquid soap for the Castile soap unless it is a "low sudsing" soap. Regular soaps will produce too many suds and overflow the dishwasher.
Dishwashing Liquid
To a 22 oz. container of liquid Castile soap, add:
10 drops lemon
8 drops orange
20 drops grapefruit
I hope that you love these like I do! Have a wonderful 2011 everyone!
Source: (for Automatic Dish Washing Soap) Casey Kellar, author of Natural Cleaning for Your Home: 95 Pure and Simple Recipes
By Jodi from Aurora Colorado
By melissa 275 423
I decided to make my own dishwasher detergent cubes because they are cheaper and healthier. Have you read some of the ingredients in the store bought kind? That residue lingers on your dishes and you are ingesting trace amounts every day. No thank you!
These are also easy to make and require common ingredients. Have fun!
Approximate Time: About 6 hours total with drying time...
Yield: 18 cubes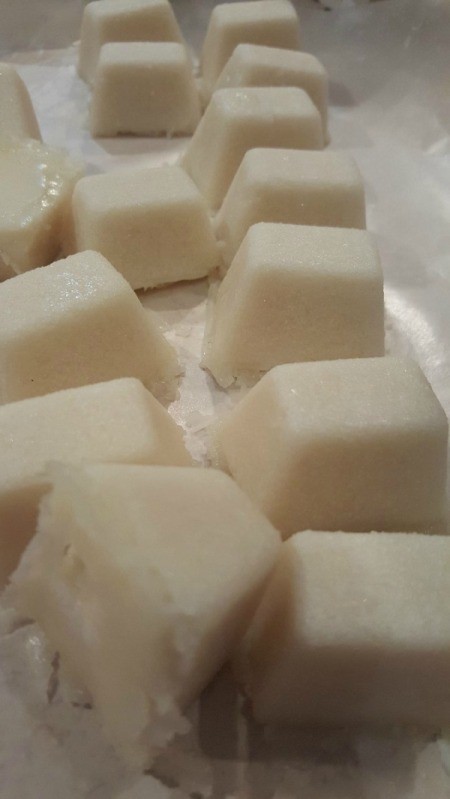 Supplies:
1 cup borax
1 cup washing soda
1 cup vinegar
2 Tbsp lemon juice
ice cube trays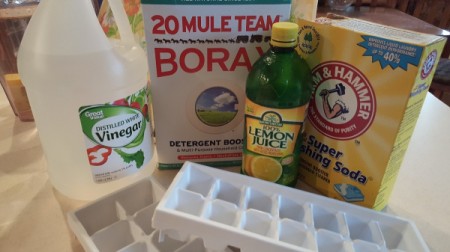 Steps:
Add borax and washing soda to a large bowl, mix well.
Add vinegar and lemon juice, mix well.
Pour evenly into 18 ice cube squares. Continue to stir as you pour, otherwise the powders will sink to the bottom.
Let dry around 5 hours.
Carefully pop out of the trays and let dry another hour or so on wax paper.
Place in a container and use 1 per load of dishes. I picked this glass jar up at a thrift shop.
If your water is especially hard, you may want to add vinegar and coarse salt to the prewash. This should aid in reducing film and hard water spots.
**If these do not fit into your dispenser very well, I would suggest pouring your liquid into 36 cubes and using 2 per load. Otherwise, just break in half. :)
Source: Pinterest inspired
So here is the recipe for Automatic dish washing detergent.
1 cup washing soda
1 cup borax
1/2 cup kosher salt
1/2 cup citric acid
Shake thoroughly or stir and store in tightly covered jar. Use one tablespoon per load. For best results add white vinegar to the rinse dispenser.
All of the above items can be found in your local grocery store. This recipe cleans; cuts grease and yet gentle enough for fine china.
Source: http://ecomaidsofla.com/blog/2009/11/15/diy-dishwashing-detergent/
By ecogirl91304 from Los Angeles, CA
I use the 1 cup borax, 1 cup baking soda, 1/4 cup salt, and I have purchased citric acid in bulk instead of Kool-aid. How much citric acid should I use?
One of my relatives says the soap leaves spots and a milky film. Any ideas what to add to the soap?
By Larry
---
Most Recent Answer
By S Durgeloh 7 25 Flag
October 3, 2011
Rather than baking soda one should use washing soda, usually found in the laundry aisle.
---
By scott 2
I need a recipe for homemade dish washing detergent for the dishwashing machine.
By Scott from Adelaide, Australia
---
Most Recent Answer
July 19, 2011
Hey wfulps, how about bleach and a drop of Dawn? Should be the best of both worlds without harmful reactions.
---
By pam munro 522 790
I found out we had run out of dishwasher soap, even the samples I had gotten, and I went to the internet to find out a homemade substitute. Most of them mentioned either washing soda or baking soda + borax - some others mentioned shaved Zote Soap.

We had baking soda - but no borax. So I filled the containers with baking soda and added a few drops of dishwasher liquid to each pan. Then we ran the dishwasher. The waste water came out nice and dirty, with a few teeny bubbles, and the dishes turned out to be nice and clean.

Now, the dishes had been rinsed and were fairly clean already - and it was 1/2 a load at a full cycle - but nevertheless - it did work. I am getting more baking soda and will look for the borax.

(Note: the reason you can't use plain dishwashing liquid is that there would be a lot of bubbling, like a bubble bath out of control - but a few drops in the baking soda seems to be OK.)
By Kellyb 2
I have had to be very frugal with my budget and have found myself without dishwasher detergent. I have tried this and found it to work very good! Take a squirt of orange cleaner, a squirt of your homemade everyday cleaner (vinegar/alcohol/water 3:1:2), and a squirt of dishwashing liquid and the dishes do quite well!
By Kellyb from IN
Does anyone know of a homemade dish detergent recipe? I save so much with the homemade laundry detergent, but have had no luck finding a dish detergent recipe.
By Amy from Rochester, NY
---
Most Recent Answer
September 25, 2011
This works really well for me the koolaide is to help break down the residue and grease.
1 cup of borax
1 cup washing soda
1/2 cup of kosher salt. (you can use regular salt, but I prefer kosher salt, more scrubbing power)
15 pkgs of lemon koolaide. I use the store brand it is a lot cheaper.
I also fill the rinse aid with white vinegar.
I use a spoon full in the pre wash and a spoon full in the one that you lock shut. You probably don't have to do that but I want my dishes really clean. I am a person that rinses my dishes before I put them in the dishwasher. If you don't I dont know how well it will work. But I've had other people say it works great for them too. I store it in a cheap plastic container. Wrote the ingredients on the outside of the jar and labeled the lid.
---
How do I make homemade dishwasher soap?
By Leslie
---
Most Recent Answer
By S Durgeloh 7 25 Flag
June 1, 2011
Mix equal parts of Arm and Hammer washing soda and Borax. For spot free glasses, etc., instead of using expensive JetDri use white vinegar instead.
I live in west TX where the water is hard. I'm using a liquid dishwasher detergent. The dishwasher is not getting my dishes clean and the glasses come out hazy.
I'd like to hear from someone in Lubbock who had the same problem and found a solution; different detergent, etc. I run water from the kitchen faucet until it gets hot before I start the dishwasher, but that doesn't solve the problem. I even put vinegar in the dishwasher and that didn't help.
By Betty
---
Most Recent Answer
By Louise B. 6 2,509 Flag
February 27, 2010
When I lived in an area without a water softner, I poured a cup of vinegar in my rince cycle to get the hard water deposit off of the glasses.
If you are getting deposits of foodstuff on the dishes, or the dishes are simply not coming clean, it is likely a detergent problem, not actually related to the water. Try different detergents. I prefer the powders. I like Calgon, but my water is soft. Also, I previously had a cheap dishwasher that didn't have enough jets to wash the top rack dishes. Nothing made a difference in that machine except only having about half a load of dishes.
What are some homemade dishwasher detergents?
By KMR
By abdul 2
Please let me know a recipe of homemade dishwasher detergent. Regards.
By Abdul