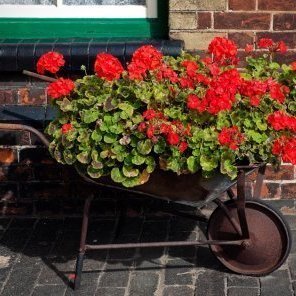 Using an wheelbarrow as a planter can be a fun project and perhaps become a centerpiece of your garden. This is a guide about making a wheelbarrow planter.
Ad
---
Solutions: Making a Wheelbarrow Planter
Read and rate the best solutions below by giving them a "thumbs up".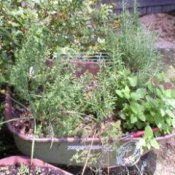 This was an old wheelbarrow I got for $1.00 at a garage sale. It is filled with rosemary, chives, oregano, and mint. I have more than I can use! Make sure you drill some holes in the bottom for drainage.
Mina from middle GA
Give a "thumbs up" to the solution that worked the best! Do you have a better solution? Click here to share it!
Archives
Thrifty Fun has been around so long that many of our pages have been reset several times. Archives are older versions of the page and the comments that were provided then.
I would appreciate info on planting flowers in a very old wheelbarrow. It has curved sides so not many pots can fit in it. If I drill a hole in the bottom for drainage and put dirt in it to plant the flowers in, will the bottom rust out?
Hardiness Zone: 10b

R. Anderson from Templeton, CA
---
RE: Planting Flowers in Old Wheelbarrow
Try putting plastic on the bottom! (08/11/2007)
By Nancie
RE: Planting Flowers in Old Wheelbarrow
I think that the bottom will eventually rust out, yes. That's why most people use an old, dilapidated wheelbarrow tha's on its last leg. You could delay it a bit with Nancie's idea- putting some sort of plastic in the bottom, like a lid from one of those huge Rubbermaid buckets. Just make sure you punch holes it that, too. (08/12/2007)
By Beth - MA
RE: Planting Flowers in Old Wheelbarrow
Spray paint the wheelbarrow with a couple coats of Rustoleum rust inhibiting paint,then a couple coats of Plasti-cote spray paint for lawn furniture. Mine hasn't rusted through yet and it's three years old. I did line mine with several layers of heavy plastic before adding the soil. Poke holes in it though right where you drilled the drain holes in the metal and add some gravel for better drainage and drying. (08/13/2007)
By KELLYCAJUN
RE: Planting Flowers in Old Wheelbarrow
All I can tell you is that at the start of the summer, I did this exact thing to an old wheelbarrow in my yard and have had no trouble at all. Good luck (08/16/2007)
By Elizabeth
RE: Planting Flowers in Old Wheelbarrow
I tried the plastic thing in my initially and I had problems with it draining. My wheelbarrow was abandon by the previous owner of my house and it was in no way in good shape. I did spray the bottom of mine with rustoleum. I've gone to 100s of estate sales and seen old wheelbarrows for $15 to $40. If I need to replace I figure that is a pretty cheap investment for 4 or 5 years. (12/21/2007)
By Lou