September 4, 2008
2

found this helpful
Here are two tips for the less handy among us.
After making one cut into the handle of a popular coffee can, I ended up with a weather and bug-resistant container for my clothes-pins. One for each line, just slide it as you hang out the clothes. Thinking about it now, connecting the lid with a piece of string would keep it handier than picking it off the ground.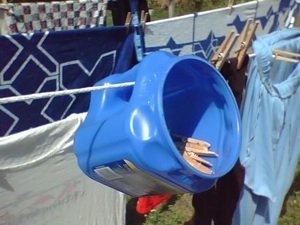 Inspired by this, I took my trusty steak knife and carefully carved an opening in the corner of another can. And I twisted a small hole into the handle to accept the screw hook. Now the birds have another alfresco dining spot.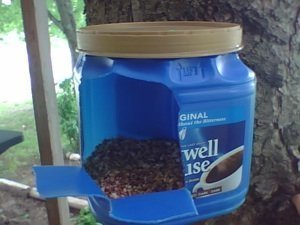 At least now I'm not tripping over empty containers I knew could be used for something.
David from Cheboygan, MI
April 15, 2009
0

found this helpful
A big round of applause to you! I really like your idea a lot! Too cool! Thanx for the post!
Read More Comments
This is a craft my 2 year old loves to make. She loves to shake up the marble in the coffee can and then take the lid off to discover her masterpiece. She also likes to watch herself shake the can in the mirror. So cute!
Supplies:
Recycled coffee can
Paint
Marble
Paper
Instructions:
Cut a circle of paper to fit in the bottom of a recycled coffee can.
Place the paper in the coffee can, roll the marble in desired paint color, and drop the marble in the can.
Add the lid to the coffee can and shake it up!
Remove the lid and repeat with other colors if desired.
Remove paper and allow to dry. Do several circles of paper!
Hang individual pieces of paper to display, or attach to a string to keep them all together. This is a fun way to paint for even the youngest artists!
By Jayme from Harrisonburg, VA
March 24, 2009
0

found this helpful
I love this idea - such a simple art project and sounds so much fun! I'm going to try this in the Kindergarten/Grade 1 class I teach. I think I'll try it with a box also as glaittli suggested.
Read More Comments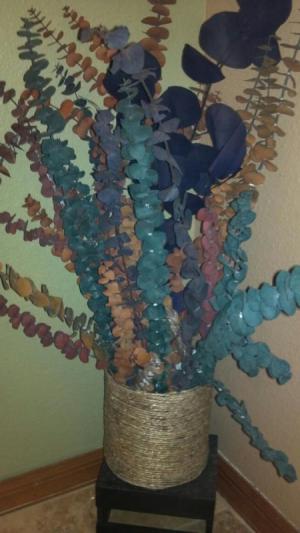 This is a recycled empty coffee can. No need in buying the expensive flower pots and vases.
Approximate Time: 1 1/2 hour
Supplies:
rope or jute
glue gun and glue
empty coffee can
Instructions:
Start at the bottom of the can, apply hot glue half way around.
Gently glue.
Continue until you reach the top. Being very careful that you keep the rope very tight and close so that you can't see the can at all.
By Sharon from Lakeland, FL
December 27, 2000
0

found this helpful
I have many 3 lb. coffee cans that I hate to throw away. Does anyone have any clever and practical uses for them? Thanks.

K
July 6, 2005
0

found this helpful
There's a company selling durable coffee can lids in multi colors. www.kankraft.com This makes it possible to toss that old flimsy plastic lid. Then you can paint the can the color of the lid that you buy and craft the can say with a glue gun and trinkets in any theme you want. These make great personal gifts. Makes great projects for kids like boy and girl scout troops, etc.
August 23, 2005
0

found this helpful
You can put a small coffee can with 1/2 and 1/2, vanilla and sugar (ice cream mix) in it, lid on tight inside a big coffee can with ice and salt packed in around it to make ice cream. Tape the large lid on, and roll the can around for 20-30 minutes, then check to see if you have ice cream. Kids love this, and moms look really silly playing "kick the can" in the street. Great fun!
September 15, 2005
0

found this helpful
I need 10 of them, how can I purchase, rds2301 @ yahoo.com (remove spaces)
By guest (Guest Post)
October 9, 2005
0

found this helpful
I have many 1 and 3 lb coffee cans with lids if any one wants them. All they have to do is pay the actual shipping costs. please email trinkys2 @ yahoo.com (remove spaces) and list coffee cans in the subject line.
By guest (Guest Post)
June 27, 2006
0

found this helpful
I found always found it usefull to use old coffee cans to put cigarette butts in.
November 16, 2008
0

found this helpful
Try this site [ www.kankraft.com ] this will give you some ideas of what to do w/those old 3 lb cans. And a 3 lb coffee can is also the exact same size at the large #10 vegy cans. Dave
November 14, 2011
0

found this helpful
I use my old coffee cans to dump old coffee grounds into. I hate pouring them directly into the trash can liners as I've had too many rip on me and out come the grounds. When can is filled, cover with the can's lid (save that too), and put the whole thing into the trash.
Read More Answers