Here is a great idea I used a few weeks ago for a craft project for my kids. I take care of a baby twice a week and so I always save the cleaned out baby food jars. I also save gift bags and the tissue paper that fills them. I remembered this craft from VBS when I was a child. You dip out a little thinned glue into a container (I used the lids to the baby food jars).
Provide a cheap paint brush (I found 100 of them at a garage sale for about 25 cents). Let the kids tear up the different colors of tissue paper into 1/2 inch or so pieces. Then they will glue them onto the outside of the jars. Overlap the paper to create a "stained-glass" look. When completely dry, go over with a coat of the glue or modge podge to seal it.
Put a little tea-light candle in it. It looks great! These make great gifts for the kids to make. One note, you might want to spread out newspaper on the table to protect it from the glue. This craft is easy even for small children. Even my 3-year-old mastered and enjoyed it with only a little instruction. Have fun!
Karla
Uses for glass baby food jars as suggested from the ThriftyFun community. Post your own ideas here.
Water Globes
One year for a craft bazaar idea, we made water globes from them. You just use contact cement (grown ups do this part ahead of time and let dry. You can ask each child ahead of time, the theme they want and get this part done ahead of time) and you glue tiny objects to the inside lid.
On the day of completing them, you add water with some drops of baby oil to them (the more oil you add, the slower the things fall down when shaken) then you can drop in glitter. Use contact cement around the inside lids ridge and put on the bottle, closing tight. They stay on always. When you shake the bottle then set the bottles upside down and you'll see it snow onto the objects that you had glued into the lids top on the inside.
You can also add tiny shapes from craft foam like fish stars etc punched from hole punches. Make themes like under the sea, trees for Christmas, use popsicle sticks cut for wooden people draw on them first with markers, put plastic beaded jewelry inside to move around when shook up. Or put a wooden stick in the center lid and add rings (toy kind) inside floating around to see if they can land them on the stick. They are real fun to play with. And the kids can even paint the outside with their names, etc., curled up tiny pieces of ribbon work good too for floating around inside.
Little Jar Candles
Last year I worked with some little ones and we grated old candles of different colors and put this in layers in the jars and put a wick in the centre. Worked real well, glass jars only.
By Dolly
Santa Candy Holder
Decorate to look like Santa on the outside then fill with candy. Use felt, wiggle eyes and cotton for the beard.
By Ann
Snow Globe Link
I really like the water globe idea! How about a Nativity snow globe? It's nearing the season!
Flower Arrangements
My sons' daycare made these for Mother's Day: little flower arrangements in baby jars. They attached silk flowers through the lid (I think through a hole) to the inside and then screwed the jar on the top. I actually got these two years in a row, once with the little jars and once with the bigger, taller jars. They look sort of old fashioned and very cute.
By Jess
Bible Story Jar And Other Ideas
You could put items that represent the bible story you are telling in each jar. I have seen this done during holidays, and also VBS. Another thing you could do is fill the jars with candy and put a Bible verse in representing Mother's day, Children's Day, Fathers day or any holiday you wish. The Bible verse would say something to do about Mothers, Fathers, Children or whatever event you chose. You could also use then for seed starters. Have fun.
By WRogers52
Lighted Christmas Tree
Make a Christmas tree with a string of lights. Remove lids, turn bottles on sides. Use about 10 across for the bottom with hot glue in between to hold them together. Next row is indented on each end. Keep gluing and stacking until only one left for the top.
Take a string of mini Christmas lights and stick one light into each jar and secure with glue (test it first if using a glue gun),then, stuff fire proof angel hair in around the lights to hide the wire. If you wish, glue the bottom row of the tree on a narrow piece of wood (paint stick), and then set that on top of a short narrow cap or something to be the tree holder. I saw this at work and it was just beautiful with the lights on!
By Wanda
I have a 9 month old baby girl and plenty of baby food jars. They are just to cute to throw away. In a month, I am having about 10 girlfriends over for an evening of fun. I would like to use the jars to make individual gifts for all the girls. Any suggestions would be greatly appreciated.

By Pepsi
December 26, 2004
0

found this helpful
I found this recipe for Cinnamon Honey Butter that my mother made and distributed to her friends in baby food jars. She got rave reviews.
2 sticks Butter and 2 sticks Margerine, both soft
Mix at medium speed
Slowly add the following:
1 Tbsp ground cinnamon
1/2 cup Honey
1 tsp. vanilla
Whip until well blended
Refrigerate before using
January 24, 2005
0

found this helpful
I used baby food jars for baby shower thank you favors. I put candy inside the jars and then decorated the jars with blue or pink mesh, tied ribbon around the mouth of the jar and tied little pacifiers (the kind in the craft stores ) to the ribbon. I attached a little thank you note from "mom and baby" to them. Everyone got a kick out of them!
January 24, 2005
0

found this helpful
I used baby food jars for baby shower thank you favors. I put candy inside the jars and then decorated the jars with blue or pink mesh, tied ribbon around the mouth of the jar and tied little pacifiers (the kind in the craft stores ) to the ribbon. I attached a little thank you note from "mom and baby" to them. Everyone got a kick out of them!
September 16, 2005
0

found this helpful
Don't forget to add glycerine to the snowball jars so the "snow" will "float" a little slower.
Read More Answers...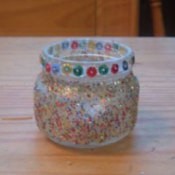 I made this candle holder out of a baby food jar. The smallest baby food jars work the best.
You will need:
1 small baby food jar
sequins
school glue
hot glue and hot glue gun
glitter
votive candle
Directions;
All you do is hot glue sequins around the top of the jar to cover the rings where the lid screws on, smear on some Elmer's glue and roll it in glitter. Hot glue your small votive candle in the bottom and you're done.
This craft is easy enough for a pre-schooler to do as long as an adult hot glues on the sequins first.
I made these for my Sunday School class last year and we lit the candles and sang "Happy Birthday" to Jesus.
By luv2craft from Normalville, PA
Since I now have a grandchild, throwing away the baby food jars is hard. I have used them for inside drawers putting in small items, and have used them to keep things like nails, etc., but now I am looking for crafty ideas to do with them. Ideas?
By Vicki
September 1, 2011
0

found this helpful
Here's an idea. It's for Christmas. Glue Christmas wrapping paper on the outside of the lid. You'll stll need to be able to get the lid on the jar.
In the middle of the inside of the lid, use permanent jewelry glue to glue on a little plastic Santa, deer, snowman or tree.
Add a large spoonful of white, pearlescent glitter to the jar. Put the lid on the jar and glue it carefully shut with the permanent glue. When set on its lid, it is a little, waterless snowglobe.
September 2, 2011
0

found this helpful
Oh I remember years ago when all the craze was to make 'pickled bums', 'pickled pigs' and 'pickled people'. They are made from quilt batting and old nylons. We'd decorate the lid with gingham & ribbon and attach a label "Sweet Mixed Bums" or "Pickled Pigs". A cute little novelty gift or stocking stuffer that we used to sell at holiday bazaars. I've attached a photos I found online, instructions can be found on the internet.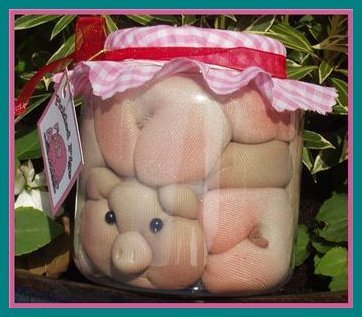 September 7, 2011
0

found this helpful
Try filling them with potpourri, and cover the tops with lace and tie with ribbon. They make great table decorations for showers.