Crafts Using Wine Bottles
Recycled wine bottles can be used in crafts for the home and garden. This is a guide about crafts using wine bottles.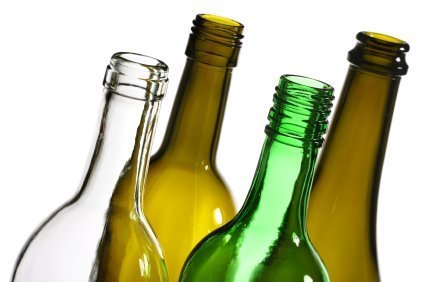 Filter

: All Articles
Sort

: Relevance
I receive a couple of e-catalogues (I can't afford anything in them but they're fun to look at anyway) and an item for sale in one of them simply floored me. They're asking $99.00 - $249.00 plus shipping for just ONE wine bottle candle hurricane lamp! Oh my!
I immediately got online and checked out how much it would cost for a bottle/jar cutting kit and found a couple of sites that sell them for only about $40.00 and they are complete with cutter, polisher and instructions!
I am not a wine drinker but I know plenty of people who are (in moderation of course), and they will gladly donate the empties so I can make a bunch of assorted sizes and colors by simply cutting off the bottom of the bottles to give away as gifts, maybe even sell at local craft fairs or keep for personal use! The candles can be purchased at the dollar store.
Oh, and you can use the glass cutting kit for jars and assorted bottles to make vases, pencil holders, candy and nut holders, etc by cutting off the tops instead of the bottom for future projects too. And recycling is good ;-)
By Deeli from Richland, WA
I save all the wine bottles and paint them with decorative glass paint. I let them sit overnight. Then cure them in a 325 degree F oven for 35 minutes to make them permanent and dishwasher safe.
They make wonderful salad dressing bottles for hostess gifts. I put my favorite recipe on an attached card or sometimes fill the bottle with the dressing.
Homemade gifts are well received, fun to give, and fun to make. Plus, I feel I'm helping to save the environment. Decorative tops can usually be purchased at the dollar stores!
By Elaine from Niles, IL
This guide is about empty wine bottle gift ideas. Recycle a special wine bottle for an inexpensive gift.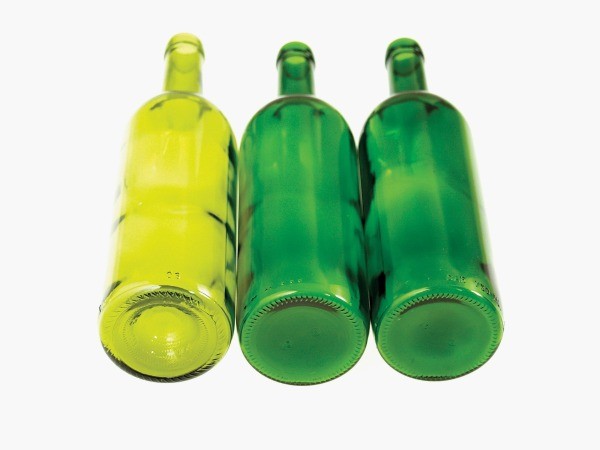 Read More...
Rela Ann
1

found this helpful
The movie "Sideways" got you wine tasting, and even wine drinking... now what do you do with all those wine bottles that are starting to accumulate? Keep them - they are good for something. Take a look at what you can do with them with a little spray and brushstrokes.
Ingredients
Wine bottle (Washed and cleaned. Minimize hand/thumb marks. Dry.). Larger ones with tapered neck is best!
Spray paint (Flat/Semi-Flat/Satin finish recommended)
Textile or Acrylic Paint
Newspaper or any paper to protect working surface from paints.
Instructions
Wash and dry wine bottle to make sure you have a clean surface, devoid of dust which prevents good adhesion.
Arrange the paper to protect your working area. (Do this outside where there is good ventilation.)
Place the wine bottle on top of the papers. Make sure it is flat.
Spray the bottle (Follow the spray can instructions.). Spray one layer around, wait for a while, then paint another layer. Do this a couple of times until all outside surfaces are covered evenly. Some areas needing attention: Bottle lid area - make sure it is also covered but beware of spraying too long here as too much will make the spray paint drip! Bottle bottom - that can be an easily-missed area specially if your paper is crumpled.
Let dry.
When dry, plan the design that will be painted on the bottle surface.
Implement design with textile or acrylic paint.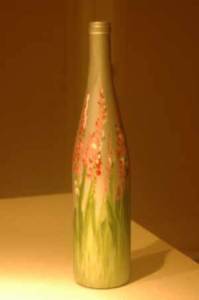 I would like ideas for uses for wine bottles. Has anyone tried to cut them with a welding torch? Thank you.
By Sheilah
November 29, 2009
0

found this helpful
Someone made a wine bottle light for my mom. It's basicaly just a short string of christmas lights inside the wine bottle. The did drill a hole at the bottom for the electric cord.
December 7, 2009
0

found this helpful
I just threw away over 70 wine bottles that had been accumulating in my garage. Wish I had seen this post first.
Go to Michaels or other craft stores, they carry a cutting tool for bottles. It's a lots safer then using a propane torch to try to cut the bottle. Using a torch will make the glass HOT and, if there is any alcohol in the bottle it could cause a problem..fire. The safest way is get the glass cutter tool.
December 7, 2009
0

found this helpful
I had a friend in Tucson that turned her's upside down and E6000 glued them to a table top and made a gorgeous end table out of them. She used that deep blue like the Crystole bottles are made of. It was gorgeous!
I have a large collection of empty blue glass wine bottles. I'm looking for design ideas for reusing them. I love the cobalt blues and all the different shapes and sizes. Ideas?

Linda from Cookeville, TN
By guest (Guest Post)
Flag
February 14, 2009
0

found this helpful
I would re-fill them with home made wine. Who plants bottles in the dirt?
August 24, 2011
0

found this helpful
Yes -those Bottle Trees are Great! I saw one either in Horticulture Magazine or Organic Gardening a while ago. Some one featured in the mag had one in their yard with All Blue Bottles! They really are pretty, & I really like the idea of putting mini-lights in them for Anytime of year -Inside & Out.They make a good frugal decoration.The Mosaic Idea & the Wind Chime sound good too.I'm gonna make some myself-even if I have to buy the bottles. : )
June 2, 2012
0

found this helpful
I take the blue and clear or frosted wine bottles, turn upside down, and line my flower beds with them. I take the labels off first.
Any ideas on how to paint the inside of a clear wine bottle, so that the end product is a kilned colored piece of glass. My friend makes cheese boards out of wine bottles and my favorite wine bottle is clear! I need some help troubleshooting a technique and what brand paint to use. I have a Michael's craft store at my disposal.

Dede from Macon, MO
November 16, 2008
0

found this helpful
I have never done this. Maybe you could get some paint and put quite a bit inside the bottle, coat the inside by turning the bottle and let it dry and do a second coat. Hope this helps.
September 18, 2009
0

found this helpful
First make sure your wine bottle is clean. Pour a cup of plain water in it. Spray paint a color on top of water inside. Swish it around and pour water out slowly while turning it round & round to create a basic pattern. Let dry. If you want marbleized colors : then, pour water in again. Add two different colors (or more) sprayed into bottle. While swishing around, pour water slowly while turning. Dry, continue until you are pleased.Dry...Final is to pour some polyurethane in and turn bottle all different ways to cover all paint. Let stand a day or two drying time. Will now be waterproof! Have made many, beautiful craft!
December 12, 2013
0

found this helpful
Ok, I have been experimenting painting insides of wine bottles. Latex paint won't stick (straight or diluted with thinner). Spray paint seems to be the best, but how do you deal with the blow-back? I have not tried the "water & Spray paint" method, but I will tomorrow.
Someone was interested in decorating wine bottles with grapes and how to attach them. I'm interested in sharing my ideas.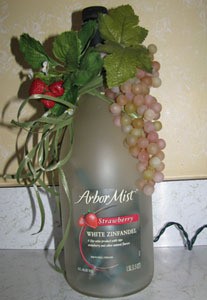 Read More...
Does anyone know of a use for vast quantities of wine bottles, the typical 750 ml. size? My family loves good wine, and the proof has taken over the garage.


By blakekr
January 31, 2007
0

found this helpful
Does anyone know where I can find a wine bottle that is about 4foot tall and the base is about 6-7 inches in diameter. The neck is about 3 inches around. It is green....I had one and it recently fell over and broke at the neck. I originally found it at a flea market and I really want another one. Empty or full.
October 19, 2008
0

found this helpful
I once saw them used upside-down to line a garden bed. The ones I saw were cobalt colored, but any color or color combination would work. The way it was done was she first filled the bottle with sand, then ran a dowel into the top (the dowel stuck out of the top about 6 inches), then turned the whole thing upside down & pounded the bottle into the dirt with a rubber mallet. (I'd wear safety glasses just in case!)
* If it were me, I'd not use the sand & run a strand of clear outdoor Christmas lights behind the bottles so they would light up the bottles during the night.
January 15, 2012
0

found this helpful
Make some of your own homemade bubble bath. Pour the mixture into the wine bottle, add a label and tie a ribbon on the neck of the bottle.
These can be given away as gifts.
Related
© 1997-2016 by Cumuli, Inc. All Rights Reserved. Published by
ThriftyFun
.
Page
generated on September 25, 2016 at 8:52:22 PM on 10.0.1.215 in 3 seconds. Use of this web site constitutes acceptance of ThriftyFun's
Disclaimer
and
Privacy Policy
. If you have any problems or suggestions feel free to
Contact Us
.