Homemade Candy Easter Eggs
Try something different this Easter and make some of your own candy Easter eggs. This is a guide about homemade candy Easter eggs.
Wonderful family recipe that has been handed down for years as a Special treat for Easter. Enjoy the mouth watering taste of peanut butter with the scrumptious addition of chocolate for a treat to your palate at Easter.
Ingredients:
1/4 lb. butter, softened
8 oz. cream cheese, softened
2 lb. confectioners' sugar
1 1/2 cups peanut butter
1 1/2 tsp. vanilla
1/2 tsp. salt
12 oz. milk chocolate chips
Directions:
Mix the butter and cream cheese together. Add the confectioners' sugar and mix well. Add the peanut butter, vanilla, and salt and mix until well-blended. Place the mixture in the refrigerator to chill for at least one hour. Form the peanut butter mixture into egg shapes, then refrigerate again for at least one hour.
Melt the chocolate in a double boiler. Using a large toothpick, dip each peanut butter egg in the melted chocolate. Arrange the chocolate coated eggs on a waxed paper lined tray and allow the chocolate to harden. Decorate your eggs with a personalized name and some pretty spring flower candies found in your baking department.
Servings:
20
Time:
2 hours Minutes Preparation Time
7-10 minutes Minutes Cooking Time
By Gem from VA
Harlean Greathouse
Here are some lovely instructions for making Panoramic Sugar Eggs sent in by long time reader Harlean. (originally published 3-21-2005)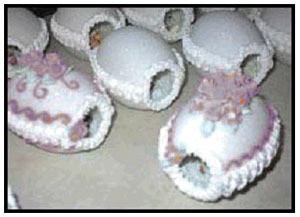 List of Supplies:
2-piece hard plastic egg (available at Wal-Mart)
granulated Sugar
powdered sugar
light cardboard
egg whites
flat cookie sheet
food coloring
figurines for inside egg
cake decorator
Instructions:
Fill the mold halves with sugar to figure out how much you will need for each egg. You will need to mix with just enough water to make it like sand for sand castles . . . about 1 Tablespoon of water for each cup of sugar. Just sprinkle the water on a little at a time and mix with your hands. When you squeeze a handful and it clumps together, it's ready.
Pack both halves of the egg firmly with damp sugar. Level off.
Place your cardboard on top and invert the egg onto it. Place carefully on the cookie sheet, and slide the egg off the cardboard.
Carefully lift the plastic mold off the sugar. Using a thin knife, make a cut down through the pointed end of the egg about 1/2 an inch from the end. Or if you would like a larger opening, make this 3/4 inch. Leave this piece in place for the time being, as it will keep the end from drying so you can scoop out the opening.
Leave eggs to dry. This step will take several hours. Just wait until you can pick one up in your hand without it collapsing. You may lose a few at first, until you get the "feel" of it.
When it is ready to handle, very carefully scoop out the sugar from inside leaving at least 1/4 inch of shell of a little more. You can use the sugar that you scoop out of your first egg to make another egg.
Let the hollow shells sit overnight to let them get completely dry, then rub the inside with your fingers, to smooth the inside surface a little.
Make your icing, divide it into small amounts and make several colors. Leave some white to "glue" the two halves of the egg together. The icing consists of powdered sugar and egg whites.
Place a couple egg whites in your mixer bowl and blend enough powdered sugar to form peaks. If it is not still enough, your decorations will collapse, and if it is too stiff, you will not be able to squeeze it out of your decorator.
You can spread a little green icing in the bottom half of the egg, set your little figurine inside, pressing it into the icing to secure it. Or you can pipe "grass" inside. This icing will dry very hard, and hold your bunny or whatever in place. These little figurines can be found at Hobby Lobby or other craft stores before Easter and are inexpensive. If you think ahead, you can get them at clearance prices after Easter for next year. I paid 50 cents each for the ones pictured here.
After you secure the bunny (or figurine), spread white icing on top of the bottom half of the egg sparingly. I find this is most easily done with your finger. Match the edges, set the top half onto the bottom half. If the hole looks ragged, don't worry. Your icing trim will cover this.
How elaborate you are with the finishing touches will be determined by your expertise with a cake decorator. The simplest, but still impressive, embellishment is to simply use a star tip to cover the seam around the egg, and to trim out the round hole at the pointed end. You can even make simple flowers with a star tip, if you are a beginner decorator. You can be creative here. You can personalize them, you can add ribbons. It is up to you. Just have fun with it.
If stored properly, these will keep for years. Do not wrap them in paper, as they will draw moisture if you live in a humid climate. They can be just set on a shelf, or stored in a sealed Zip Lock bag. They can even be boxed and stored in the freezer. But they will be loved and cherished by anyone who receives them.

The instructions are also in a PDF file for which you may need Acrobat Reader to view. Download Acrobat Reader

Click Here to download the Panoramic Sugar Egg Instructions in PDF format.
Does anybody know the recipe for making candy easter eggs with mashed potatoes? My mom made both peanut butter and coconut eggs, and I'd love to include them in my kids treats.

Doodles from Jersey
Most Recent Answer
March 16, 2010
I had completely forgotten about this candy! Thank you!
Homemade Easter Eggs are the Best!
Ingredients:
1 lb. 10X sugar
1/2 cup fine coconut
1/2 cup maraschino cherries, cut up
1/2 cup walnuts
1 stick margarine (1/2 cup)
1 tsp. vanilla
1 can evaporated milk
melted chocolate
Directions:
Mix sugar with butter. Add remaining ingredients, a little at a time. Shape into an egg. Let stand until a think crust forms. Dip into melted chocolate.
Happy Easter :)
By Jackie from Salisbury, MD
Does anyone make and sell the sugar coated Easter eggs?
By Donita
Most Recent Answer
By Harlean 142 428 Flag
March 3, 2011
Hello!
I have made them in the past,but have never tried shipping them. I do know that they are not as fragile as they appear. They are not as difficult to make as it would seem. I submitted a step by step instruction sheet with pictures a few years ago. Perhaps you might like to learn to make them, or have a crafty friend who could make them for you. Or both of you work together to make them. You will find a PDF copy that you can download using acrobat reader. You will find it here http://www.thriftyfun.com/downloads/panoramicsugaregg.pdf_______just_copy_and_paste_into_your_browser._or_you_can_type__"panoramic_sugar_egg"_into_thrifty_fun_search_at_the_top_of_the_page_to_find_it.Harlean from Arkansas
© 1997-2016 by Cumuli, Inc. All Rights Reserved. Published by
ThriftyFun
. Page generated on February 13, 2016 at 1:04:41 AM on 10.0.2.78 in 1 seconds. Use of this web site constitutes acceptance of ThriftyFun's
Disclaimer
and
Privacy Policy
. If you have any problems or suggestions feel free to
Contact Us
.