This is a simple craft for Easter using only plastic canvas and ribbon.
Materials and Tools:
1/8 inch ribbon
plastic canvas
scissors
Instructions:
First you should cut a pattern, start with a rectangle that is 21 squares by 17. Find the center on top edge, leave center square uncut. Cut diagonally until you reach side. You now have a start to the top of the cross. Cross points should go, 1 square/3 square/5 square and then switch to strips of squares, that meet in center.

OK, hopefully you were able to cut a pattern from my instructions. Once you have pattern you can hold it up against more canvas to cut more out easily.
Cut a piece of 1/8 inch ribbon that is 4 or 5 feet long. Knot one end, and seal the other end with a lighter (angle cut edge is best), this will make a built in needle. Put through very center of cross.
Start to "sew" from bottom right of cross, through square and around back, up through the top left of cross. You will continue to go to opposite sides in a "loop" fashion (this is so back and front of cross are visually pleasing). Once you finish vertical part of cross, bring to center: loop around and start to do the same thing to horizontal cross arms. When you are finished, wrap to the center, and either knot or run through top center square and use as a bookmark.
This may be confusing, but once you start making it everything will start making sense. Write if you need more help.
By Starchild in VT from Lamoille County, VT
Comments
April 2, 2007
1

found this helpful
Top Comment
I do alot of plastic canvas and I am always looking for new patterns. This is adorable and with easter coming up and all the readers in my family, I think this will make wonderful easter gifts.
Thanks for the pictures, they are very helpful.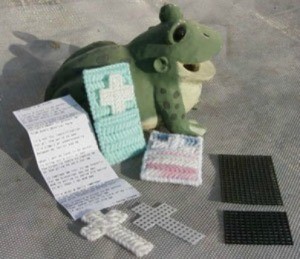 This is a cute little reminder that anyone can carry. It is simple enough for children, but also interesting enough for grown-ups. It should take between 30 and 60 minutes to complete.
You will need:
scraps of plastic canvas (7 holes per inch)
1 yard of white yarn
2 yards of colored yarn (camoflauge is very popular for sending these to soldiers)
darning needle with an eye big enough for yarn
Directions:
Cut the front piece 12 holes by 10 holes. Smooth off any little bumps.
Cut the back piece 12 holes by 20 holes. Smooth off any little bumps.
Cut the cross 3 holes wide along the vertical part and 3 holes wide along the horizontal part (see photo).
Cover each piece using a stitch that slants right from the bottom over three holes. Or any stitch that you like. Save the edging for last.
Cover the cross neatly with stitching.
Cover the front and back, leaving the edges for last.
Now start at the right front of the front piece. Whip stitch across. Hold the front firmly against the wrong side of the back and whipstitch the two together. Go all the way around the back, until it is neatly bound. Run your needle through a few stitches to hide the end of the yarn, and clip it short.
Tuck the cross into the pocket.
Now type this poem and reduce the size on a photocopier until it can be neatly folded and tucked in behind the cross.
The Cross In My Pocket
I carry a cross in my pocket
A simple reminder to me
Of the fact that I am a Christian
No matter where I may be

This little cross is not magic
Nor is it a good luck charm
It isn't meant to protect me
From every physical harm.

It's not for identification
For all the world to see
It's simply an understanding
Between my Savior and me.

When I put my hand in my pocket
To bring out a coin or a key
The Cross is there to remind me
Of the price he paid for me.

It reminds me, too, to be thankful
For my blessings day by day
And to strive to serve Him better
In all that I do and say.

It's also a daily reminder
Of the peace and comfort I share
With all who know my Master
And give themselves to His care.

So I carry a cross in my pocket
Reminding no one but me
That Jesus Christ is Lord of my life
If only I'll let Him be.
-- Verna Thomas
By Coreen from Rupert, ID
I have a question about plastic canvas cross bookmarks. I used to be able to find the crosses already cut out in this shape. The edges are so much neater on the purchased ones. Where can I find them?
By Bob from Richmond, VA
Answers
November 3, 2010
1

found this helpful
I purchase mine at Wal-mart & Hobby Lobby.
November 3, 2010
1

found this helpful
www.google.com/search?hl=en&source=hp&q=plastic...
This link will take you to the Google site. I just typed in "plastic canvas crosses". Sometimes, especially when time if of the essence, Google is a faster way to go. Good luck!

November 4, 2010
0

found this helpful
Hi Bob, the crosses you are referring to, you can get through www.orientaltrading.com. I get their magazines all the time and have seen them there. Hope that helps!
December 8, 2010
0

found this helpful
Have you checked at JoAnn Fabric? They used to carry them but I haven't checked lately?
Answer

this Question

...